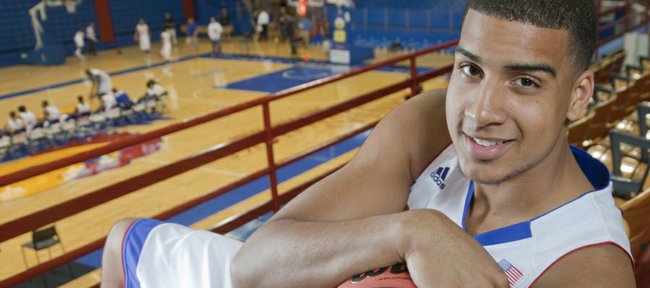 Kansas City, Mo. — As one of Oregon State's top targets in recruiting, Landen Lucas developed a close relationship with Beavers basketball coach Craig Robinson, the brother-in-law of President Barack Obama.
"I never got to meet President Obama, but I did talk to him (Robinson) one time on Thanksgiving when he was in the White House having dinner, so I can say I talked to somebody in the White House," Lucas, Kansas University's freshman center from Portland said, smiling.
"When he called, he was just moving away from the dinner table with the first family," Lucas added of Robinson, whose (4-1) Beavers will meet (5-1) KU at 7 tonight in Sprint Center.
"It's one of the deals in his recruiting process: (If you go to OSU) you get to meet the president. Every year, they play a game in front of him and get to meet him."
Barring a big surprise, President Obama will not be in Sprint Center tonight. Lucas, who is red-shirting the season (practicing but not playing in games) will, however, still get a chance to meet with Robinson and some of the OSU players he's played with and against throughout the years.
"When I first saw the schedule, I was looking forward to this game. The coaches have recruited me since eighth grade. They were one of the schools that recruited me the hardest since the first day they could," said Lucas, whose house in Portland is located about 85 miles from Oregon State's campus.
"I know a lot of guys on the team, a lot of people from the fanbase. With my dad (Richard) going to Oregon, I'd like to beat them and stuff, but it's fine (that he can't play). Hopefully we might get a chance to play them again sometime."
Lucas is impressed with OSU starting big men Eric Moreland (6-10, 215) and Joe Burton (6-7, 295). Moreland averages 8.4 points and 10.4 rebounds a game with 12 blocks in five games, while Burton averages 11.6 points and 5.4 boards. Angus Brandt (6-10 senior) averaged 11.3 points and 8.5 boards in four games before tearing his ACL in a 66-58 win over Purdue on Nov. 19. Oregon State, which runs the old Princeton style offense under former Princeton player Robinson, has also defeated Niagara (102-83), New Mexico State (71-62) and Montana State (78-65) while losing to Alabama (65-62).
"Their big guys are strong," Lucas said. "They really are going to make up for a nice match-up inside, for sure."
Some of the Beavers may be surprised when they get a good look at Lucas tonight. He's already shed the baby fat he brought with him to Lawrence last summer. Let the 6-10, 230-pounder out of Westview High School explain.
"I've had the opportunity to work with Hudy (Andrea, strength coach) every day. I've lost 18 pounds," Lucas said. "That was the first step, losing the weight. Now we're trying to put it on with muscle. Hudy can see me adding another 10, 15 pounds, but it's a difference in the 15 from when I first came here."
Electing to red-shirt — guard and be guarded daily at practice by senior Jeff Withey but not play in games in exchange for a fifth year at KU — proved to be an easy decision.
"The last deal is how many minutes could I possibly get in the long run?" Lucas said. "No matter how much we maxed out, it was really going to be limited because of who was here. Obviously in my mind you feel you could beat out some people. Then it came down to, 'If you did that, how much would you actually play?' It came down to, 'Why waste a year doing that?' Also my mental state. That can be frustrating getting out there and preparing yourself for a game and maybe only getting in a couple minutes and not getting in the flow. It was the best decision I could have made. It's like I'm in high school getting to do everything with these guys," added Lucas, who chose KU over OSU, Washington, Stanford, Cal, Tennessee and Duke.
"I'm making practices like my games, making it a competitive, spirited environment," Lucas said. "Trying to help the team as much as I can. It sucks when game day comes around ... obviously you want to be out there playing. I can see where I can assert myself on the floor and next year, having it only be my freshman year, I can bring a lot to the team."
Shootout: Tonight's game is billed as the BMO Harris Bank Kansas City Shootout. It's the Jayhawks' annual regular-season game in KC. KU recently beat Washington State and Saint Louis in Sprint Center as part of the CBE Hall of Fame Classic, which drew about 10,000 fans per game in the building that seats 18,972.
Tonight's game is on KU's season-ticket package.
"The first time wasn't any indication of Kansas fans," Self said. "I mean that was a third party marketing it and selling it, but yes, the crowds were poor. I still love going over there and hopefully we can have 16-17,000 in there Friday night."
KU's volleyball team plays Cleveland State in an NCAA Tournament match at 6:30 tonight at Allen Fieldhouse.
"I said last night (on his radio show), I don't want our fans not to come to the Sprint Center to go support volleyball. If they have basketball tickets, come to basketball. Go to see Ray (Bechard, volleyball coach) the next day (Saturday in second round if KU wins Friday). But if you're not planning on going to the basketball game, then go watch Ray and his team because they are fun to watch," Self said.
KU coach Self on OSU: "They are really, really long. They probably would be about as big a team as we will play this year. It kind of reminds me, from a height standpoint, like what Baylor was last year."
Self on OSU coach Robinson, who is 68-72 in five seasons: "Craig and I played against each other in 1983 in Corvallis, Ore., believe it or not, coincidentally, in the NCAA tournament. He played for Pete Carril at Princeton and our immaturity and lack of discipline allowed Princeton to beat us (Oklahoma State), 56-53, running all their stuff.
"He's a good guy. You would think he'd have a little bit more juice making recruiting calls over the last four years and the next four years than most college coaches would. I wonder if he introduces himself as 'coach Robinson' or 'I'm the president's brother in law,'" Self cracked.
This, that: This marks the first meeting between the schools. KU (2,075 wins) and OSU (1,644 wins) entered the season second and 20th, respectively, for most victories in NCAA history. ... Legendary OSU coach Ralph Miller attended KU where he played for Phog Allen. Miller, who also played quarterback for KU's football team, won 359 games in 19 years as the head coach at Oregon State before retiring in 1989. ... Self's KU teams are 14-4 against Pac-12 schools, including nine straight wins. ... In 2010-11, KU defeated four Pac-12 teams. ... Self tonight is trying for his 275th career win at KU. He has 54 losses.
More like this story on KUsports.com