Photo Gallery
Kansas basketball v. Oregon State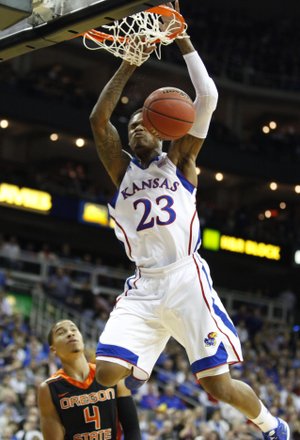 Images from Friday night's game against Oregon State at the Sprint Center in Kansas City, Missouri.
Podcast episode
Kansas coach Bill Self talks to reporters following the Jayhawks' 84-78 victory over Oregon State on Nov. 30, 2012.
Podcast episode
Kansas guards Travis Releford and Ben McLemore talk to reporters following the Jayhawks' 84-78 victory over Oregon State on Nov. 30, 2012.
Box score
Kansas City, Mo. — A few more points here and there and Oregon State basketball coach Craig Robinson would have received a congratulatory call from the White House late Friday night.
Unranked and unheralded Oregon State, which hasn't beaten a Top 10 team on the road in 36 years, threw a scare into Kansas University's No. 10-rated Jayhawks before falling, 84-78, before 18,789 quiet fans in Sprint Center.
The Beavers of the Pac-12, who are coached by President Barack Obama's brother-in-law, shredded KU's defense in cutting a 14-point deficit to zero the first half and a 13-point deficit to three with under a minute to play in the game.
"It all comes down to this. They guard the guy with the ball better than we guard their guy with the ball. We couldn't guard No. 3 period," KU coach Bill Self said of guard Ahmad Starks, who scored 25 points off 9-of-20 shooting, 7-of-13 from three.
"That's something that obviously has to improve, or we'll have to change how we play. We'll have to start playing some zone or whatnot," added Self.
Zone? Yes ... you read right. He said zone.
KU's 10th-year coach, who is a disciple of man-to-man defense, was left to ponder putting his Jayhawks in a 2-3 zone after a game in which KU hit 60 percent of its shots, yet only won by six points.
"We didn't guard the ball," Self said. "They didn't score off their actions. They scored off us not being able to guard the ball, which is pretty important. We can't blame it on our offense. We got the ball where we wanted it to go, we just didn't do any good at stopping them."
Elijah Johnson, who has been battling a knee injury the past couple weeks, had nine assists, four turnovers and six points in 28 minutes.
"You saw tonight. He got whipped," Self said. "I hate to say that. The point guard on their team gets 25. Ours gets six. That's not all on him. Different guys were guarding him.
"That's what's frustrating. I don't know where we go from there yet," added Self, who tried Naadir Tharpe (no points, two turnovers, one assist, eight minutes), Rio Adams (two points, one assist, one turnover, four minutes) and walk-on Evan Manning (no stats in two minutes) at the backup point position.
"We'll try to figure a way to put us in a situation where the other team doesn't feel so comfortable right now. He (Johnson) is doing some nice things, but he is not making plays on either end. That is frustrating. We are used to having some guys back there that can make some plays."
On Friday, KU, which received 15 points the first half from Ben McLemore (he finished with 21), was bailed out by senior Travis Releford, who scored 20 points, 16 the final half.
He had four points in a 9-0 run that upped a 48-44 lead to 57-44. Then, when that lead had been cut to 64-61 (with 9 minutes left), Releford converted a bucket and assist in an 8-0 surge that again opened the lead to 72-61.
"He didn't do anything in the first half," Self said of Releford, who finished with seven rebounds and five assists to go with his 20 points. "We were almost playing four against five. I got onto him about it the second half. He drove the ball hard. That's the thing with Travis. If he drives it, something good will usually happen. He drove it in transition. He also drove it in halfcourt. We got a lot of easy baskets because he was aggressive. That was good to see."
Releford, a Kansas City native who was MVP of the recent CBE Classic in Sprint Center, said Self indeed got him going.
"Coach challenged me at halftime," Releford said. "(He challenged) all the guards saying how we hadn't been attacking the paint, stuff we'd been working on the past week. I noticed that, so I figured I should probably put pressure on the defense to help the team. It opened up for me."
KU, which had a 33-19 lead evaporate at 37-37 the first half and a 57-44 lead drop to 80-77, didn't put this one away until McLemore cashed two free throws with :13.9 left, upping the Jayhawks' 80-77 lead to 82-77.
KU held off the Beavers, whose last road win over a Top 10 team was against No. 6 Washington on Jan. 17, 1976.
"They could have come back and won that game," Releford said. "We had the lead and we could have closed the game. It could have went either way."
KU will next meet Colorado at 1 p.m. on Saturday, Dec. 8 in Allen Fieldhouse.