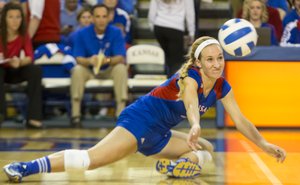 She occasionally wears protective headgear during practices because she plays so hard, always wears a mouthpiece during matches and really never has been intimidated by anyone or anything on a volleyball court.
Off the court, however, during a 48-hour military-style training session last August that pushed her and her Kansas University teammates past the point of exhaustion, junior libero Brianne Riley nearly cried.
"We did a program, it's actually called 'The Program,' at the beginning of the year, and it made our team so much tougher and so much stronger," Riley recalled recently. "A big, scary man came, and we swam in the deep end of a pool and had to switch sweatshirts with people (in the water), and we were carrying heavy sand bags and big wooden logs and a lot of yelling. I want to say he was in the Marines. I'm not sure what he was in. But he was big and scary, and he yelled at us — for a while."
According to KU coach Ray Bechard, the new type of training, which took place at the same time the Jayhawks were going through their regular two-a-day practices, was incorporated into this year's preseason workouts to "jar their system a little bit, to create some adversity to where you have to make good decisions when you're physically pretty spent."
As the Jayhawks sit one day away from playing in the NCAA Tournament for the first time since 2005 — in their own backyard at Allen Fieldhouse, no less — many women on the team said this week that the preseason torture was as much responsible for KU being in this position as any of the solid passing, strong serving or dominant net play they delivered during a 25-6 season.
"I was so shocked when that came up," sophomore outside hitter Sara McClinton said. "What we had to go through as a team, I think, really defines us now."
The Jayhawks did not go too in-depth about what the training included. McClinton said the big, scary man Riley referred to was known simply as "Captain," and it was clear, she said, that he was not there to make friends.
"You were very direct," McClinton remembered. "Eye contact, you gave direct answers, no excuses. You were very respectful. While it was happening, we were all scared to death, and we had never experienced anything like that before."
Asked to describe the toughest thing she went through during that two-day period, the 6-foot-2 McClinton wasted no time in answering.
"Fire-carrying our teammates," she said. "I had (5-foot-8, freshman setter) Maggie (Anderson) on my back, and I had to carry her over 400 yards. Some people couldn't carry others, so there were girls on the team that were carrying their teammates 800 yards. That was incredible. Maggie's a lot littler than me, and I still look at her today and say, 'How did you carry me? How did we carry each other?'"
Although most of the program focused on physical activity, its point was to sharpen the Jayhawks' minds.
Words and phrases such as "attack," "aggression" and "competitive confidence" were emphasized throughout the two days, and junior middle blocker Caroline Jarmoc said she and her teammates learned the importance of carrying themselves with confidence on the court at all times.
"It's kind of like fake it 'til you make it," Jarmoc said. "Because, it's like in the wild, if you see something's weak, you attack it."
Thanks to The Program, there's no longer anything weak about these women, who will face Cleveland State at 6:30 p.m. Friday in Allen Fieldhouse in the first round of the NCAA Tournament. The winner will advance to Saturday's second round, same time, same place.
"It was just about how mentally tough you could be, which we really lacked last year," Riley said. "And this year you can tell, when the game gets tough, everyone on our team has a very stern look of confidence on their face, and we know that things will go our way because we're mentally tougher than everyone else."
Added McClinton: "During certain matches, if it's a close game and people are getting tired, we're like, 'Hey, remember when we were swimming in the pool for 3 1/2 hours and you were keeping your teammates above the water? This is nothing compared to what we did with Captain.'"
More like this story on KUsports.com