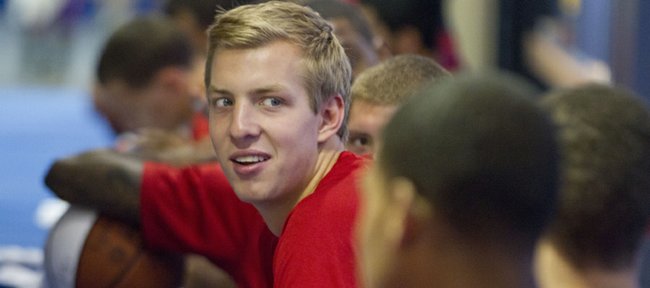 Former Kansas University basketball forward Zach Peters will head home to Plano, Texas, after his last final exam on Dec. 13 with no immediate plans to continue his education or his athletic career.
"I need to go home and basically heal," Peters said Monday in announcing his decision to leave school after one semester of his freshman year because of the effects of post-concussion syndrome.
The syndrome, which has hampered Peters' ability to focus, can last up to a year following a concussion.
In Peters' case, he has suffered five incidents of trauma to the head in the last 14 months. The 6-foot-9, 240-pounder first suffered a concussion at the LeBron James Skills Academy the summer of 2011 — prior to his senior year at Prestonwood Christian Academy in Plano. His next concussion came playing wide receiver his senior year for Prestonwood's football team.
At KU, he suffered one concussion in July and another in September. Wearing a protective helmet at workouts following his second concussion at KU, he nonetheless took a shot above the eye, which opened a cut that took about 10 stitches to close. Tests, however, indicated that contact did not result in a concussion.
For the past several weeks, Peters has suffered a loss of focus blamed on post-concussion syndrome. Medication has not helped the situation, necessitating Peters to leave school and his sport behind.
"I don't know anything except the research that's been done (on concussions) and hearing from doctors and visiting with Zach's family. It's an inexact science what concussions really do and how they affect you years down the road," KU coach Bill Self said on his Tuesday Hawk Talk radio show.
"You can pass concussion tests and all that stuff and go back out there and 10 years later have some things happen. Our medical staff is great. They don't think there's anything to the point where there are any concerns (regarding long term damage). The CAT scans, MRIs (indicate) no concerns. (But) the more frequently you have (concussions), there is a tendency to continue to have them. What would appear to be a normal broken nose ... an elbow to the head is a broken nose to some and concussion to others.
"This is my personal opinion ... Zach and I talked about this a lot. Health-wise, now, he is fine. He is concerned about maybe putting himself in position ... if you watch him play, he leads with his head every possession," Self said. "To throw that in with his shoulder (rotator cuff problem), it (shoulder) is not totally well. It is getting better. Just a chance for him to regroup, I think, will be good for him. He will not play basketball this spring. He's going to go home to probably continue classes maybe in the Metroplex area, basically get to the point where he is feeling good again. He hasn't felt good in a couple months," Self added.
A source close to Peters told the Journal-World that the Peters family is pleased with the care shown by KU's medical personnel, the KU players and coaches. Peters recently changed roommates from Andrew White III to walk-on Tyler Self because, as a walk-on with no playing time concerns, Self might be better equipped to help and watch over Peters.
Zach, in fact, will remain at Jayhawker Towers and be part of the team through the end of finals.
"I want to say thank you to KU, the coaches, staff, teammates and fans that have supported me. I wish it didn't have to end up like this, but it's important for me to do so for my future. I plan on continuing to take classes while I'm home (once the symptoms clear up) but I will not be playing sports in the near future," Zach Peters said. Family members do not wish to comment at this time, leaving the statements to Zach and his coach.
Coach Self said he'd be missed.
"I think he's a really cool kid. He'd be a kid I'd love to hang with for four years and really get to know," Self said. "I think he'd have unbelievable experiences here if his health would allow it to happen for him. He hung in there, but I think he was at the point now he's going, 'Coach, if I believe I am not going to be here, I'd rather let everybody know rather than fake it right now.' We wish him nothing but the best."
Once the post-concussion syndrome symptoms evaporate, Peters will be able to finalize decisions regarding where he'll continue his education. There are too many unknowns to determine whether he'll play sports again.
"He told me he visited with his folks (over Thanksgiving) and they are all in agreement he needs a break to allow himself to get his batteries recharged again," Self said. "The injuries have affected him."
Point guard play: Self was not pleased with the play of senior point guard Elijah Johnson, who had 13 points off 4-of-9 shooting with five assists against four turnovers in Monday's 70-57 victory over San Jose State in Allen Fieldhouse.
"He hit his knee against Saint Louis (Nov. 20 in KC's Sprint Center) and it swelled some. It was sore. He didn't have near the juice last night," Self said.
At the same time: "... he's shot seven free throws for the year — seven," Self exclaimed of Johnson, who has made six of seven free throws in six games. "Tyshawn (Taylor) averaged shooting 5.5 a game last year. Elijah has shot seven. It tells your right there he is not aggressive and driving the ball at all.
"He is not getting the ball to the paint like he should or like he can. Look at teams across America. I'd say for the majority of teams, the hardest thing to guard is the ball. With us the easiest thing is to guard the ball because we don't put pressure on people. We have to change it where we are driving it and forcing help and playing behind the help."
Carrier coming up?: Self said he could envision playing a November game on a U.S. Navy ship or at an Armed Forces base.
"We've been asked to do that a couple times," Self said, noting KU the past two seasons elected to instead compete in the Champions Classic, which has one more year left to run. "I could see ourselves doing that in the future. I'd rather do what Michigan State and Connecticut did, go to Germany and play in one of the sites (bases) and have a chance to experience that. Ships are great and brings recognition and awareness, but there's also a great chance you won't play." Games were canceled on ships in South Carolina and Florida this season because of moisture on the outdoor courts.