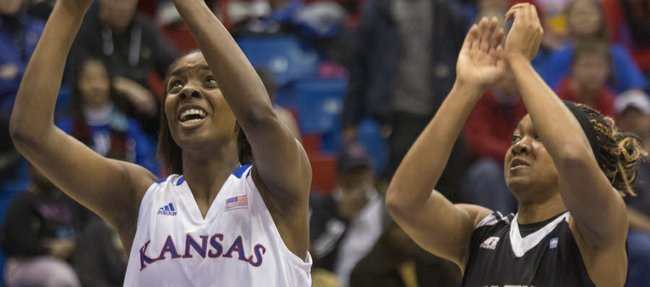 Kansas University women's basketball coach Bonnie Henrickson had been waiting for a good "popcorn" performance from sophomore Chelsea Gardner.
Henrickson had seen the forward play well in Allen Fieldhouse this year in practice but not during games with concession stands open and the smell of butter in the hallways.
That changed Wednesday, when Gardner broke out for a career-high 26 points on 11-for-13 shooting as No. 20 KU routed Grambling State, 101-47, at the fieldhouse.
"I'm excited for her because she's worked hard," Henrickson said. "She's been patient, and she hasn't given up."
Gardner was one of the key components of KU's run last year to the Sweet 16, stepping into a starting spot following Carolyn Davis' season-ending knee injury.
Her role switched back to being a reserve this year with Davis back and healthy. Coming into Wednesday's game, Gardner had averaged just 4.2 points and 13.2 minutes per game.
"She comes to work every day to try to get better," Henrickson said. "It's really good to see her rewarded for that."
Gardner says there were times this season when she let herself get too psyched up before games.
"I try to calm myself down," Gardner said. "Today, I was more chill and not over-excited."
The 6-foot-3 DeSoto, Texas, native also collected a season-high 10 rebounds in 24 minutes. She made her first nine shots from the floor and all four of her free throws.
"She knows we need that from her," Henrickson said. "That's what I said to her: 'If you think Carolyn's back, and they're not going to need me, that is not true. So if you're thinking that or someone's telling you that, it is not me.' We need that kid to play well."
The Jayhawks — who moved into the top 20 this week for the first time since 2009 — actually fell behind early, when Grambling State (0-6) made five of its first six shots to begin the game on a 10-0 run.
Henrickson refused to call timeout, later saying the opening four minutes "might have been the worst basketball in the history of the fieldhouse."
"I was going to be more stubborn than they were bad," Henrickson said. "You play yourself out of it."
The Jayhawks did, pushing the pace in a 19-4 run led by speedy point guard Angel Goodrich, who had four assists in the opening 121⁄2 minutes.
KU (6-0) scored 100 points for the first time since Dec. 1, 2010.
Sophomore Asia Boyd added career-highs in points (15) and rebounds (10).
More like this story on KUsports.com