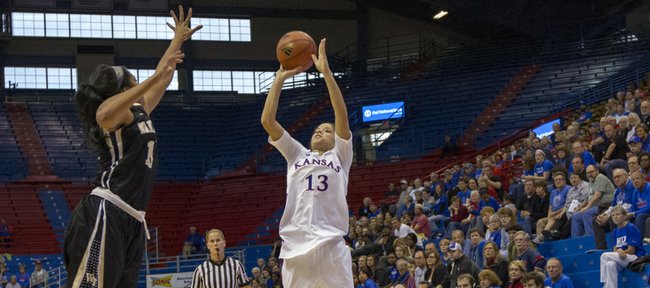 For now, Kansas University women's basketball coach Bonnie Henrickson is going to consider it a positive sign that her team is 5-0 despite ranking last in the Big 12 in three-point shooting.
"I think we can turn it around," Henrickson said Tuesday. "You have to shoot your way out of it a little bit — get some extra reps and do some more shooting."
The 20th-ranked Jayhawks, who will play host to Grambling State at 7 tonight at Allen Fieldhouse, have made just 12 of 51 long-range attempts this year (23.5 percent). That would rank as 10th-worst nationally, but KU doesn't qualify for the NCAA's leaderboard because it hasn't made at least four threes per game.
Henrickson isn't ignoring the numbers, as she's committed more in-practice time to getting up shots in the last few weeks.
"A lot of it is focusing on the mechanics of your shot," Henrickson said. "All the things that great shooters do ... just do that consistently. We've shot a little bit better in workouts."
Henrickson believes each of the guards in her rotation have the ability to knock down threes. She said specifically that senior Angel Goodrich (7-for-19), sophomore Natalie Knight (3-for-14) and senior Monica Engelman (0-for-4) have the green light to fire away when they're open.
"The guards talk about (how) their responsibility is to make open shots," Henrickson said, "and we've got to knock them down certainly."
Another potential positive for Henrickson: KU hasn't relied too much on threes with potential All-American Carolyn Davis in the post. Just 17 percent of KU's field-goal attempts have been three-pointers — the second lowest percentage in the conference.
"I told our guards, 'I'm never going to take you out because you're throwing it to Carolyn Davis too much,'" Henrickson said. "That's a good way to stay on the floor in our program."
The poor outside shooting has dragged down KU's offensive production, as the Jayhawks' 63.6 points per game is last in the Big 12 and more than five points behind ninth-place West Virginia.
Henrickson knows there's more her team can do in addition to making open shots.
"It's a work in progress for us," Henrickson said. "We certainly need to create more opportunities in transition. We haven't turned teams over like I think we need to."
Grambling State (0-5) comes to Lawrence after falling at Wichita State, 62-44, on Tuesday night.
More like this story on KUsports.com