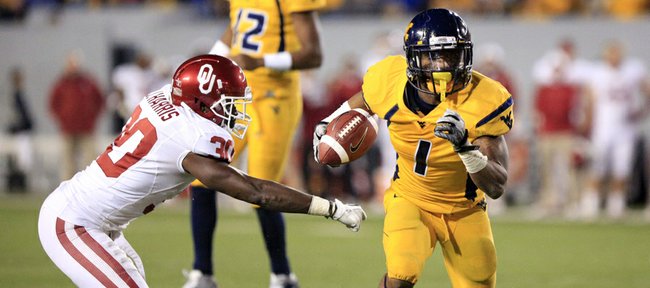 At some point during the middle of November, West Virginia senior Tavon Austin stopped exclusively catching passes and started running the football.
Boy, did it work.
In the two games since transitioning from super-wideout to duper-tailback, Austin, a 5-foot-9, 171-pound speed demon from Baltimore has rushed for 418 yards and two touchdowns on 35 carries while also holding down his regular role as a wide receiver and kick returner.
"Almost every week I'm talking to you guys about a special player. Well, this guy ranks right up there at the top of the list," said KU coach Charlie Weis, who, along with defensive coordinator Dave Campo, will have the pleasure of being the final Big 12 team to have to deal with Austin when the two teams square off in the season finale at 1:30 p.m. Saturday in Morgantown, W.Va. "Whether they line him up in the backfield or motion him across the formation, he's a pain in the butt that you always have to account for."
Unlike most teams, the Jayhawks (1-10 overall, 0-8 Big 12) have been given the luxury of getting a few extra days to prepare for West Virginia's high-powered offense, which averages more than 500 yards of total offense per game, including 335 yards through the air. Although that production has been spread out between a number of fast and talented players, Austin, with 521 yards rushing, 1,149 yards receiving, 903 yards in returns and 16 total touchdowns, has been the most versatile weapon of them all.
In WVU's 50-49 loss to Oklahoma, Austin ran 21 times for 344 yards and two touchdowns and added four catches for 82 yards.
"I have a lot of respect for (Oklahoma's) defense," Weis said. "And he made them look silly."
Last week, during the Mountaineers' win at Iowa State, Austin was limited to 173 yards of offense on 23 touches, but scored the game-winning TD on a 75-yard pass late in the fourth quarter.
"Five-nine, 171, you can throw that right out the window," Weis said of Austin's size. "Because at running back, he's as good as I've seen there and wide receiver, he's good there. And he's their kickoff returner and punt returner. Other than that he provides no worth at all to their team."
It's not as if Austin is the only player who could give KU fits this weekend. Senior quarterback Geno Smith (3,597 yards passing and 37 touchdowns) is a potential Heisman Trophy finalist, junior Stedman Bailey (95 catches, 1,342 yards, 21 touchdowns) has been explosive all year on the opposite side of the field as Austin, and the Mountaineers feature a few other running backs, wideouts and tight ends who all have added to the team's insane offensive output.
"Obviously, this team is as dynamic of an offense as you can possibly go against," Weis said. "If we don't show up against these guys, it'll be 100-0."
Road roster trim again
During KU's last road trip, which produced a double-overtime loss at Texas Tech, Weis trimmed the travel roster from 70 to 54, leaving home a couple of regulars who, in Weis' opinion, did not add much to the team when playing away from home.
Asked how he would handle the travel squad this weekend, Weis was blunt.
"This will not be a big number either," he said.
Weis still motivated
While Tuesday's news conference featured plenty of talk about KU's upcoming opponent, Weis also spent a fair amount of time reflecting on the season and looking ahead to the future, a future that includes seven KU coaches hitting the recruiting trail Sunday.
"I love when people say, 'Why did you take this job?'" Weis said. "I didn't take the job to go 1-10. I took it because I felt that this would be a challenge, taking this team and turning it from a program at the bottom to back to not only respectability but being a perennial winning football team. And that's what I intend to do before I leave here. I might be here a long time, but that's just the way it's gonna have to be."
Mangino on CU radar?
According to multiple reports in Colorado, former KU coach Mark Mangino, who has been out of coaching since being forced out at KU following the 2009 season, has landed on the wish list for the Colorado Buffaloes, who, for the second time since 2010, are looking to hire a football coach after handing Jon Embree his walking papers earlier this week.
Mangino, who moved with his wife to Florida after leaving KU, recently expressed a desire to get back into coaching now that his wife Mary Jane's health problems are behind her.
A couple of programs have contacted Mangino about coaching vacancies throughout the past three seasons, but the timing never was right.
It may be today, and Mangino's name figures to be tossed around a lot among the handful of BCS programs currently looking for head coaches.
More like this story on KUsports.com