Tuesday, November 27, 2012
Photo Gallery
KU basketball v. San Jose State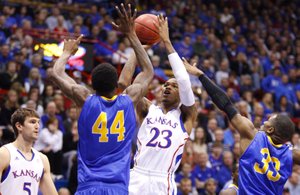 Images from Monday night's game against San Jose State.
Podcast episode
Kansas coach Bill Self talks to reporters following the Jayhawks' 70-57 victory over San Jose State on Nov. 26, 2012.
Podcast episode
Jeff Withey, Elijah Johnson and Travis Releford talk to reporters following the Jayhawks' 70-57 victory over San Jose State on Nov. 26, 2012.
Jeff Withey set Kansas University's single-game blocks record on the same night as he recorded his first collegiate triple-double — the second official triple-double in storied Jayhawk basketball history.
So which is more impressive and meaningful, the 7-foot senior from San Diego was asked, following KU's 70-57 victory over San Jose State on Monday in Allen Fieldhouse?
"The triple-double," Withey said without hesitation, "just because I've been wanting it awhile now. There's only me and (former KU center) Cole (Aldrich) to have it. It's pretty special to me," he added after his 12-block, 12-rebound, 16-point effort in 35 minutes.
Withey joins Aldrich as the only member of KU's official triple-double club. Aldrich had 20 rebounds, 13 points and 10 blocks against Dayton in an NCAA Tournament game on March 22, 2009, in Minneapolis.
Blocks, assists and steals were not recorded at KU until the 1970s and the NCAA until the 1980s. Research has shown Wilt Chamberlain had at least two unofficial triple-doubles and B.H. Born one.
Withey's block total of 12 surpasses the old record of 10 blocks set by both Withey and Aldrich. Withey had 10 versus North Carolina State in last year's NCAA Tournament Sweet 16 in St. Louis. Aldrich had 10 in that aforementioned game against Dayton.
"I had no idea," Withey said of his block total, which hit the 10 mark when he batted a Xavier Jones shot with about eight minutes left. "I knew I was getting up there. I didn't know I had 12, that's for sure. After the game, C.T., our media guy told me. I was pretty stoked," Withey added of the news being delivered by Chris Theisen, in charge of basketball media relations.
Withey had six points, six blocks and four rebounds the first half as KU led, 40-32, at halftime. His second half totals of 10 points, eight rebounds and six blocks (in 20 minutes) helped save the day as KU saw a 24-point lead (60-36) dip to seven thanks (64-57) in part to a 10 1/2-minute stretch without scoring a bucket.
"I thought Jeff was great. He won the game for us almost single-handedly," coach Bill Self said. "He was the only one who played worth a flip. I thought Jeff was terrific. He's getting where he's scoring a little better. He was active. He was good at covering up for a lot of mistakes because we made a ton of them tonight."
Teammate Elijah Johnson (13 points, five assists, four turnovers) marveled at the triple double.
"I am guilty of it, too. We get caught standing around watching Jeff like a fan," Johnson said. "That's when we have to snap back into it. He can't do everything on his own. He saved us a lot of times. There were a lot of times I caught myself looking at him like I wasn't part of the game, and it's something that shouldn't be happening with seniors, with nobody on the court. We've got to help Jeff. It's a heavy load. We have to help him up. It's a big help for us. We know if our man beats us off the dribble, he's completed only half the task," Johnson added.
Ben McLemore and Travis Releford added 13 points apiece for the Jayhawks, who did not impress Self.
"We sucked, OK?" he said. "We couldn't pass it, dribble it or shoot it, screen it or rebound it. We didn't do anything."
Except for Withey, who, by the way, had one KU triple-double in an exhibition game — 18 points, 12 rebounds, 10 blocks in an 84-55 victory on Nov. 1, 2011.
That one didn't count. Monday's did.
Next up for KU is a 7 p.m. contest against Oregon State on Friday in Sprint Center in Kansas City, Mo.