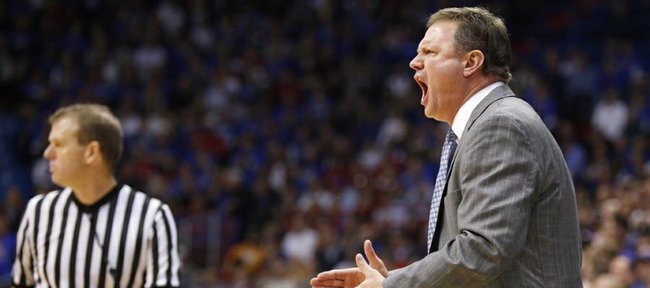 Photo Gallery
KU basketball v. San Jose State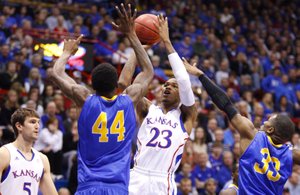 Images from Monday night's game against San Jose State.
Podcast episode
Kansas coach Bill Self talks to reporters following the Jayhawks' 70-57 victory over San Jose State on Nov. 26, 2012.
Podcast episode
Jeff Withey, Elijah Johnson and Travis Releford talk to reporters following the Jayhawks' 70-57 victory over San Jose State on Nov. 26, 2012.
Sometimes hearing bad news is good news. One such time occurred as Kansas University basketball coach Bill Self delivered a thumbs-down review of his basketball team's offensive performance Monday night in a 70-57 victory against San Jose State in Allen Fieldhouse.
Self mentioned in passing that senior point guard Elijah Johnson was not at full strength.
"Elijah's knee is nicked up," Self said. "He has no juice, can't get his shoulder past anybody."
That bad news qualified as good news because it stands to reason that when Johnson's knee gets better, so will his performance. When it does, no way Kansas goes 10-plus minutes without a field goal as it did during a second-half drought that turned a blowout into a game.
Not that all the offensive woes could be traced to Johnson not having his fastball, but he's the guy charged with making Kansas play at a fast pace at both ends, making the offense operate far from the hoop and keeping the defense a step behind.
Generally, the worse Self's team plays, the more colorful the coach's post-game remarks. Monday was no exception, and that's no surprise considering San Jose State went on a 16-0, second-half run.
"I've seen bad offense before — third-and-fourth-grade YMCA basketball with no good ball reversal and bad ball-handling," Self said. "Our offense surpassed that tonight the last 12 minutes of the game."
Jeff Withey's far-reaching defensive dominance made Kansas look good defensively in the box score. The Spartans (2-3) shot just .292 from the field. Self, accustomed to having quick defenders on the perimeter, didn't like what he saw beyond the numbers.
"They were so much faster than us," Self said. "I don't know, maybe we should play zone because our guards can't keep anybody in front of them."
Sophomore Naadir Tharpe, the first guard off the bench, continues to struggle defensively and with his shot and in making the right pass at the right time. Rio Adams is longer, stronger and more explosive than Tharpe, but so far hasn't harnessed his physical gifts to the extent Self trusts him to join the rotation. Maybe Adams will make huge strides during the Christmas break, when practice time limitations are suspended. If so, he can add a needed dimension. If not, perimeter bench play could remain an issue for the remainder of the season.
"I'm just concerned about our athleticism, to be real honest with you," Self said. "I just don't see our perimeter guys doing anything athletically to create pace or force havoc on the other team."
Increasing the pace starts on the defensive end, and for much of the night, the Kansas guards looked like the Kansas football team's defensive backs, playing too far off the guys they're assigned to guard to create discomfort.
"If we haven't figured it out, we've got a pretty good guy behind blocking shots, so why wouldn't we get out and pressure our guy? That's the thing that's discouraging to me," Self said. "We're just not athletic enough to get out and do some things I'd like to do."
Self has resorted to having the ultra-quick, 6-foot-5 freshman Ben McLemore or 6-6 senior Travis Releford on the primary ballhandler because he has grown tired of seeing point guards whiz past Johnson and Tharpe.
That could change if and when Johnson's knee improves. At that point, Johnson also will do a better job of penetrating and forcing help, which should lead to better shots for teammates.
Even with the point guard not at his best, the odds of a Kansas team going 10:26 between field goals are astronomical.
Withey's bucket with 11:42 left gave Kansas a 60-36 lead. Johnson's pull-up jumper with 1:16 left made it 66-57.
"In our building we can't make a field goal for 10 minutes?" Self groused. "It was brutal, but we did hang on and win, which was the good thing."
Kansas played lousy and won. Having a senior center who totals 16 points, 12 rebounds and 12 blocked shots can compensate for so many shortcomings, but as the schedule gets tougher, so too must the guys playing in front of Withey.