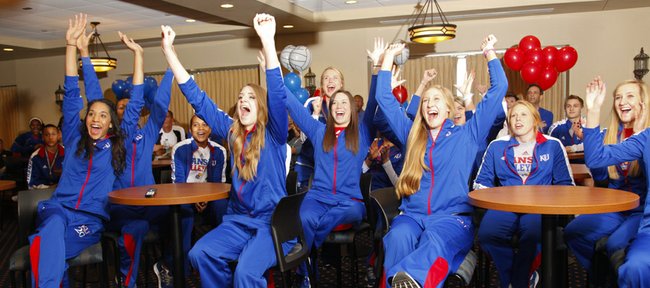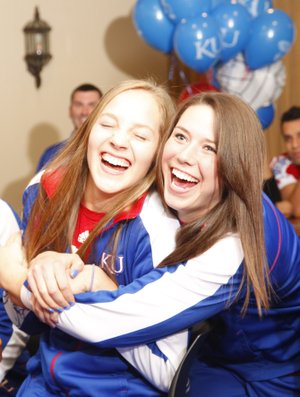 Never has Caroline Jarmoc been more excited to go to class.
Jarmoc, Kansas University's junior middle blocker, admitted to being a little stressed out about how she was going to juggle her chemical-engineering workload this week while also preparing for a potential road trip in the NCAA Tournament.
That's not a concern any more, as Jarmoc and the rest of the Jayhawks will be hosting the first two rounds of the NCAA Tournament — an announcement they saw live on ESPNU while attending a watch party on Sunday afternoon at Allen Fieldhouse.
"Being able to host is all we could ever ask for," Jarmoc said. "Everybody is so pumped."
KU earned the No. 11 overall seed and will host Cleveland State in the opening round at 6:30 p.m. Friday at Allen Fieldhouse.
The Jayhawks weren't certain they would be hosting while watching Sunday's selection show. Though the Jayhawks finished the season No. 7 in the RPI, they were ranked No. 20 in last week's coaches poll.
The top 16 teams in the NCAA are selected as hosting sites.
"I'm sure there'll be a number of people out there that'll wonder if we got seeded too high. This team plays with a chip on its shoulder regardless," KU coach Ray Bechard said. "We can come up with something to get them motivated for sure."
The KU-CSU winner will face the winner of Friday's other match-up — between Arkansas and Wichita State — at 6:30 p.m. Saturday.
It is the first time in school history KU has been selected to host in the first and second rounds.
"At the beginning of the year, we knew we'd be good, but we never expected to be here at this point," KU junior libero Brianne Riley said. "Not only are we in the tournament, but we have a really good seed, and we're at home, which is crazy."
This is the Jayhawks' fourth NCAA Tournament appearance, all under Bechard. KU last made the tourney in 2005, when it lost in the opening round to UCLA, 3-1.
Cleveland State, which has won 13 straight matches, finished the regular season 23-6, 13-1 in the Horizon League.
The Jayhawks' NCAA opener also comes on the same night that the KU men's basketball team plays Oregon State at 7 p.m. at Sprint Center in Kansas City, Mo.
"Hopefully there will be enough Jayhawk fans to go around," Bechard said. "It would be great if we could get a large student contingency there. ... I would hope that if we promote it like I know we will that we could get a really nice group of people to see some good volleyball."