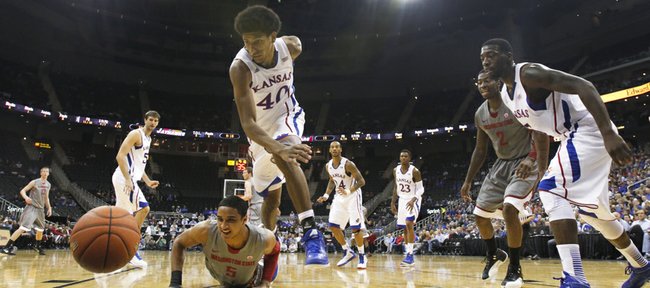 So far, seven Kansas University basketball players have been awarded spots in the starting lineup during the 2012-13 regular season.
Elijah Johnson, Ben McLemore, Travis Releford and Jeff Withey have opened all five games at point guard, shooting guard, small forward and center respectively. Perry Ellis and Kevin Young have started two games and Jamari Traylor one at power forward.
"Everybody has had a chance," KU coach Bill Self said. "I would think it would be best for our team if we had a little more scoring. We are not getting a ton of that and Kevin does so many little things that I think helps us.
"Right now, it may be best for our team for Kevin to start. We seem to get off to better starts in the game with him out there. That may be something we need to think about," Self added of the 6-foot-8, 185-pound senior, who opened both games at the CBE Hall of Fame Classic in Kansas City — victories over Washington State (78-41) and Saint Louis (73-59).
"Starting to me is so overrated. It's not who starts, but who finishes," Self continued. "In a perfect world, you'd probably like to see your most talented guys separate themselves. That certainly hasn't happened at all. Kevin to me maybe has taken that step beyond the other two right now as far as doing things to help your team be successful."
As far as the five-game stats of KU's power forward candidates ... Ellis, a 6-8, 225-pound freshman from Wichita, averages 7.4 points (off 46.2 percent shooting) 4.2 rebounds and 16.6 minutes; Traylor, a 6-8, 220-pound red-shirt freshman from Chicago, 3.4 points (43.8 percent shooting), 2.8 rebounds and 16.2 minutes and Young 3.0 points (50 percent shooting) and 6.3 rebounds in 16.8 minutes. He's played in four games.
Justin Wesley, a 6-8, 200-pound junior from Fort Worth, Texas, has averaged 1.7 points and 2.3 boards while playing 8.3 minutes a game in three of the five games. He started one exhibition game, as did guard Naadir Tharpe.
"I think it means a lot," Young said of three Jayhawks claiming regular-season starts at power forward. "It shows how much we've all improved at the four spot, because all of us play hard to work for that spot. That's why there's been so many changes in the lineup the last couple games. It pushes each and every one of us to be able to start."
Self has said Young is the most talkative player on the team, which is a valuable quality for a senior leader.
"Kevin had 18 rebounds in the two games (in KC) in somewhat limited time," Self said. He had 10 versus Washington State in 18 minutes and eight versus Saint Louis in 27 minutes. "He is the best we have as far as stealing extra possessions and getting to loose balls."
On a lighthearted note, the easy-going Young recently was asked about his hair, which he likes to wear in a high, afro style.
"I'm trying to be the tallest player on the court," Young said, smiling. "I'm trying to catch up to Jeff (Withey). I'm going for a couple more inches."
Next up: KU will meet San Jose State at 8 p.m., Monday, in Allen Fieldhouse. The Spartans of the Western Athletic Conference are 2-2 following a 94-54 home win versus UC Santa Cruz on Nov. 20. Eighth-year coach George Nessman's Spartans also defeated Weber State (68-67, OT) and lost to Houston (77-75) and at New Orleans (72-68). Senior guard James Kinney averages 21.0 ppg and 6.5 rpg.
Recruiting: Julius Randle, a 6-9, 240-pound senior forward from Prestonwood Christian Academy in Plano, Texas, will visit KU on Dec. 28-30, Zagsblog.com reports. KU has a home game against American University on Dec. 29. Rivals.com's No. 2-rated player in the 2013 class also will visit Texas on Dec. 15-16 and North Carolina State on Jan. 26. He has visited Kentucky and Florida officially and made an unofficial visit to Oklahoma.
"I'm looking for a coach I can trust, one that can get me ready for the next level,'' Randle told Zagsblog. "And somewhere that I think I can win, it is a big thing for me. I've been working a lot on spot-ups, patience, just reading defenses."
Zagsblog has rated KU's recruiting class of Joel Embiid, Brannen Greene, Conner Frankamp, Frank Mason and Wayne Selden second nationally behind Kentucky. Memphis is third, Indiana fourth and North Carolina fifth.
More like this story on KUsports.com