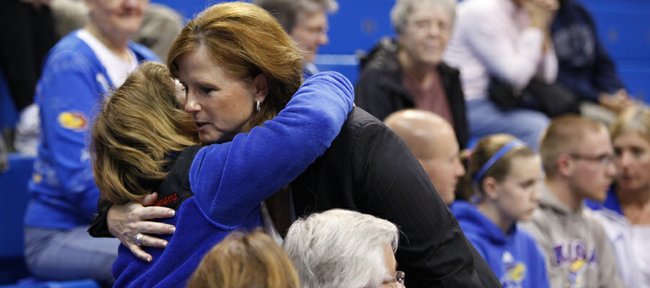 Though Kansas University's 76-59 women's basketball victory over Alabama A&M; Friday night at Allen Fieldhouse might not go down as one of the most important or memorable victories in coach Bonnie Henrickson's career, she certainly won't forget the significance of the outcome.
Jayhawks seniors Carolyn Davis, Angel Goodrich and Monica Engelman presented the ninth-year KU coach with the game ball after Henrickson won the 300th game of her coaching career.
Never one to butter up her team after an easy nonconference victory, Henrickson said afterward a "prettier" win would have been nice. But she admitted the milestone meant a lot and gave credit to the people who made it possible.
"I've been really, really blessed in my career to coach really, really talented players," Henrickson said. "I think back on all the great players and great people I've had the opportunity to work with every day, then you throw on top of that great (assistant) coaches who are head coaches now, who are big-time assistants … and I've had great administrators who care about women's basketball and provide great resources to help us be successful."
The 22nd-ranked Jayhawks (4-0) didn't find out their coach was in line for a 300th win until hours before the game. After Davis scored 19 points in 20 minutes, the senior forward said Henrickson's passion for basketball has made her successful.
"She's been doing this a long time, and she reminds us about that all the time," Davis said of Henrickson, who now holds a 142-121 mark in her time at KU after amassing a 158-62 record in seven seasons at Virginia Tech.
"She won't steer us wrong," Davis added. "She tells us what we need to know. She's great at her job."
Goodrich, who scored 15 points and passed out a game-high eight assists against the Bulldogs (1-3), said Henrickson's attention to details and dedication have helped her reach this point.
"She's determined. She is always workin', workin', workin'. No matter what," Goodrich said. "She like never sleeps. She does everything she can to make us prepared, and that's what makes her so special."
Kansas took a 40-31 lead into halftime behind 11 first-half points from Davis and 10 from Goodrich, who contributed a combined 7-for 14 shooting effort to the Jayhawks' 50-percent field-goal percentage in the first 20 minutes.
Unlike some recent games, though, the senior duo's dominance benefited from some complimentary output from the rest of their teammates. All nine Jayhawks who played in the first half made at least one field goal, including two apiece from senior guard Engelman and sophomore substitute guard Asia Boyd. Back-ups Chelsea Gardner, Bunny Williams and CeCe Harper all knocked down a first-half shot, as did starters junior forward Tania Jackson and sophomore guard Natalie Knight.
The balanced effort didn't help KU pull away from Alabama A&M;, though, because the Bulldogs shot 14-for-30 from the floor (46.7 percent) and matched the Jayhawks' 22 points in the paint in the first half.
Those trends continued somewhat in the second half. While KU dominated the battle of the boards, 49-23, against A&M; in the first game between the two programs, the Bulldogs' 38 points in the paint and 26-for-58 shooting (44.8 percent) for the game didn't please Henrickson (Kansas scored 50 in the paint and made 32 of its 67 shots).
"We can't be a team that just wants to be pretty on the offensive end," the coach said, "and hope people don't score on the defensive end. We played a lot like that in the first half."
Engelman led the team with eight rebounds, passed out five assists and scored six points. Knight hit four of her five shot attempts (she made one of her two three-point tries) and finished with nine points. Boyd scored seven points and had a career-best seven rebounds.
The Jayhawks have their first road game of the season Sunday at Creighton (2-1) in Omaha, Neb.
More like this story on KUsports.com