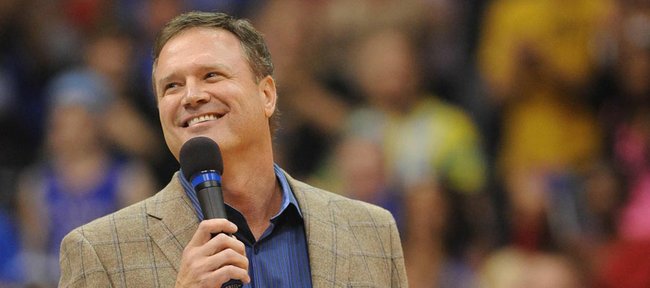 The Omaha World-Herald has spoken with four unnamed BCS conference coaches and administrators who said they think the Big Ten is "actively hunting for members 15 and 16 and mentioned the (North Carolina) Tar Heels and (Kansas) Jayhawks."
"Is that right? I have not heard that one," KU basketball coach Bill Self said Wednesday on his weekly Hawk Talk radio show. "You know what? I don't even think that's worth discussing," Self quickly added. "I think we are in a great spot where we are at. Can you imagine Carolina being without Duke (in ACC)? That makes no sense to me."
Maryland and Rutgers this week announced plans to leave the ACC and Big East respectively to join the Big Ten.
"Maryland basketball is the third best job in that league behind Carolina and Duke," Self said of the ACC. "That's a great, tradition-rich program. Of course they are leaving for reasons other than basketball. I'm not sure how 'Turg' (Maryland coach/KU grad Mark Turgeon) would feel about that move. They are kind of taking themselves out of their element to go play teams back in the Midwest," he added, noting Turgeon's Terrapins are situated in fertile recruiting ground in the East. "I don't know if that is a great move or whatever for them."
Self does think the Big Ten's going from 12 to 14 schools will have a "domino effect" on conferences nationwide.
"I think what it does is it speeds up the process for the Big East to not stay intact the way we know it," Self said. "The Big East has lost Pittsburgh and Syracuse and now with Maryland leaving, they say they want Connecticut now to go from the Big East to the ACC so that makes that league (Big East) that much weaker. I think the Big Ten obviously has the most juice of all the leagues. People say the Southeast Conference ... I still think the Big Ten and Southeast would be one and two and after that, I think the Big 12 falls three to be real candid with you."
Self said with Rutgers leaving and UConn out ... "I don't know if you've seen, San Diego State and Boise State are now renegotiating with the Mountain West (in a late update, ADs said Wednesday that they are still committed to a move to the Big East). Why would Houston and SMU want to be in the Big East? They are going to go back and try to get back in the Mountain West I'd think. I think this is going to start a domino effect that I think will be pretty significant in the next 12 months or so."
Gobble, gobble: The Jayhawks, who defeated Washington State (78-41) and Saint Louis (73-59) on Monday and Tuesday in KC's Sprint Center, took Wednesday off. They'll practice this morning, then ... "let everybody break and go eat big and enjoy families if they are close enough," Self said. "If not, they will go to different homes to enjoy Thanksgiving dinner. We'll stay off until 4 p.m., Friday, give them a little time. Then we'll also hit it hard Saturday and Sunday (in preparation for Monday's 8 p.m. home game against San Jose State)."
Peters struggling: It's safe to say freshman forward Zach Peters, who has not practiced yet this season because of a rotator cuff injury, will not be a factor at all this year.
"I would say so," Self said on Hawk Talk when asked if the Plano, Texas, native is "struggling."
"His health isn't great. He's been under the weather sick-wise and he can't catch a break right now. I really don't know what his situation is moving forward. He's got to the point now he's going to be so far behind we are definitely not anticipating him to be an impact player for us this year. Who knows how it'll be moving forward. I feel bad for him. I feel bad for us because I think he could definitely help us without question but it just hasn't been a good situation for him yet."
Self reiterated freshman forward Landen Lucas will red-shirt, "unless somebody were to get hurt in the near future. I think it's better for him and us to substitute age 23 for 18, 19. I do think he has a chance to be a really good player."
More signees to come?: KU, which has signed five players in the Class of 2013, is looking to add more players this spring. The Jayhawks technically have no scholarships to give with the full allotment of 13 on board for next season.
"Just because we signed five doesn't mean we are maxed out on our scholarships," Self said. "A lot of times we don't tell the public exactly where everything stands on everybody in certain situations. I am not going to run anybody. I am not going to chase anybody (off team). There could be a situation I could see us having at least eight available because you never know. What if a couple kids go early (to NBA) or whatnot? I am not one to say, 'Hey we are full' and we come up needing more late. We'll try to sign one or two more without question."
He added ... "a lot of times you have one guy transfer, one go hardship and something else happens and all of a sudden you are playing with 10 scholarship guys as opposed to playing with 13. You've got to be prepared."
More like this story on KUsports.com