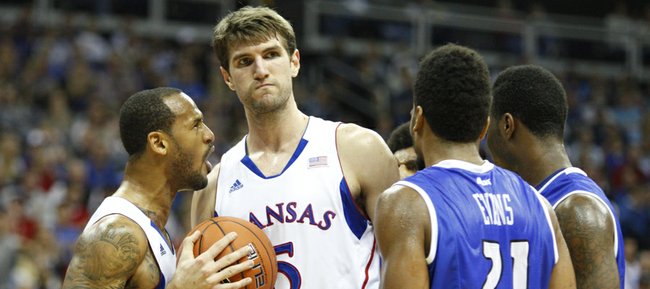 It's hard to keep track of time once the marathon college basketball season starts rolling along.
"It seems like Michigan State was a long time ago. Michigan State was a week ago yesterday," Kansas University coach Bill Self exclaimed Wednesday night on his weekly "Hawk Talk" radio show. "We've played three games since then. We've played five of the six halves pretty well since that game. Hopefully we are making some progress."
The Jayhawks (4-1), who fell to Michigan State, 67-64, on Nov. 13 in Atlanta, suffered through a horrific first half in the ensuing game against Chattanooga. KU, which trailed the Mocs, 36-28, at halftime, rolled, 41-19, the second 20 minutes in a 69-55 victory on Nov. 15 in Allen Fieldhouse.
The Jayhawks had four good-to-excellent halves in CBE Classic victories over Washington State (a 78-41 rout) and Saint Louis (a 73-59 decision) on Monday and Tuesday in Kansas City, Mo.
"We played better," said Self, whose Jayhawks will practice today through Sunday in preparation for Monday's 8 p.m. home game against San Jose State. "Our defense was good for the most part, rebounding probably average or a little above average. We shot the ball pretty well from the perimeter. We didn't shoot it so well inside the arc. We missed a lot of bunnies.
"It was great to see Travis (Releford) get on track. He played outstanding. And of course Jeff (Withey) was great, also."
Self covered a lot of ground in those few sentences.
To provide some stats to put his comments in perspective: KU held Washington State to 29.8 percent shooting (4-of-22 from three) and Saint Louis to 34.6 percent shooting (10-26 from three), while outrebounding WSU by 11 and SLU by three.
KU hit seven of 13 threes versus Saint Louis (45.3 percent shooting overall) and eight of 24 against WSU (45.5 percent overall).
Meanwhile, senior wing Releford busted a slump by scoring 23 points against the Billikens and 17 against the Cougars. Senior center Withey had 25 points, seven blocks and five rebounds against SLU, and eight points, six boards and five blocks versus WSU.
"Travis was great. It was good for him to get the lid off the basket. Jeff was good on both ends," Self said. "Our two leading scorers were probably our best defenders, too."
Some of the freshmen showed progress, too.
"Ben I think will become more consistent," Self said of guard Ben McLemore, who had 11 points and two boards against WSU and 11 points and six boards against Saint Louis.
"Jamari is a workhorse. He will get better and better by playing," he noted of Jamari Traylor, who had five points and four boards in 15 minutes vs. WSU, and two boards, two blocks, two steals and no points in 12 minutes against SLU.
"I saw signs this past week Perry is starting to figure things out," he added of forward Perry Ellis, who had four points and three boards in nine minutes against SLU, and 12 points and three boards in 14 minutes vs. WSU.
Point guard Rio Adams played 10 minutes in the two games, combining for no points off 0-for-5 shooting with no assists and no turnovers. Andrew White III had five points and two rebounds in nine minutes versus WSU.
"They are doing OK. I'm not playing them (so far). It's not because I don't like them," Self said. "We need a little more ... I don't know if production is the right word, but them understanding how to make the team better in their limited role. Anrio gets in there (against SLU), and there's nothing wrong with his 'try' level. But you turn it over and go under ball screens in the scoring area, do this and that, and all of a sudden the lead goes from 16 to 10 ... time to sub because you can't let runs like that continue."