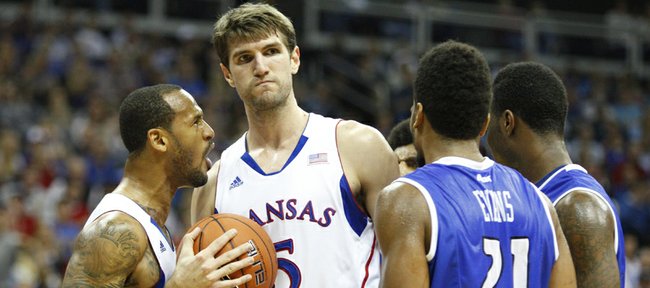 Photo Gallery
KU basketball v. Saint Louis (CBE Classic)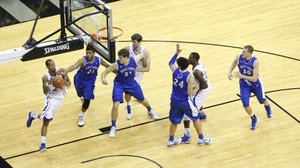 Images from Tuesday night's game against Saint Louis in the CBE Classic.
Podcast episode
Kansas coach Bill Self talks to reporters following the Jayhawks' 73-59 victory over Saint Louis on Nov. 20, 2012.
Podcast episode
Jeff Withey and Travis Releford talk to reporters following the Jayhawks' 73-59 victory over Saint Louis on Nov. 20, 2012.
The outrageously wide wingspan of Kansas University senior center Jeff Withey never touched more facets of a basketball game in the finishing minutes than it did Tuesday night in the CBE Classic title game in the Sprint Center.
A die-hard Saint Louis University basketball team would draw closer, only to see Withey, always close to the basket, push his team back to a safe lead.
Withey ran the floor hard to establish position at both ends, didn't let anybody shove him out of the way and put his signature all over a 73-59 victory in which KU played high-quality November basketball for the second night in a row.
Withey attempted just 12 shots from the field and scored 25 points to go with seven blocked shots, two steals and five rebounds. He scored 12 of his team's final 16 points, and the closer the game became, the more he impacted it.
Kansas had a double-digit lead from the 9:50 point of the first half until the 3:51 mark of the second half, when Cody Ellis hit a three-pointer to cut the KU lead to 65-56.
In a span of 1:34, Withey scored the next six points on a driving bank, a dunk and two free throws to put the game safely away.
His scoring total matched a career-high, but Saint Louis coach Jim Crews spent more time talking about what Withey did at the other end of the court.
"We like to go inside with several of the guys," Crews said. "He makes it a little bit more difficult to do that, even if it's not his man."
The best indication of how extensively Withey disrupted SLU can't be found next to his name in the box score, rather in the shooting totals of the Billikens. Frustrated into taking their chances outside of Withey's long reach, they attempted an identical number of three-pointers (26) as two-point field goals and made more threes (10) than shots inside the semi-circle (eight).
"He's good," Crews said. "Some shot-blockers are good on the ball. Some are good off the ball. He seems to have a pretty good knack of doing both and staying out of foul trouble. So certainly salute him on that."
The former Army head coach doesn't dispense salutes liberally, so he clearly has a great deal of respect for Withey's game.
The KU center was whistled for just one foul, and his official block total was seven, but it would be interesting to hear what a curious fan might find by watching the entire game again with the sole purpose of keeping track of Withey's blocks. It seems blocked shots are the least accurate figures in sports, doesn't it?
"I have no idea," Withey said. "I don't count them in my head or anything. It goes either way. Sometimes they might give you one when you don't or miss one when you do. It goes either way."
Nice of him to say that, and it's not surprising he doesn't track them in his head, but he never gets credit for a block when he shouldn't and seemingly, like all shot-blockers, doesn't get credit for all of his rejections.
Anyway, his statistics don't make teammates grateful. His presence does.
"We appreciate it as players, the coaches, we see and know what Jeff does for the team," fellow senior Travis Releford said. "He helps out a lot. He takes a lot of pressure off of guards defending because if we get beat we know we've got Jeff back there to alter the guy's shot. We definitely appreciate that a whole lot."
And Withey appreciates them for feeding him the ball. Johnson assisted two of Withey's buckets during his 12-point flurry, Kevin Young one and Ben McLemore another.
"I definitely don't mind it," Withey said of the closer role he performed against Saint Louis. "It definitely wasn't just me. My teammates did it all for me. They were throwing the ball perfect. All I did was have to catch it and go up. They were making great passes, and they made it really easy for me. That's something we do in practice, and that's something our guards are getting really good at. It's giving me confidence and making me more aggressive. I definitely don't mind being the closer though."
The closer. The rejector. The low-post scorer. The free-throw shooter (11 of 14). Withey did it all for Kansas in this one, especially when it counted most. The exhibition game through which he somnambulated didn't count, remember? Maybe he was just playing possum to see if anybody would fall for it.