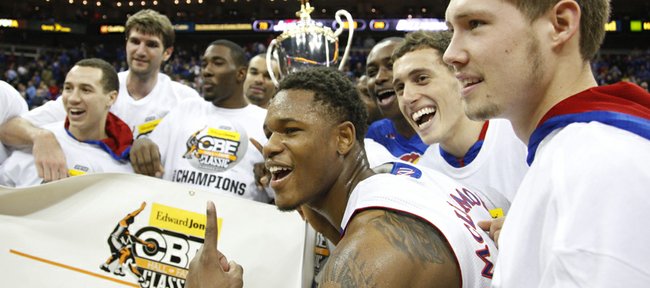 Photo Gallery
KU basketball v. Saint Louis (CBE Classic)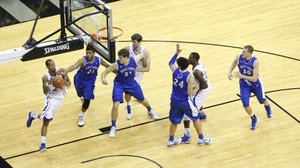 Images from Tuesday night's game against Saint Louis in the CBE Classic.
Podcast episode
Kansas coach Bill Self talks to reporters following the Jayhawks' 73-59 victory over Saint Louis on Nov. 20, 2012.
Podcast episode
Jeff Withey and Travis Releford talk to reporters following the Jayhawks' 73-59 victory over Saint Louis on Nov. 20, 2012.
Kansas City, Mo. — Kansas University dominated the five-player CBE Hall of Fame Classic all-tournament team.
The Jayhawks' Ben McLemore, Travis Releford and Jeff Withey were joined by Saint Louis' Dwayne Evans and Texas A&M;'s Elston Turner.
Releford was named tournament MVP.
Getting better: Self said the goal, of course was to win the tournament, but something else as well.
"We got better over here. That was key," he said of the Sprint Center games.
His players had some fun during the awards ceremony following Tuesday's 73-59 title win over Saint Louis. Freshman Jamari Traylor (two boards, 12 minutes) wore the CBE title banner as a cloak, draping it over both shoulders. The Jayhawks wore CBE Classic champion T-shirts and hoisted the team trophy before exiting the court.
Attendance: The attendance for the final was listed at 10,315 in an arena that seats 18,972. The games were not part of KU's season-ticket package. Several thousand fans remained in their seats for the awards ceremony.
Records: KU improved to 13-3 all-time against Saint Louis. ... KU is 7-1 all-time in the CBE Hall of Fame Classic. ... KU won its first in-season tournament title since the 2010 Las Vegas Invitational (KU went on to win the 2011 Big 12 Championship later that season). ... KU is 16-4 in Sprint Center and 201-78 all-time in Kansas City, Mo.
Still ill: KU coach Self continues to battle a cold, which plagued him both nights of the tourney. Injured forward Zach Peters, who is out with a rotator cuff injury with no return planned anytime soon, did not attend either game. Self said he was sick.
Young's line: Senior Kevin Young started his second straight game at forward. He did not attempt a shot in 27 minutes. He was 2-of-2 from the line and had eight boards with three assists.
Team notes: KU extended its lead to double-digits (21-10) at 9:50 in the first half and remained ahead by double-figures until the 3:51 mark of the second half when SLU forward Cody Ellis cut it to nine, 65-56. ... Saint Louis' first bucket went in off the hands of KU's Ben McLemore, but the goal was credited to SLU's Cory Remekun. ... KU was out-rebounded in the first half, 17-16, but won the board battle, 33-30. ... KU tied a season-low set the night before (vs. Washington State) with nine turnovers. ... KU went 18-for-22 from the free-throw line and completed the two-day stay in Kansas City at 38-for-44 (86 percent). .. Releford broke his previous career-high in three-pointers made (three, twice) with four in the first half alone. ... Releford was the only Jayhawk to attempt a three-pointer in the first half (4-for-6). He was 4-of-7 overall. ... Jeff Withey had a season-high in blocks (seven) and steals (two). ... Elijah Johnson's nine assists tied a career high previously set in his freshman season against Alcorn State. ... Naadir Tharpe hit a three-pointer with 15:23 remaining in the second half. He is the only Jayhawk with a made three-pointer in every game this season. ... Perry Ellis played less than 10 minutes for the first time this season (nine). He had four points and three boards.
Keller's take: Kyle Keller, who worked three seasons as video coordinator on Bill Self's KU staff, is a second-year assistant at Texas A&M;, which defeated Washington State, 55-54, on Tuesday in the consolation game after losing to Saint Louis, 70-49, Monday.
The Monday loss prevented a matchup in the finals against KU.
"I don't think it's any fun playing KU. It never has been," Keller said before the start of the tourney. "It's always been a grind no matter what players are in that uniform. Our game against them in the Sprint Center last year was a nightmare. They took us to the woodshed."
KU clubbed the Aggies, 83-66, in the first round of the 2012 Big 12 Tournament in Sprint Center. KU also won, 66-58, on Feb. 22 in College Station, Texas, and 64-54, on Jan. 23 in Allen Fieldhouse. The teams have met just once outside of Big 12 play. KU won, 78-52, in 1967 in the Sunflower Doubleheader in Manhattan.
KU is 19-1 overall vs. A&M;, 12-1 in the Bill Self era. The Aggies, of course, bolted the Big 12 for the SEC this season.
The Aggies are enthused over freshman guard J'Mychal Reese, who chose A&M; over KU and others in recruiting. He had a bad game against offensively against SLU with zero points off 0-for-3 shooting with four assists and two turnovers with four steals in 33 minutes. He went for eight points, hitting two threes versus Washington State.
"He's been good," Keller said of the 6-1, 177-pounder from Bryan (Texas) High. His dad, John, joined the A&M; staff as a full-time assistant this season.
"It's nice to have a point guard who can shoot and score. He impacts the game. He's always been able to score points. Now, can he facilitate at this level?"
Tuesday's game, by the way, was decided by Elston Turner, who hit a three with two ticks left. Former KU guard Royce Woolridge had time to hoist a half-court shot that fell short at the buzzer. Woolridge scored six points off 1-of-4 shooting with one assist and one turnover in 27 minutes.
More like this story on KUsports.com