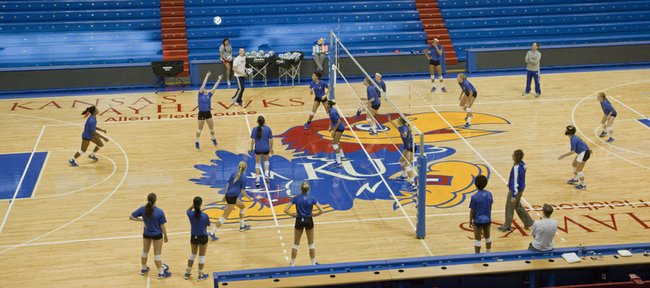 Kansas University's volleyball team has organized its own recruiting for today's 6:30 p.m. match against Saint Louis.
Earlier in the week, the Jayhawks made plans to talk in their classes and also post on Twitter to try to draw fans for the match, which is free to the public.
"We're trying to get a lot of people," Kansas junior Caroline Jarmoc said. "We'll definitely be advertising a lot."
Having a bigger crowd than normal will be possible because of the setting. For the first time since 1999, the Jayhawks will play a volleyball match at Allen Fieldhouse.
The reason for the location change is simple: The NCAA requires all potential hosting teams to have arenas with capacities of at least 2,000.
KU's home arena, Horejsi Center, only holds 1,300, meaning if the Jayhawks are chosen as a host for the NCAA Tournament first and second rounds, they will shift their matches to the basketball arena.
The team also practiced Monday and Tuesday at Allen Fieldhouse.
"(The players) love Horejsi, but the competitor in everybody, the Jayhawk in everybody ... Allen Fieldhouse means a great deal to all Jayhawk fans," KU coach Ray Bechard said. "Obviously, we're not going to create the type of environment our men's basketball team creates in there, but we'll create an environment that's unique to our sport and to this team."
Bechard said he hopes playing at the fieldhouse will give his players experience with the surroundings in case KU does host NCAA Tournament matches.
Jarmoc said familiarity with a gym especially helps players better judge where the ball is going to end up.
In a fast-paced sport like volleyball, those reactions happen quickly.
"I think it's a good idea to practice in here a few times, just to get a good feel for it," Jarmoc said, "because we don't want to be at a disadvantage at all."
The top 16 teams are selected as sites for the first and second round matches, leaving KU on the bubble for hosting.
The Jayhawks (23-6) are ranked sixth in the RPI rankings but 20th in the coaches poll.
Bechard also believes allowing fans in for free tonight against Saint Louis (10-19) will allow people to attend who might not normally be able to come to games. That includes volleyball teams and also big groups who might not be able to afford buying a lot of tickets.
"I think it's our way of saying, 'Hey, thanks for packing Horejsi match after match,'" Bechard said. "Let's get an opportunity for families and groups and everybody in the surrounding area to come out and watch us play."
Bechard has experience coaching at Allen Fieldhouse. KU played all its home matches there during his first year at KU in 1998.
That included his first home match: a victory over San Francisco.
"Being a big Jayhawk fan before I got here and a huge basketball fan, it was just kind of a surreal experience," Bechard said.
KU volleyball, which played its home matches at Allen Fieldhouse from 1975-98, moved its home to the Horejsi Center for good in 1999 after playing one of its matches at Allen Fieldhouse before Late Night on Oct. 15, 1999.
Earlier in the week, Jarmoc said one of her friends from Canada even commented, "Oh my gosh. You get to play at Allen Fieldhouse?"
"I'm excited. It's a new atmosphere," Jarmoc said. "I'm just really hoping that we can fill it up a lot and get a lot of people so we can have that home-court feel like we do in Horejsi."
More like this story on KUsports.com