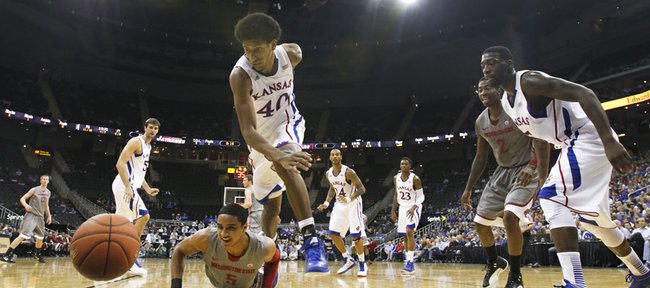 Photo Gallery
KU basketball v. Washington State (CBE Classic)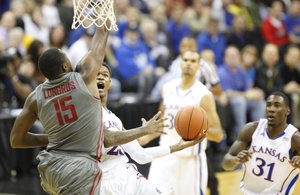 Images from Monday night's game against Washington State at the Sprint Center.
Podcast episode
KU coach Bill Self talks to reporters after his team's 78-41 win over Washington State on Nov. 19, 2012.
Podcast episode
Kansas seniors Travis Releford and Kevin Young talk to reporters following the Jayhawks' 78-41 victory over Washington State on Nov. 19, 2012.
Kansas City, Mo. — Bill Self's search for a productive power forward resulted in the coach starting a third different player at the position in the team's fourth game of the season Monday night in the Sprint Center.
Freshman Perry Ellis, easily the most skilled scorer, ball-handler and passer of the trio, started the first two games. But since a rough night against Michigan State in Atlanta, during which his lack of physical play was exploited, Ellis has come off the bench.
Red-shirt freshman Jamari Traylor, the biggest body and most explosive athlete of the three, replaced him for a game in the starting lineup.
It was senior Kevin Young, the best rebounder of the bunch, taking his turn in the starting lineup against Washington State.
Ellis, Young and Traylor combined to play 47 minutes and produced 21 points, 17 rebounds, four assists and two blocked shots. They made 5 of 9 shots from the field and 11 of 11 free throws.
They all played a part in Kansas blasting Washington State 78-41, a blowout that enabled Self to rest his starters so that they're fresh for tonight's game against Saint Louis University in the CBE Classic title game.
"I think it means a lot," Young said of the trio's production. "It's showing how much we all improved at the four spot because all of us play hard to work for that spot, and that's why there have been so many different changes in the lineups in the last couple of games. It pushes each and every one of us to be able to start."
Young worked up a pre-game sweat with the rest of the squad in the layup line, and it wasn't until the team went back into the locker room that he learned he was getting the starting assignment with every-game starters Elijah Johnson, Ben McLemore, Travis Releford and Jeff Withey. Young said it surprised him "a little bit."
He knew what he needed to do to give himself a shot at keeping his name in the starting lineup and he did it.
"Rebounding, hustle plays, extra possessions and also playing defense," he listed as his tickets to playing time.
Young produced four points, a game-high 10 rebounds, an assist and a steal in 18 minutes.
Traylor contributed five points, four rebounds, a blocked shot and a steal in 15 minutes.
Ellis had 12 points, three rebounds, two assists, a blocked shot and a steal in 14 minutes. He made 8 of 8 free throws and has hit 13 of 15 on the season.
At 6-foot-8 and 190 pounds, Young has the smallest build of the three players who work alongside Withey, but that doesn't keep him from leading the team in rebounds per minute. A broken bone in Young's right hand kept him from playing in the season opener, and he has logged just 40 minutes, enough time to total 17 rebounds.
The key traits to his rebounding success?
"Just reading where the shots are coming from and trying to get inside position," he said.
Center Brock Motum, a native of Australia, was Washington State's lone Big 12-caliber front-court player. The rest of the players Ellis, Young and Traylor faced couldn't compare to the big men Michigan State brought at KU, but you can only play against the team on the schedule. The three power forwards did a nice job of not playing down to their competition and built some confidence in the process.