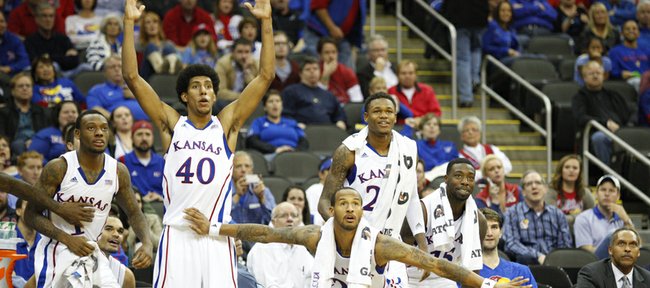 Photo Gallery
KU basketball v. Washington State (CBE Classic)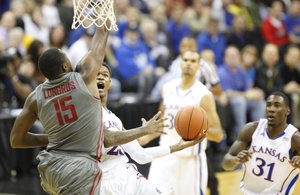 Images from Monday night's game against Washington State at the Sprint Center.
Podcast episode
KU coach Bill Self talks to reporters after his team's 78-41 win over Washington State on Nov. 19, 2012.
Podcast episode
Kansas seniors Travis Releford and Kevin Young talk to reporters following the Jayhawks' 78-41 victory over Washington State on Nov. 19, 2012.
Kansas University freshman forward Zach Peters did not sit on the bench or behind the bench during the Jayhawks' 78-41 rout of Washington State on Monday night in Sprint Center.
Peters, who has not practiced all season because of a rotator cuff injury, was ill.
"He said he didn't feel well at all. He was under the weather," said Self, who also revealed he personally was "not feeling well," his voice cracking a bit during the postgame.
"We've got to come to a resolution soon so you guys quit asking me about it," he added of Peters' red-shirt status.
Self, who has indicated he will red-shirt Landen Lucas, has yet to make it official regarding Peters. He's said it will be difficult for Peters to get in position to play as a freshman having missed so much time.
Sprint Center: KU red-shirt freshman forward Jamari Traylor on the Jayhawks going 1-2 in Sprint Center his true freshman year — losses to Davidson and Baylor and a win over Texas A&M.;
"We actually don't talk about losing there last year. We definitely don't want to go in there and lose this year. We want to win," Traylor said.
Traylor on playing back-to-back days so early in the season: "I really wouldn't know about the mindset. It's my first season playing. I'm looking at every game as a new chance, a new game to go out and do better. Every game is a challenge."
Of playing a tourney in nearby Sprint Center instead of Maui like last year, sophomore Naadir Tharpe said: "It's the same, a tournament, one we want to win. We approach it as that."
Self on the CBE Classic being right down the road from Lawrence: "This tournament doesn't have same feel as other tournaments. The first two games you play in nobody knows it's part of the tournament (home wins over SE Missouri State and Chattanooga). I don't even know if our players realized that. It is just a business trip. They are all just business trips. I like playing in Kansas City. It's an unbelievable venue."
This, that: Senior Kevin Young made his first start for the Jayhawks. He had 10 rebounds and four points in 18 minutes. ... KU is 15-4 all-time in Sprint Center, 200-78 in KC. .. KU hit seven of its first eight shots and ended the half at 16-for-25 (64 percent). ... KU's 50 first-half points marks the most by the Jayhawks in a half since scoring 51 points at home against Oklahoma State (2/11/12). ... KU committed a season-low 11 personal fouls, the lowest since committing 11 against South Florida on (12/3/11). ... KU was 13-for-14 from the free throw line in the first half and 20-for-22 for the game. ... KU racked up its first 40-point lead of the year following a layup from Justin Wesley (72-31, 7:41, second half). ... Hall of Famer: Former KU All-American Clyde Lovellette was introduced to the crowd at halftime. He was inducted in the College Basketball Hall of Fame on Sunday.
Custer picks ISU: Clayton Custer, a 6-1 junior point guard from Blue Valley Northwest, on Monday orally committed to Iowa State. He chose the Cyclones over Oklahoma, Oklahoma State, Kansas State and South Carolina and others.
Honors: Oklahoma State's LeBryan Nash on Monday was named Big 12 player of the week. He averaged 20.0 points and 6.7 rebounds in wins over Akron, Tennessee and North Carolina State. OSU's Marcus Smart was rookie of the week averaging 17 points and 8.3 boards in the three wins.