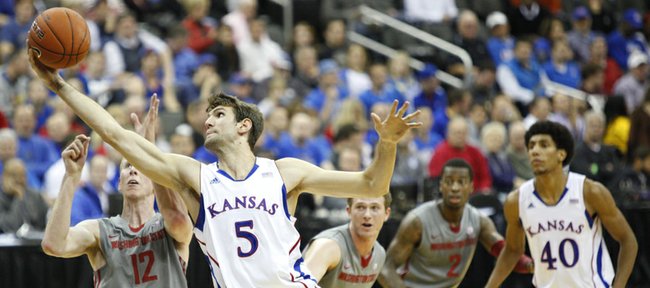 Photo Gallery
KU basketball v. Washington State (CBE Classic)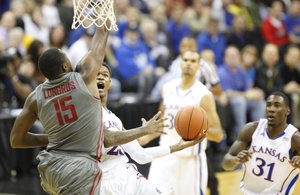 Images from Monday night's game against Washington State at the Sprint Center.
Podcast episode
KU coach Bill Self talks to reporters after his team's 78-41 win over Washington State on Nov. 19, 2012.
Podcast episode
Kansas seniors Travis Releford and Kevin Young talk to reporters following the Jayhawks' 78-41 victory over Washington State on Nov. 19, 2012.
Kansas City, Mo. — Balloons and streamers didn't drop from the rafters after Kansas University's 78-41 waxing of Washington State on Monday night in Sprint Center.
The Jayhawks, who claimed their 200th victory of all time (against 78 losses) in games played in the City of Fountains, had no reason to don party hats despite the round-number milestone so early in the basketball season.
Still, KU's performance, if not cause for celebration, at least was worthy of some smiles and high-fives as the (3-1) Jayhawks as a team and Travis Releford specifically, busted an offensive funk that resulted in just 69 (Chattanooga) and 64 points (Michigan State) in their last two games.
"We did a really good job moving the ball the first half (in building 50-21 lead). We got the ball where we wanted it. We shared it. It's probably the best we've executed this year," KU coach Bill Self said.
Senior forward Releford, who had hit 6-of-23 shots all season (0-for-11 from three) canned his first six shots and first two threes and finished with 17 points overall off 6-of-7 shooting as KU advanced to today's 8:30 p.m. final against (2-1) Saint Louis.
"It feels great to be able to come home and have a breakout game," said KC native Releford. "I had a lot of family and friends here. Coming into this game, my teammates and coaches continued to have faith in me shooting the ball. They told me to stop thinking about it and continue being me and do what I do."
The reason for the team hitting 64 percent of its shots the first half and 45.5 overall?
"We knew it wasn't going to be a sold-out arena like we have back home. We knew we had to bring energy. We figured we'd go out and pressure full-court to bring energy to the game," Releford said.
No official attendance figures were provided after the game. Media members estimates were anywhere between 11,000 and 16,000 in the arena that seats 18,972.
"The crowd is disappointing. We're happy with the people who were here," Self said. "I know it's not part of our (ticket) package at all. Hopefully we'll have a better crowd tomorrow night. For whatever reason, there was a disappointing turnout. Also it's 9 o'clock on a Monday night. It's hard to get babysitters on Monday night," added Self, who was anxious to get back to the hotel, as he was under the weather.
Ben McLemore (11 points, all first half) had two threes and Releford a deep two and two free throws as KU raced to a 21-6 lead. KU extended the early lead to 28-9 following an Elijah Johnson three at 11:17. McLemore, who had 10 of the KU points in the run to Johnson's six, had a remarkable follow dunk of an Ellis miss to make it 23-9, immediately followed by two McLemore free throws. Sparked by 11 points apiece from McLemore and Releford and eight from Ellis as well as sizzling 64-percent shooting, KU led WSU, 50-21, at halftime and was not threatened the final half.
"Coach said we moved the ball well and played well. It all starts on the defensive end. We came out with energy," Releford said. "We're pressing full court and getting after it."
Self said he limited some players' minutes (Johnson played a team-high 26 minutes) because he wanted to spread playing time around in a rout and also to rest the team a bit for tonight's final against Saint Louis.
"They remind me of Davidson in that they are physical. They don't give up easy baskets," Self said of the Billikens, who routed Texas A&M;, 70-49. "You've got to make shots against them. Tonight, A&M; didn't. Their big guys can stretch it. The way they play they could present problems if we are not amped up and ready to go."