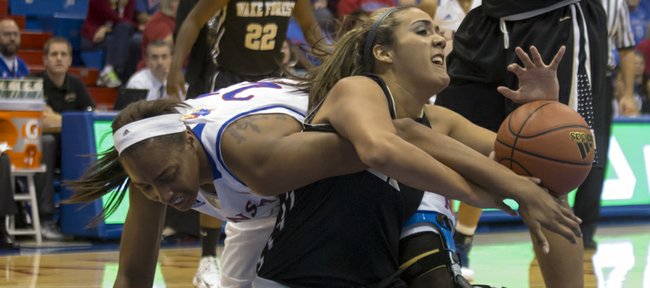 Sometimes it pays to have a short-term memory on the basketball court.
Kansas University's women's basketball players didn't let a string of blown layups shake their confidence against Wake Forest on Sunday afternoon at Allen Fieldhouse.
Although the Demon Deacons took a two-point lead with less than three minutes remaining following three straight KU misfires from point-blank range, the Jayhawks found their touch down the stretch and held off Wake Forest, 64-58.
"No one was getting really nervous," Kansas senior forward Carolyn Davis said after scoring a game-high 22 points in 27 minutes. "We just tried to stay in the game, understand our game plan and go out and be aggressive and try to get the score back."
The Jayhawks' stretch of failed layups began near the three-minute mark, when senior guard Monica Engelman took a steal to the rim and missed. Senior point guard Angel Goodrich tipped the rebound to Davis, who couldn't connect on the put-back. Later, Goodrich drove to the paint and missed another layup.
After Wake Forest junior guard Chelsea Douglas knocked down a three-pointer to put KU in a 54-52 hole with 2:24 left, Davis posted up in the paint, Tania Jackson bounced an entry pass to her, and Davis scored with a quick turn-around while drawing a foul. The senior forward's free throw and three-point play with 1:57 to play gave Kansas the lead for good.
KU coach Bonnie Henrickson said her team executed better in the final minutes, under pressure, after missing open layups and jumpers throughout the afternoon.
"How many of those shots are uncontested? Uncontested," Henrickson said. "We've just got to calm down and knock one down."
The Jayhawks missed another lay-in on a drive by Natalie Knight with 1:15 left, but Jackson — getting her first start of the season and just the 13th of her career — grabbed the offensive rebound, drew a foul and calmly knocked down two free throws to give KU a 57-54 edge.
Jackson, who finished with 11 points and nine rebounds, didn't find out until after a morning shoot-around that she would be starting. But the junior from Lawrence High found a way to produce in a tight game.
"I just tried to do what I do best: rebounding and crashing to the boards hard," Jackson said. "If the opportunity comes to score a layup or hit a jump shot, I'll do my best to knock it down."
After Wake Forest sophomore forward Dearica Hamby's free throws cut KU's lead to 57-56 with 1:01 to play, the Jayhawks' back court helped seal the team's 46th straight nonconference regular-season home win. Goodrich (13 points, three assists) hit a pull-up jumper near the foul line with 42 seconds left, and Knight followed it up with a steal and layup, extending the Kansas lead to 61-56.
Henrickson praised Knight for her on-ball pressure in the clutch against Wake Forest (2-1).
"At the end of the game, both teams are gonna try to execute and run plays, but a lot of times you've gotta make a play," the coach said. "To be able to bust the play and then get the ball out of that, that's a big deal. That saves us."
Kansas (3-0) took a 20-9 lead less than 12 minutes into the game, but things unraveled quickly before halftime. Wake Forest had already scored six unanswered points when Davis and sophomore forward Chelsea Gardner each picked up their second personal foul in an 18-second span. With the Jayhawks' longest and most effective interior defenders on the bench, Wake Forest scored six straight baskets in the paint to extend its run to 18-0 and take a 27-20 lead.
Two free throws apiece from Engelman and Knight in the final minute set up a 27-24 Wake lead at the break.
A short jumper by Davis that tied the game at 27 in the first minute of the second half was KU's first field goal in more than nine minutes.
"Certainly we need to address why we're in a game like that," Henrickson said after KU made 21 of its 56 field-goal attempts.
At 7 p.m. on Friday, the Jayhawks will play host to Alabama A&M.;
More like this story on KUsports.com