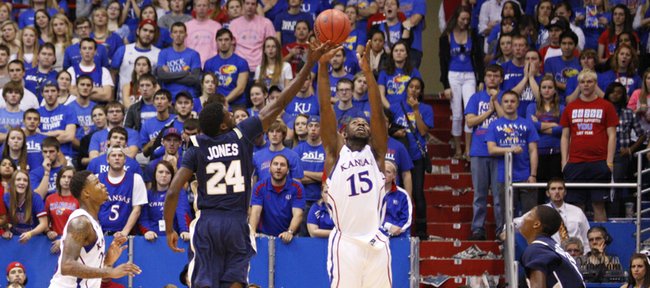 Elijah Johnson hit four important three-pointers and Naadir Tharpe one in helping Kansas University's basketball team shake upset-minded Chattanooga on Thursday night in Allen Fieldhouse.
The two point guards, who accounted for 16 second-half points in KU's 69-55 come-from-behind victory over the Mocs, also combined for nine assists against four turnovers. Tharpe led the way with five assists to no turnovers the first half; Johnson had four assists, one turnover the final half after a zero-assist, three-bobble effort the first 20 minutes.
Their offensive performance — which included 7-of-10 shooting from Johnson — helped awaken the Jayhawks, who trailed by 12 points early in the second half.
Their work on defense, however was not up to coach Bill Self's standards.
"Elijah and Naadir have got to guard," Self said. "We are decent defensively at the 2 (shooting guard), 3 (small forward) and 5 (center). We've got to get our 1 (point guard) and 4 (power forward) to be able to guard as well."
Self, whose Jayhawks were burned by the 18-point, first-half performance of 6-foot point guard Farad Cobb, thinks he's found a solution regarding on-the-ball point guard defense. He'll let 6-foot-6 Travis Releford take over following his shutdown effort on Cobb during the second half.
"We're better off with Travis on the ball," Self said.
Overall he was pleased with the defense the final 20 minutes — 'D' that held the Mocs to 19 points off 6-of-25 shooting (24 percent).
"We fouled three times the first half (and trailed, 36-28 at break). How many teams are energetic and into it if you foul (just) three times?" Self asked. "Our (past) teams were in the bonus by the 10-minute mark because we foul stupid but we are also getting after it. We fouled 13 times the second half and were great defensively. The first half we had three fouls and no pressure at all. You've got to get in people's comfort zone. The first half we didn't do it at all."
KU's offense was miserable the first half as the Jayhawks hit 11 of 29 shots (37.9 percent), including three of 12 from three. KU hit 44.1 percent overall, including seven of 23 from three. Johnson went 5-of-5 the second half, 3-of-3 from three, scoring 13 points with four assists against one turnover.
"The thing about Elijah, he'll bring it up the floor and pitch ahead to Ben instead of attacking himself," Self said. "We don't have a secondary handler. We're negating numbers or our chance to get in the paint and make a play because Ben (McLemore) and Travis (Releford) aren't great at that yet. With Naadir in there it can take some of the pressure off him. Naadir did OK (despite 1-of-6 shooting). He made a big shot in our run, may have given us our first lead (actually stretched it to 49-43)."
KU will next meet Washington State at 9 p.m., Monday, in Sprint Center in Kansas City, Mo.