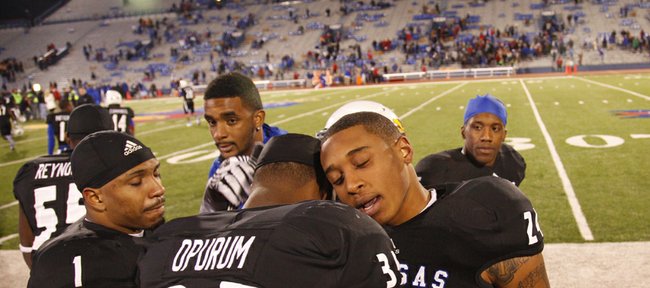 Photo Gallery
KU football v. Iowa State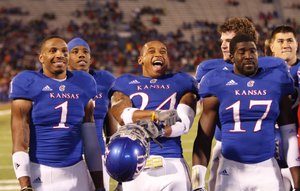 Images from Saturday's game against Iowa State at Memorial Stadium.
Podcast episode
Kansas football coach Charlie Weis talks after his team's 51-23 loss to Iowa State on Nov. 17, 2012.
Box score
Kansas University football coach Charlie Weis got everything he wanted out of Saturday's Senior Day match-up with Iowa State except for the victory.
"I'm sorry I'm talking to you today," Weis said after his team's 51-23 loss on Saturday night. "Because my intent, if we won the game, was to excuse myself from the press conference and let you talk to all those happy campers, the seniors. But it didn't turn out that way."
Although the Jayhawks were drubbed from the midway point of the second quarter on, everything else that accompanied the final home game in the careers of 23 KU seniors seemed to match the build-up that Weis put into it throughout the week.
The student section, though far from full, had its largest turnout in weeks, perhaps a sign that at least a handful of KU students took Weis up on his offer to foot the bill for their tickets.
During the game's opening coin toss, the rest of the senior class lined up at the feet of the giant Jayhawk at midfield and, in that way, were a part of the final opening-ceremony moment at Memorial Stadium.
During the pregame introductions, a highlight video featuring the seniors played on the video board. At game's end, a similar video rolled next to a neon note that simply read, "Thank You Seniors."
"It says a lot," said senior Toben Opurum when asked what Weis' emphasis on the senior class meant to him. "He put so much effort into making this a special night for the seniors, and these are guys he hasn't even known for a year."
Although nothing about this final home game played out the way these guys envisioned, many of them were unable to hide the flood of positive feelings that came with their final home game.
"These are definitely times that have been the most fun years of my life," senior safety Bradley McDougald said. "And also, at times, have been the most challenging."
Back in black
Saturday's game is believed to have been the first time in the history of KU football that the Jayhawks have suited up in black uniforms.
And the whole thing was a huge surprise.
After warming up in their regular blue home jerseys, the KU players returned to the locker room to see black tops, black pants and white helmets with a Jayhawk on the side waiting for them at their lockers.
"I was shocked," Opurum said. "But it was a pleasant surprise. I never thought we'd be able to wear all black at KU because Missouri's worn it for so long. But they looked good, and it was a surprise for everyone. Guys were really excited about it."
Senior receiver Kale Pick said the moment the alternate uniforms were unveiled came as a complete surprise to everyone and may have been just as enjoyable for Weis.
"Everybody was jumping up and down ready to go at it," Pick recalled. "And it was kind of funny how coach Weis just kind of sat down in a chair and sat back and watched it all. Like kids in a candy store."
Iron man Tanner
KU senior Tanner Hawkinson, a senior offensive lineman from McPherson, set a KU record with his 47th consecutive start, passing Hessley Hempstead, who started 46 straight games during his career.
It was believed that Hawkinson set the mark a few weeks back, but there was an error in the postgame notes following KU's loss to Texas.
This and that ...
The Jayhawks won Saturday's opening coin toss for the third straight week. They deferred their choice to the second half, and Iowa State elected to receive the opening kickoff. ... Iowa State snapped James Sims' school-record streak of six straight 100-yard games, as the junior tailback finished with just 81 yards on 20 carries, his lowest output of the season. Sims' fumble in the second quarter was his first in 246 attempts, dating back to Nov. 5, 2011. ... Sophomore Ben Heeney led the Jayhawks with 13 tackles. It marked the fifth time this season that Heeney had recorded double-digit tackles. ... With 60 yards against the Cyclones, senior D.J. Beshears passed the 2,000-yard mark for career kick return yardage. Beshears' total of 2,059 ranks second all-time behind Marcus Herford's total of 2,075. ... Temperature at kickoff was 52 degrees, under clear cloudy skies with winds of 11 mph out of the southeast.