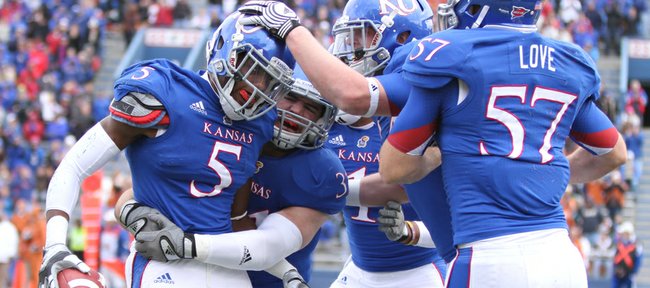 Throughout the first three years of his high school career in Cedar Hill, Texas, Kansas University senior cornerback Greg Brown was known simply as Greg.
But that all changed in the weeks that followed Cedar Hill's 16-0 season in 2006, which ended with a state championship. The two cornerbacks who teamed with Brown in the CHS secondary went off to play college ball at Nebraska and Tulsa, leaving the Kansas-bound senior-to-be as the most experienced defensive back on coach Joey McGuire's roster.
"When those other two graduated, Greg became the guy," McGuire recalled during a recent phone interview. "Every week when we went into a game, I told him, 'You gotta be my lockdown guy.'"
Lockdown. Just the sound of it got Brown's attention. And rather than deferring to others as he had done during his junior season, Brown decided to take ownership of the word.
"Coach McGuire always told me that I needed to have confidence," Brown said. "I always had this issue of maybe being too cocky, and he turned that into a positive and told me 'You are Lockdown Brown.' So I put it on my letterman jacket, guys called me that at school, and it became my nickname."
In football circles, the lockdown corner has become as common and critical as the quarterback or the head coach. Dating back to Brown's idol, Deion Sanders, and even earlier, guys have made a lot of money by taking away half of the football field with their ability to cover the opposing team's top receiver. McGuire said he never dreamed Brown would use the motivational words to conjure up a nickname.

"It does have a nice ring to it," the coach joked. "And I'm glad he did it. It was more of a state of mind that we were trying to create with him more than anything."
Although Cedar Hill struggled during Brown's senior season, the 5-foot-10 cornerback with long arms began to live up to the nickname.
"He got the best of the best," McGuire said. "It didn't matter who it was or who we were playing, he was lined up every single week on the best player that they had."
Sound familiar? It should. Because ever since jumping into the Jayhawks' starting lineup during the sixth game of his sophomore season in 2010, that pretty much has been Brown's life at KU. As top receivers such as Dez Bryant, Justin Blackmon, Ryan Broyles and several others have come through the Big 12, Brown has been the one saddled with the responsibility of stopping them or at least slowing them down.
"In this conference, playing corner is a miserable job," KU coach Charlie Weis said. "It's like being the defensive coordinator, because every week you have quarterbacks that are slinging it for 300, 400 or 500 yards, and you've got some top-line receiver come and line up in front of you every week. That's a really tough job."
Tough is one word for it, but Brown has never blinked. Instead, he leaned on the words from his high school coach and remembered his father's talks about preparing for anything and everything at all times.
"It's been a great challenge," Brown said. "But me going against those guys helped me grow as a player. My father always told me just to carry myself how I want to be viewed. I want to be that guy that was known for handling his business correctly."
As for how Lockdown Brown has handled the toughest job in the Big 12, his closest friends on the team give him high marks.
"If you look at the numbers and look at what he does, I think he's done a good job of holding his own," said senior Toben Opurum, who lived with Brown. "He's a confident guy, and I think that has probably helped him more than any of his athletic ability."
While several of his senior teammates have been celebrated for their hard work, willingness to change positions and accomplishments on the field, Brown quietly has remained the same guy, going about his business each week not concerned about what others might think or how much love he might receive.
Despite the tough assignment, Brown has fared well more often than not and become one of the top cornerbacks in the country. His 13 pass break-ups rank second in the Big 12 and 18th in the nation.
"I think I can say I'm proud of my senior year and how I've played," Brown said. "And I'm also proud of our team because we just brought it every day."