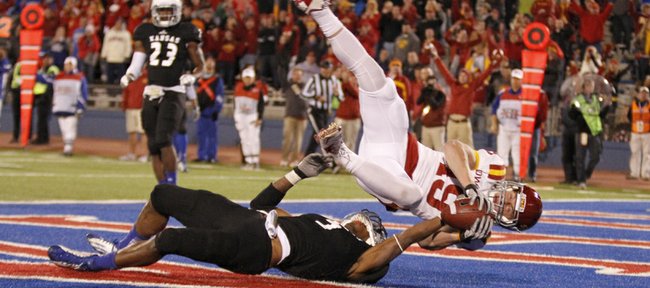 Photo Gallery
KU football v. Iowa State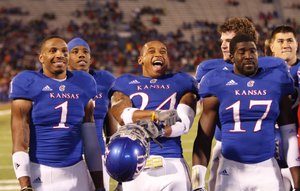 Images from Saturday's game against Iowa State at Memorial Stadium.
Podcast episode
Kansas football coach Charlie Weis talks after his team's 51-23 loss to Iowa State on Nov. 17, 2012.
Box score
Iowa State backup quarterback Sam Richardson — who carried the ball twice and didn't throw a pass in mop-up duty against Western Illinois the third week of the 2012 season — on Saturday was awarded appearance No. 2 at Kansas University's Memorial Stadium.
"Pretty nervous," the 6-foot-2, 204-pound red-shirt freshman from Winter Park, Fla., said of his state of mind as he took over for injured starter Steele Jantz, with the Cyclones trailing 7-3 late in the first quarter.
"You've got to put it in the back of your head. Guys are counting on you, guys I'm counting on as well. You've got to be the guy to do your job and be accountable."
Richardson accounted for four touchdown passes and also ran for a score in the Cyclones' 51-23 rout of the Jayhawks.
"I see it as getting in there and doing what I had to do," said Richardson, who completed 23 of 27 passes for 250 yards and rushed for 43 yards off 11 carries. His TD passes went to four receivers. "If there's touchdowns or not, a win's a win. It's a great feeling."
ISU coach Paul Rhoads, who said he did not know if Jantz was hurt (a couple of Cyclones said he was "dinged up"), indicated he was impressed with the work of Richardson.
"Very impressive," said Rhoads, whose team improved to 6-5 and became bowl-eligible. "It was the first collegiate pass he threw tonight, but had great composure. Sometimes with a quarterback, when you want leadership, aggressiveness, decisiveness, confidence, you can be fooled by the composure, that you are not getting the leadership, the execution you desire. Sam took the field very composed, very poised, and delivered physically."
He entered ahead of sophomore Jared Barnett, who was listed as No. 2 on the depth chart.
"I really like how he threw the ball in warm-ups," Rhoads said. "He was really crisp and throwing great spirals."
Richardson — a text message from his parents greeted him on his phone in the winner's locker room — grinned when asked what he'd do to celebrate the victory.
"Take a take a four-hour bus ride back home. After that, just hanging with the guys, nothing too special," he said.
Rhoads did not indicate who would start at QB in next week's regular-season finale against West Virginia in Ames, Iowa.
"We are 6-5 and bowl-eligible. I'm not going to worry about that tonight," Rhoads said.
As far as where Richardson's debut stacked up to other he'd witnessed, the coach said: "Pretty dang high, pretty good especially this late in the season. To be here basically two years and only get a mop-up role in one game prior to this, to probably feel you were never any part of the true competition when it came to switching up and so forth … it's not a surprise coming from the young man. He's that quality of a kid, similar of kids in this program."
Rhoads cracked a joke when asked about beating a KU team fired up on Senior Night. He was reminded KU coach Charlie Weis offered to pay for students' tickets for the game.
"I wish I had the kind of money I could do that," he said with a smile.
More like this story on KUsports.com