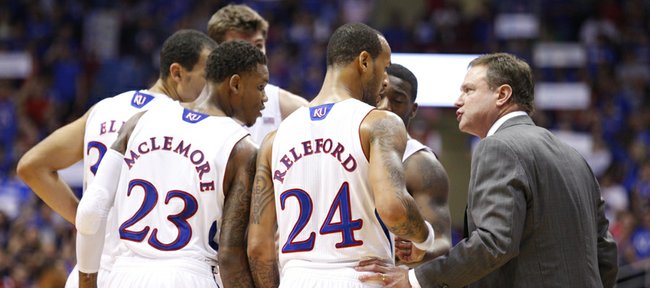 Podcast episode
Kansas coach Bill Self talks to reporters following the Jayhawks' 69-55 victory over Chattanooga on Nov. 15, 2012.
Podcast episode
Elijah Johnson, Ben McLemore and Jeff Withey talk to reporters following the Jayhawks' 69-55 victory over Chattanooga on Nov. 15, 2012.
Box score
Chattanooga's Farad Cobb, who sank six three-pointers in seven tries the first half, tried to single-handedly beat Kansas University's basketball team on Thursday night in Allen Fieldhouse.
"That performance reminded me of the dude from ORU. He goes 6-for-7 from three and made two threes his entire career," Self said, recalling Nov. 15, 2006, when Marchello Vealy hit seven of eight from beyond the arc in Oral Roberts' 78-71 victory over KU. It's just one of three losses to nonconference teams in Allen Fieldhouse in the Bill Self era.
"Cobb is a backup point guard. A backup got 21 on us. He threw in some stuff," Self added of the 6-foot Cobb. "He threw in three or four under five (seconds) on the shot clock that were hard shots."
Cobb went just one of two from three the final half, finishing with 21 points, thanks to Travis Releford's sticky defense.
His six three-pointers, by the way, were most in a half by a KU opponent since Syracuse's Gerry McNamara hit six in the first half of the 2003 national championship game.

Jeff Withey on the win: "The first half for all of us wasn't too good. We came out very flat. In the second half coach (Self) really challenged the seniors to step it up and bring more energy. I just started being more involved and my teammates found me. It was just finding the open spot and being at the right place at the right time. It started all on the defensive end and that made it a lot easier on the offensive end."
Withey, who had five second-half blocks and six total, scored 11 points with 10 rebounds. He had just two points and three boards the initial half.
"Just energy," Withey said of the difference. "Cobb went off (in the first half). Being prideful in our defense, we came out in the second half knowing we had to stop him and build from that. Travis (Releford) came out with a lot of energy and stopped him. After that, everyone started to have more confidence on the defensive end. We didn't want to be the person who let our guy score, so we just had to challenge ourselves."
Stats, facts: KU trailed at the half in a non-conference game for the first time since it trailed Cornell, 31-28, on Jan. 6, 2011. ... The eight-point halftime deficit was the largest KU has faced against a non-conference opponent at home since it trailed Nevada, 35-27, at halftime on Dec. 1, 2005. ... The Mocs connected on eight three-point baskets in the first half, which is the most in a half by a KU opponent since Oklahoma State hit nine three-pointers in the second half last season. ... KU held Chattanooga without a field goal from the 18:05 mark of the second half to 5:30, spanning more than 12 minutes. ... During the second half, Chattanooga scored 19 points on 6-for-25 shooting from the field and committed 12 turnovers. ... McLemore's 25 points were the most by a KU freshman since Xavier Henry scored 31 against LaSalle on Dec. 12, 2009. ... Withey's six blocks were a season high and the most since he swatted seven against Ohio State in the national semifinals last year (March 31). ... Naadir Tharpe matched a career-high with five assists. He had five against Howard on Dec. 29 of last season.
More like this story on KUsports.com