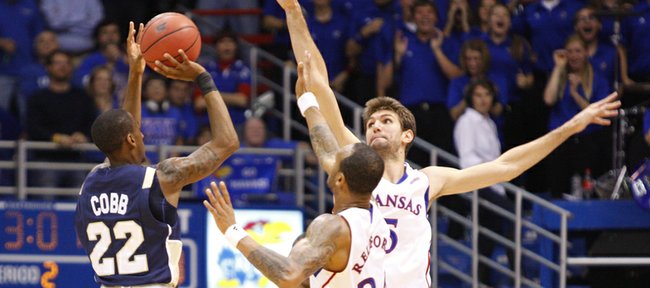 Podcast episode
Kansas coach Bill Self talks to reporters following the Jayhawks' 69-55 victory over Chattanooga on Nov. 15, 2012.
Podcast episode
Elijah Johnson, Ben McLemore and Jeff Withey talk to reporters following the Jayhawks' 69-55 victory over Chattanooga on Nov. 15, 2012.
Box score
More than one third of the Chattanooga basketball team's made shots on Thursday night came from the right hand of freshman guard Farad Cobb.
In the first half, when Cobb made six of seven three-point attempts, that was enough to stake the Moccasins to an eight-point halftime lead and put a scare into the Kansas University squad and the Allen Fieldhouse crowd.
However, by game's end, Cobb (21 points on a UTC freshman record 7-of-8 shooting from three-point range) finished with just three more points than he had at halftime and the Jayhawks (2-1) pulled away for a more-comfortable-than-it-seemed 69-55 victory.
Months from now, no one will remember the score of this one or the fact that KU freshman Ben McLemore scored 25 points and senior center Jeff Withey popped in a double-double. They will remember Cobb, though. And the experience does not sound like something the 6-foot shooting guard from West Palm Beach, Fla., figures to forget anytime soon either.
"It means a lot because I know how many good players have come through this (KU) program," said Cobb, who could not stop smiling in the postgame meeting with the media. "Just to go against Kansas was a big deal for me, and I just wanted to have a big game."
To call it big would be an understatement. Cobb's performance brought to mind the lights-out display by Oral Roberts' Marchello Vealy in 2006. That night, when ORU upset No. 3 KU in the Fieldhouse, Vealy, a sophomore, drained seven of eight three-pointers despite having made just one of 13 during his entire freshman season. At least Vealy had been out there before, though. Thursday's larger-than-life performance from Chattanooga's smallest player came in just the second game of his college career.
"I told him to make all of those, too," Chattanooga coach John Shulman joked after the game.
Cobb's stellar first half featured a variety of makes. He drained open looks, worked to hit step-back threes and even threw one in with the shot clock winding down and the home fans roaring in his ear. None of it mattered.
"I was like, 'If I get the first one to go in, I'm going to shoot another,'" said Cobb, who hit just three of 11 shots, including one of five three-point attempts in the season opener last Monday. "They kept falling, so I didn't feel like I was going to miss as long as I got a clean look at the goal."
And therein was the problem for the small guard. After watching Cobb have his choice of jump shots during the first half, KU coach Bill Self stuck 6-foot-6 senior Travis Releford on him in the second half. The result? Cobb not only made just one shot, he attempted just two.
"I thought Releford had a good game," Shulman said. "He scored two points, but he changed the whole complexion of the game defensively. He shut down our points."
Added Cobb of the job Releford did on him: "He was taller. I didn't want to force it. I just couldn't get that many (shots) up."
Although five different Moccasins players combined to hit 11 of 23 three-pointers during Thursday's loss, KU held UTC to just 35-percent shooting, a number that included just nine two-point field goals. In fact, during a second half in which they were outscored 41-19, the Mocs made just three of 16 two-point attempts, a feat that left Shulman marveling at KU's defense.
"Defensively, they are phenomenal," Shulman said. "You can't get a look inside, everybody's out in the passing lane and then Releford's putting gigantic heat on the ball and it's not a lot of fun, offensively. I'd just assume they have the ball."