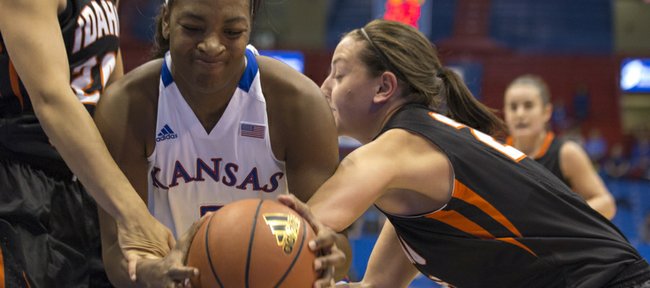 Eight Kansas University women's basketball players collected at least four rebounds in the Jayhawks' season-opening victory over Idaho State on Sunday.
But after Chelsea Gardner led the team with nine, Carolyn Davis brought down eight and Tania Jackson gathered seven, KU's 51-39 rebound edge didn't leave coach Bonnie Henrickson satisfied — at least on the offensive end.
She would like to see the Jayhawks finish more second-chance opportunities when they play host to Southeast Missouri State tonight — tipoff at 8 — at Allen Fieldhouse.
Kansas scored 17 points on its 22 offensive rebounds against ISU. Henrickson said her team didn't respond well to physical play inside after controlling the glass.
"At some point, you've got to sit down and realize there's contact and finish," Henrickson said. "We just kept kind of chucking it up there not on balance and not with much intent other than to get it out of our hands. Those are things we can learn.
"The big thing is we're shooting layups, and that's good. Now we need to make them. The better news is, we kept trying to chase them and go get all those offensive rebounds on a night when it was just a struggle for us to score."
Inefficiency on second chances contributed to a 52-point total for the Jayhawks (ranked No. 25 in the USA Today Coaches Poll). Henrickson expects the players to have a better handle on things against the Redhawks, who lost, 69-64, Monday at UMKC after defeating Wright State in their opener on Friday.
"We've got to play better than that and control what you can control," Henrickson said. "I thought (the ISU game) got ugly and muddy."
Senior guard Monica Engelman said the Jayhawks weren't aggressive enough on offense.
"The first game, you kind of have the jitters, you're kind of uptight a little bit," Engelman said.
Senior KU point guard Angel Goodrich added the team needed to "chill" at times instead of rushing things.
"I think we were kind of antsy a little bit on the offensive end and weren't selecting the right shots," Goodrich said. "That gets contagious, because you start to rush and rush. You want to try to play together, but it just gets out of sorts."
Starting sophomore forward Bunny Williams had a rough offensive outing on Sunday. The 6-foot-1 sophomore went 1-for-8 from the floor with four rebounds, and Henrickson said she needs more from the physical frontcourt player, who missed most of her shots in the paint against ISU.
"She finishes better in practice," the ninth-year KU coach said. "She's got a great voice. Right now she's separated herself, but she's gotta produce, she's gotta play better in game and be able to knock down some shots and rebound the ball."
This is the first meeting between Kansas and Southeast Missouri St. The Jayhawks are 4-0 all time against other Ohio Valley Conference programs.
More like this story on KUsports.com