Document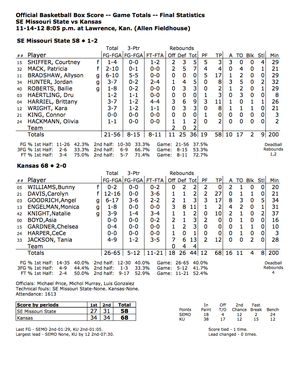 Even though Kansas University women's basketball coach Bonnie Henrickson had every intention of limiting senior forward Carolyn Davis's minutes Wednesday night against Southeast Missouri State, she couldn't resist going back to her star post player late.
After Davis — easing her way into the season after tearing her left ACL earlier this year — spent the previous 10 minutes on the bench, Henrickson sent her back on the Allen Fieldhouse floor with KU leading by just six and less than four minutes to go. The 6-foot-3 forward from Houston scored the Jayhawks' next eight points (all in the paint) to lead KU to a 68-58 victory.
"She certainly made the most of every touch she got," Henrickson said.
Though Kansas (2-0) led by seven at halftime and extended that margin to 11 to open the second half, the Redhawks (1-2) quickly forced themselves back into the game with a 10-2 run in the opening minutes.
KU responded with a heavy dose of Davis (game-high 27 points in 21 minutes), who scored eight of her team's first 10 points in the second half.
But when she went to the bench, KU needed someone else to produce.
Sophomore SEMO guard Allyson Bradshaw's third three-pointer in less than three minutes tied the game at 44 with 14:25 left in the second half.
However, a few possessions later, junior KU substitute forward Tania Jackson put the Jayhawks (ranked No. 25 in the USA Today Coaches Poll) back ahead with a jumper from the top of the key. The 6-foot-2 Lawrence High product then snagged a defensive rebound, came back down the floor and drilled a three-pointer from the right wing, giving KU a 49-44 advantage.
"I thought Tania, she was the rock star tonight," Henrickson said after Jackson scored 12 points and grabbed 13 rebounds. "Boy, she was good, and was good when we weren't. Probably the only reason we got out of here alive."
With less than eight minutes left, Jackson rebounded her own miss on back-to-back shots before drawing a foul and scoring on her third try. After letting out a celebratory scream, she hit her free throw to extend KU's lead to 56-44.
"I was kind of mad I missed my layups," Jackson said, "but just getting offensive rebounds and trying to provide energy was something I focused on."
Only four Jayhawks scored in the first half, and KU took a 34-27 lead into halftime. The program's marquee players, senior point guard Angel Goodrich and Davis carried the load, with 25 combined points on 11-for-19 shooting.
But sophomore guard Natalie Knight (five first-half points) and Jackson (four first-half points) were the only other Jayhawks to score.
Goodrich and Davis combined to give KU a 9-0 lead 3:21 into the game and scored 20 of their team's first 24 points in the first 12 minutes. A Knight three-pointer with 14:29 left was the only field goal from somebody other than Goodrich and Davis until Jackson tracked down a missed three from Goodrich and put in a layup from the right block with 5:20 left until halftime.
Other than the output from KU's stud senior duo (18-for-33 shooting), Kansas made just eight of its 32 attempts in the win.
Starting sophomore forward Bunny Williams finished 0-for-2 with two rebounds and starting senior guard Monica Engelman went 1-for-8 from the floor, scoring a layup to open KU's scoring in the second half.
Goodrich finished with 17 points and eight assists, and Knight chipped in 10 points and two assists. But Knight said KU could use more variety on the offensive end after just five players scored.
"We all need to step up as a team," the sophomore guard said, "and everybody needs to contribute, whether it be just getting a rebound or a hustle play."
The Jayhawks play their third of five straight home games at 2 p.m. Sunday, when they play host to Wake Forest.
More like this story on KUsports.com