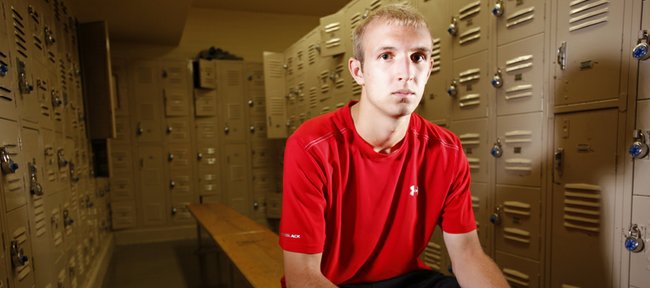 Kansas University's basketball coaches didn't have to travel far to recruit an impact point guard/shooting guard in the Class of 2013.
Conner Frankamp, a 6-foot, 160-pound senior from Wichita North who orally committed to KU in July of 2011, officially became a Jayhawk on Wednesday by signing a national letter-of-intent on the first day of the weeklong early-signing period.
Frankamp's signing was announced by KU coach Bill Self, once he received the letter via fax machine. KU today and Friday will announce the receipts of four more letters: from Joel Embiid, 7-foot, 220, The Rock School, Gainesville, Fla.; Brannen Greene, 6-7, 200, Tift County High, Tifton, Ga.; Frank Mason, 5-11, 160, Massanutten Military Academy, Petersburg, Va.; and Wayne Selden, 6-5, 225, Tilton (N.H.) School. Greene is ranked No. 25, Selden No. 26, Frankamp No. 31 and Mason No. 134 by Rivals.com. Embiid is currently unranked.
"I think Conner is one of the best guards we have recruited since we've been here. He can score. He's sneaky athletic and can play the 1 and the 2 and will be a great combo guard in our system," Self said Wednesday.
Frankamp, who put pen to paper in a 3:30 p.m. ceremony in his high school's library, last season averaged 32.3 points, 4.0 rebounds and 3.7 assists a game for a 15-8 North team that advanced to the state tournament quarterfinals. With 1,639 career points, Frankamp needs to score 538 points to become the Wichita City League's all-time leading scorer. He would need to average about 28 points per game to surpass current KU freshman Perry Ellis' record of 2,231 points set from 2009-12 at Wichita Heights.
"He can play point, but I don't think he needs to be your primary point guy. I think he needs to be a guy that's off the ball that can shoot it and do some different things," Self said on Wednesday's "Hawk Talk" radio show. "We could use him very similar to way used Mario (Chalmers), that we used Elijah (Johnson) last year. We always had a primary handler in there with Tyshawn (Taylor). If Tyshawn wasn't in the game, Elijah could move over. Same with Mario. We had Russell (Robinson) and Sherron (Collins) who were primary handlers and Mario moved over when they were not.
"I think Conner is more than capable of doing that. Hey ... the dude can make shots. That's one thing we've got to free his mind to be able to do that."
Frankamp broke a 33-year-old City League scoring record his sophomore year, scoring 52 points in a game against Wichita Northwest. In July, he averaged a team-leading 14.1 points a game for USA Basketball's gold-medal-winning U17 FIBA world championship team. He scored 22 in the championship game as Team USA went 8-0 in Lithuania.
"With USA basketball, he did everything," Self said. "He played on the ball, off the ball and was leading scorer on the team that had Jabari Parker (No. 2 recruit in the class) and guys like that. He's a good scorer. Other players enjoy playing with him, and I absolutely love watching him play. He's a stud. We're really fortunate to get him."
Point guard Mason signed his letter Wednesday in a noon ceremony at his high school. KU did not receive the letter in time to announce his signing. Mason, who originally signed with Towson before reopening his recruiting, is averaging 17 points and nine assists a game for Massanutten (7-0). Mason chose KU over Providence, Rutgers, South Carolina, Virginia Tech and others.
Embiid and Greene are to sign in ceremonies at their schools today, and Selden will sign Friday.
No. 32-ranked Tyler Roberson, a 6-8 forward from Roselle (N.J.) Catholic, is expected to sign with either KU, Villanova or Syracuse on Friday. KU has five scholarships to give in recruiting, more if any players leave the program.