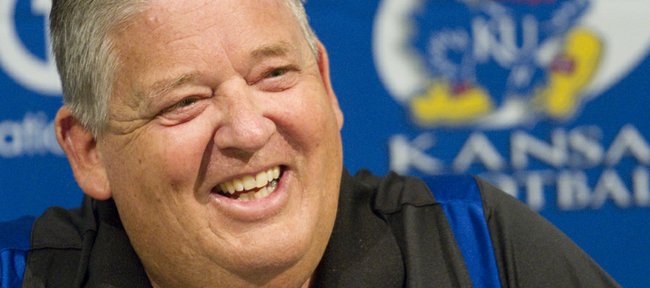 Saturday is Senior Night for Kansas University's football team.
But as far as KU coach Charlie Weis is concerned, that's not enough.
For nearly one third of his 32-minute meeting with the media on Tuesday Weis talked passionately about his first senior class at Kansas and spoke of putting a different emphasis on his business-as-usual approach.
"To be honest with you, it's not about the program this week," Weis said. "It's about the seniors this week. I selfishly take the team out of this one this week. Obviously, every win is gonna matter to the program, but I'm dead serious when I say I wanna win this game very, very badly this week, but not because of me and not because of the program. I wanna win it for those kids."
As far as Weis is concerned, KU's 23 seniors deserve at least that much. From the guys who played for three head coaches during their four or five seasons at KU to those who just arrived, Weis said watching the seniors leave Memorial Stadium with a smile Saturday would be one of the most important moments of his first season at Kansas. After all, these were the players who welcomed Weis into the program last December, guys who bought in without complaining, showed the younger players what it meant to handle themselves with class and turned out week after week, loss after loss, ready to put everything behind them and try to get the next one.
"These are my guys," Weis said. "And I'll be there for 'em forever — whatever they need from me. Within reason. I don't need to have recruited them and have coached them to respect them."
Respect is a serious deal for Weis. And his actions this week toward a senior class that has won just six times in the past 41 games illustrate that his feelings about this group go beyond a few words in front of the cameras and recorders at a news conference.
Although several members of the media requested interviews with other players and a few coaches this week, only seniors will be made available. Weis even led off Tuesday's media session by making a plea — his third of the week already — for KU students and fans to fill Memorial Stadium when the Jayhawks play host to Iowa State at 6 p.m. Saturday.
"I see our student newspaper's well represented," said Weis, surveying the reporters in the room. "I would expect our student newspaper would be encouraging our students to show up in force Saturday night. It's supposed to be a beautiful night. Six o'clock's too early to go out. Gets over about 9:30. You know, it's just about right. We have over 30,000 people at this school, and I think it would be really good if a whole bunch of 'em came and spent the evening with us."
There's more to life than winning or losing college football games, and Weis knows that as well as anyone. But he has the benefit of experience on his side. For a bunch of young players with varying futures, Weis said it was his sincere hope that they understood that as well.
"They've certainly had more than their share of negative things that have happened," he said. "But I think if they can walk out with their heads held high, (they'll) be a much better down the road. ... I think they're leaving here well-rounded young men. And when you go to school, the biggest thing that happens is you grow up. And growing up with just good things happening doesn't really prepare you for life."
With two games left on the schedule, Weis hopes that this group has few memorable headlines to add to its scrapbook.
"First of all, their experience is not over," Weis said. "So I would like them to walk out of here with a good taste in their mouths. If all of a sudden on Saturday night all those 900-game losing streaks and all that other stuff (is gone) and you're partying on the field after the game, that's what they're gonna remember. You don't focus on bad things. You remember the good things. And there's still a couple of opportunities for some good memories to be created."
As for the players for whom Weis is doing all this, most said they were moved but not surprised.
"It just shows what type of guy he is," senior receiver Daymond Patterson said. "For him to put this big emphasis on the seniors is a big thing, and it shows us that he does care."
Added quarterback Dayne Crist: "That's what he's about; he's about his players. Always has been and always will be."