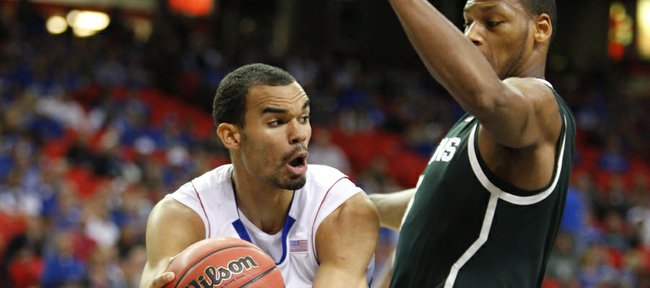 Photo Gallery
KU basketball v. Michigan State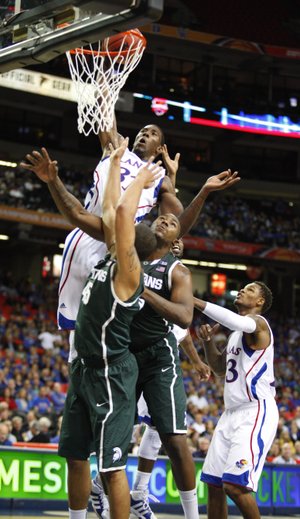 Images from Tuesday's Champions Classic game between Kansas and Michigan State
Podcast episode
Kansas coach Bill Self talks to reporters after his team's 67-64 loss to Michigan State on Nov. 13, 2012.
Podcast episode
Kansas seniors Jeff Withey and Elijah Johnson talk to reporters following KU's 67-64 loss to Michigan State on Nov. 13, 2012.
Atlanta — Dribbling left from the right wide post, completely under control as if playing another high school game en route to his four consecutive Kansas state championships, Kansas University forward Perry Ellis ever-so-smoothly executed a spin move and went in for an easy bucket on the right side of the hoop early in the opening minutes.
Rare is the freshman who can make such a smooth move on such a big stage against such a good team. Michigan State, a perennial powerhouse that bruises its way to Big Ten championships and Final Four runs under feisty coach Tom Izzo, won the game, 67-64, Tuesday night.
As the opener of a heavyweight doubleheader in the Georgia Dome progressed, the reality that playing college basketball in the paint requires so much more than skill settled in on Ellis, who watched more of the game than he played. That won't happen often during his Kansas career.
On consecutive possessions late, Ellis missed a close shot when he didn't go up strong and appeared to avoid contact instinctively and then on the perimeter picked up his dribble prematurely, looked a little confused when searching for someone to pass the ball to and turned it over.
Those plays spelled the end of Ellis' day with 3:32 remaining. He played 17 minutes, scored four first-half points, had three rebounds and didn't defend the paint the way he will when he becomes used to facing far bigger and more physical players than he competed against at Wichita Heights High and in AAU ball.
Ellis never will become a banger who sends opponents home with bruises and welts, but he will make strides in absorbing and welcoming contact because KU coach Bill Self has a way of bringing that out in players. Ellis presents a challenge in that regard, but so have others through the years. Ellis will get the hang of it, just as they did.
Ellis already was winning state championships when KU red-shirt freshman Jamari Traylor took up the game seriously. Traylor, whose one-handed follow jam topped KU's highlights, can't approach Ellis in terms of basketball skill. But the muscular, explosive freshman from Chicago who practiced but was restricted from playing for KU during the second semester last season was more ready for this type of physical basketball game and played 25 minutes off the bench.
"I thought Jamari was much more aggressive," Self said. "Perry's going to be a good player, but everything's a finesse deal right now. And it's not his fault. Michigan State's not the best team to be finesse with."
And then there is the most talented member of the team. Red-shirt freshman Ben McLemore blends a soft shooting touch with kiss-the-Dome-ceiling athleticism, but in a different way than Ellis, must become more assertive.
"He needs to figure out how to put himself in the game where he's more of an impact guy," Self said of McLemore, who scored 14 points and made five of seven field-goal attempts. "The guy's a pretty efficient player, but seven shots is not enough for him. He's so talented, but he's got a lot to learn. It's going to take awhile, but he'll get it. ... I thought Ben was pretty good early. He lost all aggressiveness late."
The three freshmen in Self's rotation didn't come to KU with eyes that had seen so much, so young, such as, say, Sherron Collins, for example, so they present a different challenge for the coach.
"We've got a long ways to go with competing and understanding how to compete and being tougher mentally and that kind of stuff," Self said. "It's new to them. Our freshmen are pretty good, but they're green and naive. They're not the typical heralded freshmen that have had a lot of exposure and are worldly. They've been pretty sheltered as far as experiences, so this will be a great learning experience for them."
Ellis particularly learned the hard way, from a seat on the bench for much of it, playing for the side that came up short. That's new to him, too.
"I'm sure he was down on himself," senior Travis Releford said of Ellis. "But it's a learning experience. He's never been in this pressure situation, this type of atmosphere, this big of a game. It's just something we need to keep working on."
Ellis has an abundance of basketball talent. He cares, and he's smart. Some day he'll look back on Tuesday night and feel proud of how far he has put it in his rear-view mirror.