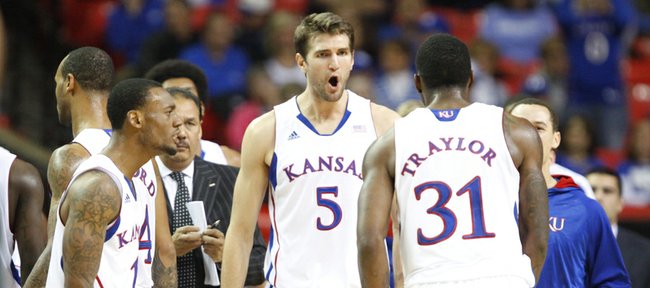 Photo Gallery
KU basketball v. Michigan State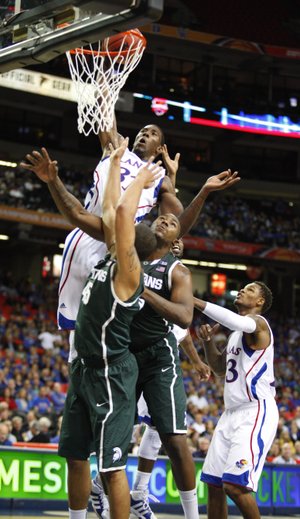 Images from Tuesday's Champions Classic game between Kansas and Michigan State
Podcast episode
Kansas coach Bill Self talks to reporters after his team's 67-64 loss to Michigan State on Nov. 13, 2012.
Podcast episode
Kansas seniors Jeff Withey and Elijah Johnson talk to reporters following KU's 67-64 loss to Michigan State on Nov. 13, 2012.
Atlanta — Kansas University red-shirt freshman forward Jamari Traylor had a vicious one-handed put-back dunk of an Elijah Johnson miss, took a charge and had three blocked shots in the Jayhawks' 67-64 loss to Michigan State on Tuesday in the Georgia Dome.
He certainly held his own against Michigan State bruisers Derrick Nix and Adreian Payne.
"They were very physical, just like anybody else really," Traylor said after scoring six points with four rebounds and two steals in 25 minutes. "That is definitely a game I think we should have won. The last four minutes, things didn't go our way.
"Physically I guess I could go against anybody," added the 6-8 Traylor, who battled 6-9 senior Nix and 6-10 junior Payne. "I went against Thomas (Robinson) every day for a whole year. That was nothing new (vs. MSU), just regular I guess."
Self 'not leaving discouraged'
KU coach Bill Self was not despondent after the defeat.
"The thing about playing a game like this, this early, somebody is going to lose," he said. "I thought we were pretty good for 35 minutes. But games are decided in the last five. They were much better the last five. I think this was a good game for us. I am not leaving discouraged at all. I'm not happy we lost because when you are up in that situation (seven with 12 minutes left; five with five minutes left) you've got to close. We didn't close."
KU commit Greene attends practice instead of KU game
KU commit Brannen Greene, a 6-7, 207-pound wing from Tift County High in Tifton, Ga., who had basketball practice scheduled from 5 to 7 p.m., local time, Tuesday, couldn't make it to Atlanta's Georgia Dome to watch his future school play Michigan State.
"It's a 2 1/2 to 3 hour drive," Greene told the Journal-World, "but it's great they are here in the state. If they make it to the Final Four, I'll be on it," he added.
The 2013 Final Four will also be held at the Georgia Dome.
"My goal is to win a state championship," said Greene, who averaged 24.5 points and 14 rebounds a game last season for Mary Persons High in Forsyth, Ga., moving over to Tift County this year.
Of Wednesday's signing day ceremony at his school, he said: "I knew I wanted to go to KU at the time (when he committed in December) and I still know I want to go there. I haven't wavered off of that."
His dad, Jeffrey, a former Pittsburg State player, said he hoped the Jayhawks could defeat the Spartans.
"I hope they have a successful time. Winning is wonderful. That's what the Jayhawk tradition is. That's why we are so elated to be a part of it," said Jeffrey, who is an assistant coach at Tift County this year. "The Final Four is back this way. Hopefully they make it back and it won't be a dead period (in recruiting) and we can visit and be in the locker room, those kind of things."
Naismith watch list
KU's Ben McLemore and Jeff Withey have been named to the Naismith Award early-season watch list, the Atlantic Tipoff Club announced Tuesday.
In all, 50 players were included on the list, which will be cut to 30 in February and four in March before a winner is announced in April.
Other Big 12 players on the list: Pierre Jackson, Baylor; Rodney McGruder, Kansas State; Marcus Smart, Oklahoma State.
Stats, facts
KU is 1-1 for the second-straight season and the third time in the Bill Self era. ... MSU has a 6-4 record versus KU and has won three straight in the series. ... KU and MSU were tied with 15 total rebounds (six offensive/nine defensive) after the first half, but KU grabbed only 10 rebounds in the second half. KU's 25 rebounds are the fewest in a game since grabbing 23 at Iowa State on Jan. 28, 2012. ... MSU went ahead 54-53 at the 6:55 mark in the second half for the Spartans' first lead since going up 24-22 with 8:10 to play in the first half. Kansas held a lead for 20 minutes and 47 seconds. KU led by five, 59-54, with 5:02 to play. ... Ben McLemore scored a career-high 14 points. ... Kevin Young checked in with 13:42 to play in the first half for the first appearance of his senior season. His first point of the year came on the back end of a trip to the free throw line at 12:31. ... Atlanta Falcons tight end Tony Gonzalez attended and sat in the KU section. ... KU coach Self used nine players. Naadir Tharpe played 13 minutes, Justin Wesley seven and Kevin Young three.
More like this story on KUsports.com