Photo Gallery
KU basketball v. Michigan State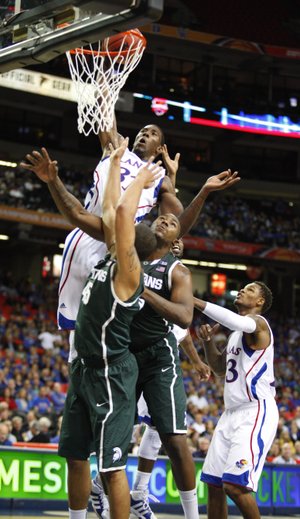 Images from Tuesday's Champions Classic game between Kansas and Michigan State
Podcast episode
Kansas coach Bill Self talks to reporters after his team's 67-64 loss to Michigan State on Nov. 13, 2012.
Podcast episode
Kansas seniors Jeff Withey and Elijah Johnson talk to reporters following KU's 67-64 loss to Michigan State on Nov. 13, 2012.
Atlanta — With his team needing a three-pointer to tie, fifth-year senior Travis Releford let a trey attempt fly with two seconds left in Kansas University's Champions Classic contest against Michigan State on Tuesday night in the Georgia Dome.
"Leaving my hand, it felt great. It just didn't go in," the 6-foot-6 Kansas City native said after the Jayhawks' 67-64 loss.
His last-gasp miss followed a driving lay-up by Keith Appling that increased a one-point MSU lead to three with 14 seconds remaining.
"I also kind of rushed it at the time, but it was a good look," added Releford, who shot after accepting a pass from senior point guard Elijah Johnson. "Ben (McLemore) wasn't open. That was the guy we were trying to get the ball to at the end."
There was enough time remaining that coach Bill Self gave the Jayhawks an option of trying for a two-pointer or a three.
"I said, 'Take a quick two.' If Elijah could have turned the corner and got a quick two, we going to do that, too. It just didn't work out that way," Self said after his squad fell to 1-1. Michigan State improved to 1-1.
"The thing is, if you wait too long, they are going to foul more than likely. We ran our little chop play that's worked a couple times in the past (including 2008 national title game).
"Elijah could have shot the three at the top of the key. He was open because (Derrick) Nix switched on him. He elected not to (shoot). We told Ben to go under the fade screen set at an angle (and) act like you are going to run off the fade and bump back. He didn't really bump back. He was wide-open. He went down to the corner."
So ....
"We did a down screen for Travis," Self explained. "We ended up getting a good look. You can't ask for a better look under those situations. We just missed it. I thought the execution on the last play was actually pretty good."
Johnson, who scored a team-leading 16 points off 6-of-15 shooting (2-for-5 from three) with two assists against four turnovers in 36 minutes, gave himself a failing grade for his direction of the final play.
"It was really, 'Take the first available shot,'" Johnson said. "I'm putting it all on me. I think I could have made a better decision with that. Coach put the ball in my hands to make a play. I feel I didn't do a great job at it. It was a good shot (by Releford), a good look."
Self was OK with the last possession, but not the Jayhawks' execution the final five minutes.
KU, which had a game-high lead of seven points with 12 minutes left, led 59-54 with five minutes to play. Michigan State outscored KU, 13-5, the rest of the game.
"We didn't run offense down the stretch. Our spacing stunk the last seven, eight minutes," Self said. "I thought we executed our offense better than we have all year long for about 30 minutes. I thought we got the ball where we wanted to get it. We missed a lot of bunnies, too. Jamari (Traylor, six points, four rebounds, 25 minutes) missed an uncontested lay-up midway through the second half. He's never been in (those) situations. He's going to have to learn to plug himself into the game, and we have to do a better job. There were a lot of things that weren't very good. I think it'll be a good teaching tool for us."
KU trailed just 65-64 at :48.9 following a McLemore drive, bucket and foul shot. However, junior guard Appling skated through the lane for a huge lay-up at :14. Appling scored 19 points off 6-of-9 shooting and freshman guard Gary Harris 18 off 7-of-12 shooting. Appling also hit a huge three at 1:30, boosting a 62-61 lead to 65-61.
"I was late getting back. I'm usually good at blocking stuff like that," KU big man Jeff Withey said of Appling's lay-up. "He did a little pump-fake-type deal."
Releford had hit two free throws and scored off a drive, and Withey hit a hook shot in a 6-0 run that gave KU its 59-54 lead at 4:59. That's when Harris scored consecutive buckets sandwiched around a Perry Ellis inside miss and turnover.
"I think our young guys did all right," Releford said. "For the first time to be able to step up and have to be a key role in the game ... it's kind of tough for them. We went back in the locker room and told them our freshman year most of us didn't even have a chance to play in a game like this. That's good for us, and it's going to be good for us on down the season."
The Jayhawks will meet Chattanooga at 7 p.m. Thursday in Allen Fieldhouse.
More like this story on KUsports.com