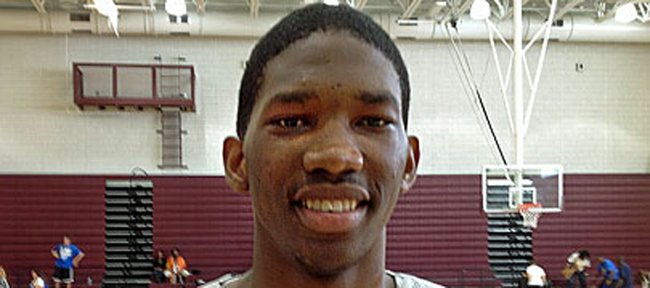 Atlanta — Joel Embiid, a 7-foot, 220-pound senior basketball center from The Rock School in Gainesville, Fla., eventually decided to pick his college on Tuesday.
That wasn't the plan for a couple hours. On Tuesday morning, Embiid sent a text message to JayhawkSlant.com saying he was pushing his decision back a day. Then, a few hours later, Embiid tweeted "Proud to be a jayhawk," officially announcing he was heading to Kansas.
Originally, the plan was for Embiid to announce his college choice Tuesday, according to Justin Harden, who is Embiid's high school coach at The Rock.
Embiid, a native of Cameroon, is currently unranked by Rivals.com, in large part because he has played organized basketball for just over one year. He visited KU for Late Night in the Phog and also visited Texas, Florida, Marquette and Virginia.
Embiid is currently unranked by Rivals.com, in large part because he has played organized basketball for just over one year. He visited KU for Late Night in the Phog and also visited Texas, Florida, Marquette and Virginia.
The first day of the week-long early signing period is Wednesday.
"He is a surprise to me and a pleasant one at that," Harden told espn.com. "He's every bit of 6-11. He can do a lot of good things with the ball. He's only been playing 18 months. He was a volleyball player before that.
"At 6-11, he's got an effortless shot," Harden added. "He's a long-term stock. With what he's been able to do in 18 months in terms of skill development (it's impressive). Once he gets consistent weight training the sky is the limit."
Rivals.com officially lists Embiid at 7-foot, 220.
KU on Wednesday is expected to sign Conner Frankamp, 6-0, 160, Wichita North; Brannen Greene, 6-7, 200, Tift County High, Tifton, Ga.; Frank Mason, 5-11, 160, Massanutten Military Academy, Petersburg, Va.; and Wayne Selden, 6-5, 225, Tilton (N.H.) School. Greene is ranked No. 24, Selden No. 25, Frankamp No. 30 and Mason No. 133 by Rivals.com.
Embiid is planning on signing his letter with a yet-to-be-determined school in a ceremony at his school on Thursday.
Greene, by the way, is not expected to attend today's KU-Michigan State game in Atlanta, which is about a three-hour drive from his home in Tifton. He plans on watching the game on ESPN following his team's practice.
Izzo a winner: In 18 seasons at Michigan State, Tom Izzo has compiled a 412-170 record with one national title, six Final Four appearances and seven Big Ten crowns highlighting his resume.
The Iron Mountain, Mich., native has also led the scrappy, hard-working, ultra-physical Spartans to three Big Ten tournament titles and reached the NCAA Tourney 15 consecutive seasons.
"He'll put them in helmets and pads. That dude is crazy," KU coach Bill Self said with a laugh. "I've only done that a few times. He does it on a regular basis. I remember one time we were playing with helmets and pads (during a practice over Christmas break back in 2003-04). We were running secondary break and primary break. Guys are guarding each other. Some guys liked it and some didn't like it too much at all.
"I remember Mike Lee liked it a lot," Self added of the rugged former KU combo guard now an assistant coach at University of San Francisco. "I don't think I've done a great job getting through to our guys yet. Toughness is not about physical strength. That's a small part of it. It's about not flinching, going after every ball with two hands, carrying out assignments when you just screwed up, thinking next play. We've got to get better at that."
History: Self's KU teams have a 1-2 record vs. Izzo's MSU teams. KU beat the Spartans, 81-74, on Nov. 25, 2003, in Allen Fieldhouse. KU fell to MSU twice in the 2008-09 campaign — 75-62, on Jan. 10, 2009 in East Lansing, then 67-62, in the Sweet 16 of the NCAAs in Indianapolis. ... Overall, KU is 4-5 against MSU in a series that dates to 1960. KU won, 96-86, in overtime in the 1986 NCAA Tournament Sweet 16 game in Kansas City, Mo. KU then defeated North Carolina State to advance to the Final Four in Dallas. In the next meeting, Michigan State defeated Kansas, 66-54, in the Great Eight on Dec. 7, 1999 in Chicago.
Quick healer: Michigan State sophomore Branden Dawson, who had ACL surgery last spring, hasn't missed a practice.
"That's pretty impressive," Self said of the quick recovery of the 6-6, 230-pound sophomore from Gary, Ind. "It's comparable to Brandon (Rush, ACL at KU) even though Brandon tore his the first of June and was back in a limited role. This guy ... he was full speed the first of October."
Noted MSU coach Izzo: "Maybe the best present is Branden Dawson is healthy. He's come back with no signs athletically of any issues. He hasn't missed a practice, hasn't sat out a minute since we've got going."
Dawson said he tries not to dwell on the injury.
"Coach asked me the same thing; he asked do I think about it, do I have any pain? I just tell him that when I go out on the court I have been doing this since I was 7 years old. This is something I love, so when I go out there, I don't think about it. When you think about it, you start thinking something will happen," Dawson said.
Like Dawson, KU senior Elijah Johnson is from Gary, Ind.
"I don't know him. I ran across him. He played high school ball with my cousin," Johnson said. "I've been hearing about him for some years."
Dawson's take on the match-up: "Kansas is a great team. They made it to the national championship last year, came in second place. (Their) tall guy Withey is a 7-footer. He's great, an NBA prospect. Elijah Johnson is from Gary (Ind.). They have really good guards and a really good team and good coach. We have to come out and execute our offense."
KU players on MSU: "They've got a good coach. They've got a good program. They are going to play Big Ten style," Johnson said. "They've got bigs who are pretty strong. They like to push the ball and score in transition. We have to be tough on the glass. The guards have to help the bigs on the glass."
"They are a good transition team. They like to get up and down the court. Michigan State will be a great team to play," Ben McLemore said. "The key thing for us is just go out and play the game of basketball, play as a team. Offensively it'll come to us and play defense."
"Michigan State is known for being physical," Jeff Withey said. "They are part of the Big Ten. It'll be a tough game. We're looking forward to it, though. It will be a tough, physical game."
• A previous version of this story has been updated to reflect the newest information available with Embiid's college announcement.
More like this story on KUsports.com