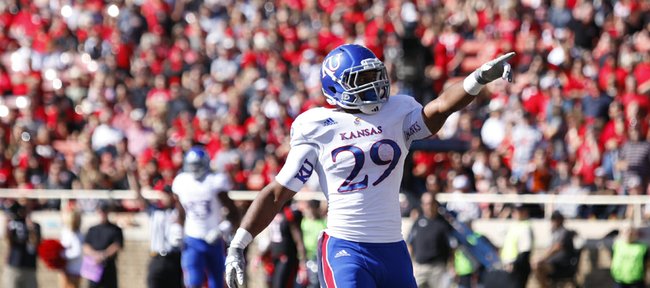 The concept has been used dozens of times by football teams at all levels.
Call it thunder and lightning, smash and dash, hit and run or power and speed. Regardless of the moniker of choice, it now also can be called incredibly effective for Kansas University's football team.
After weeks of watching junior running back James Sims and sophomore speedback Tony Pierson deliver solid performances separately, the Jayhawks used the two tailbacks in unison for extended periods of Saturday's 41-34, double-overtime loss at Texas Tech. KU racked up 390 rushing yards, the most by a Kansas team in the Big 12 era.
KU coach Charlie Weis said Sunday night that using Sims and Pierson at the same time was something he first considered right before Pierson injured his elbow and missed time while recovering. Now that Pierson, who ran for 202 yards on 16 carries in KU's latest loss, is healthy again, Weis said he loved the idea of using them both.
"Every week, I go sit in there on Monday morning and try to best utilize our guys to get 'em involved in the offense," Weis said of his weekly game-planning routine done on the day he calls "by far" his favorite of the week. "And when I looked at our sideline and saw either one of those guys standing on the sideline when the other guy was in, I felt we weren't putting our best players on the field."
So Saturday, they both played. Sims ran hard 30 times and picked up 127 yards and a touchdown, while Pierson used his top-line speed to torch the Red Raiders on the edge.
"They both can run inside and outside," Weis said. "But if you were just picking one to do one, you'd pick James inside and Tony outside."
With Sims and Pierson having such obvious strengths, Weis said it had become a challenge to find ways to keep KU's running game unpredictable, but Pierson insisted that, because each guy can handle the entire load, the KU running game has kept opposing defenses off-balance.
"With me and James in the game, they don't know if it's an outside run or an inside run," Pierson said.
Weis wasn't so sure that was true.
"You have to give the next defensive staff credit that they're gonna realize when No. 3's (Pierson) in the game, the ball's going outside, and when 29's (Sims) in the game, the ball's going inside," he said. "So you can't think like that."
One thing that helped KU's cause Saturday was that red-shirt freshman quarterback Michael Cummings (41 yards) also was a threat to run. When Weis first conceptualized this type of two-back approach, senior Dayne Crist was KU's starting quarterback. But even though Crist is not a runner like Cummings, Weis said all that mattered was that the quarterback offered something.
"Either way, (the defense) has extra things to worry about than just the two (running backs)," he said.
Sims' sixth straight 100-yard game — a school record — moved him into eighth place on KU's career rushing list. In seven games this season, he has 875 yards and eight touchdowns on 180 carries. Clearly, he had done fine by himself. But Weis said he believed adding a healthy Pierson and even more creative game plans to the mix would make KU's attack even more dangerous.
"Once we get through these last couple of games, where we're gonna run it and everyone knows we're gonna run it, and we can get to the offseason, where, through development and personnel substitutions, (we) get the passing game going, I think this has established a physical identity that's gonna make us a much better team down the road," Weis said.
A plea to KU fans
Saturday's 6 p.m. kickoff against Iowa State will mark the final home game for 23 KU seniors. Although Weis has been with them for just one season, he took to Twitter on Sunday to encourage the KU faithful to come out to support them. Sunday night, he explained why.
"Well, it means a lot to me," Weis said. "There's two different ways that new coaches treat players when they come in. Some coaches say, 'Wait 'til I get my guys here, everything's gonna be great.' And then there's other coaches who say, 'These are my guys.' And that's who I am."
He continued: "I think it's really, really important, with all the trials and tribulations that went on with this team, that the coaching staff and all the non-seniors do everything they can to send these guys out with a good taste in their mouths. And we really need as many fans as possible. I can't ask (the fans to show up) for me. Right now, I'm a new head coach that's 1-9. But I can ask 'em to do it for (the seniors)."
ISU favored
After coming oh so close to their second victory of the season, the Jayhawks move forward as single-digit underdogs for just the second time this season.
After being favored in their first two games, the Jayhawks have been underdogs in every game since. That stretch has included KU being double-digit underdogs in all seven Big 12 games.
But the early Las Vegas lines list the Cyclones as eight-point favorites, marking the first time since Week 4 at Northern Illinois that KU's opponent was favored by fewer than 10 points.
Although the line opened with Iowa State favored by eight, by Sunday night the line had dropped in some spots to ISU -6.5.