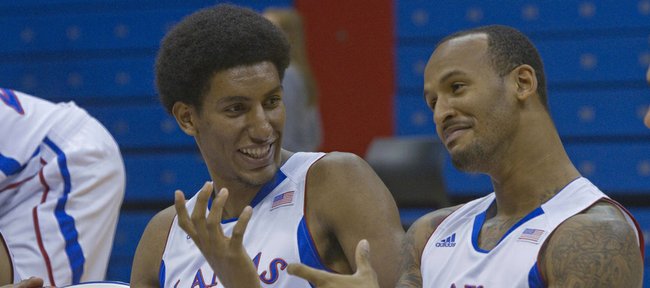 Kevin Young, who flat-out loves to run, just might help wake up Kansas University's sleepy offense Tuesday night.
At least, that's the hope of the Jayhawks, who welcomed the 6-foot-8 senior string bean to practice Saturday and are elated he has been cleared to make his season debut against Michigan State on Tuesday in Atlanta (6 p.m., Georgia Dome).
"I hate not having Kevin on the court," KU senior point guard Elijah Johnson said Sunday. Young missed KU's two exhibition games and Friday's regular-season opener against SE Missouri State after breaking a bone in his right hand at practice on Oct. 25.
"When Kevin is on the court, it's somebody I feel I try to keep up with," Johnson added. "He's so far ahead of the game. He just never stops. Whenever Kevin is on the court, that gives me extra momentum."
Freshman guard Ben McLemore also enjoys running the court with Young, who averaged 3.4 points and 3.0 boards off the bench last season, his first since transferring from Loyola Marymount.
"I think it'll mean a lot to get Kevin back," McLemore said. "Definitely the energy on the floor will change. I think that's the big thing. He brings us aggression on the defensive end and offensively."
KU's offense accounted for 88 points against Emporia State on Oct. 30, then sputtered to 62 points on Nov. 5 vs. Washburn and 74 on Friday vs. SE Missouri State.
"This sounds weird ... Kevin's our best talker," Self said, who said Young's presence had been missed. "He can direct traffic from talking. We're the quietest team. That's going to get us beat, just how quiet we are. He's also the most active. He's the most energetic guy we have by far and the best talker. Talking automatically brings energy as well.
"I'm sure he's going to help us. Now, physically, he only weighs 210 pounds or whatever, but he tries so hard."
Young, who will be wearing a padded glove to protect his hand (it resembles a weightlifter's glove, with the fingertips cut off), says he has been "focusing on keeping our energy up the whole game. I do run a lot and I do talk a lot. I think it'll be pretty easy to help the team push the energy level up."
Young explained how he hurt his hand.
"In practice, Drew (Andrew White III) was running toward the rim for a rebound. It was a long rebound. I started to run behind him and put my hand up. He ran into it," Young said.
Of his hand, he said: "It feels pretty good. Pretty good. I have to get to feeling comfortable with the glove on and make sure it doesn't get hit."
Good for the soul: The Jayhawks practiced in their practice facility adjacent to Allen Fieldhouse on Sunday afternoon, then flew to Atlanta, where they will practice today.
"We're going to a soul-food restaurant," Self said of Sunday night reservations at Paschal's in downtown Atlanta.
Red-shirt: Barring any change of heart, freshman power forward Landen Lucas will red-shirt this season.
"(It's) just what I mentioned. We're planning on red-shirting him unless something changes in the next week or two," Self said Sunday. "Injuries (to big men) would dictate that. That's what we are planning on doing."
Freshman forward Zach Peters, who has not practiced all season because of a rotator cuff injury, also is a likely red shirt since he still has not been cleared to practice.
Finger's fine: KU freshman Jamari Traylor, who suffered a bloodied finger in Friday's victory over SE Missouri, is fine. "I thought he ripped a nail off. He got a hangnail, little difference," Self said. "He'll tape it up and be fine."
MSU update: Michigan State sophomore reserve guard Travis Trice suffered a possible concussion in Friday's 66-62 season-opening loss to Connecticut in Germany, the Lansing State Journal reported. Trice, 6-foot from Huber Heights, Ohio, was hit in the nose on an apparently inadvertent head butt by Connecticut's Shabazz Napier in the second half. MSU coach Tom Izzo told the paper Trice may have a "bad concussion." ... The No. 14-ranked Spartans were to fly to Atlanta today after returning to Michigan from Germany on Saturday. "There's been people that say practice right away and at least get an hour in, an hour and a half to get the jet lag out of you and then come back later that day," Izzo said. "I'm still calling some teams that have recently gone (overseas) in the last year or two in the NBA to see what they've done. But as far as prep work, it'll be all done on the plane (an eight-hour flight) and when we get back."
More like this story on KUsports.com