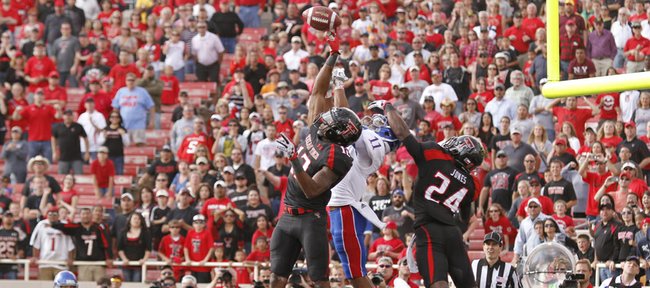 Photo Gallery
KU football v. Texas Tech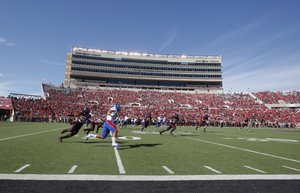 Images from Saturday's game against Texas Tech at Jones AT&T Stadium in Lubbock, Texas.
Podcast episode
KU coach Charlie Weis talks after his team's 41-34 double-overtime loss to Texas Tech on Nov. 10, 2012.
Box score
Lubbock, Texas — On the fifth play of an improbable overtime at Jones AT&T; Stadium, Kansas University quarterback Michael Cummings drifted back and fired a pass to running back James Sims, who stabbed it with two hands at the goal line and gave the Jayhawks their first lead of the day.
With the clock no longer running and Kansas needing just one more stop from a defense that delivered them all afternoon, Cummings celebrated his second touchdown pass of the game with a slide step and celebratory slap of the Texas Tech turf.
"I thought the game was over after that," said Cummings. "I thought we would wrap the game up on defense."
There was good reason for KU's red-shirt freshman quarterback to have such faith. After all, in front of an announced crowd of 55,052 on Texas Tech's Senior Day, KU's defense held Tech's high-powered offense to just six points in the second half and even forced TTU quarterback Seth Doege into some uncomfortable situations and uncharacteristic mistakes.
But after pushing the Red Raiders (7-3 overall, 4-3 Big 12) to a third-and-long situation in the initial overtime, the home team broke through, first tying the game on a one-yard TD run from tailback Eric Stephens and, one possession later, winning on a three-yard Stephens pass. Texas Tech 41, Kansas 34, in double OT.
"It was definitely fun," said KU senior Bradley McDougald, whose game-changing interception midway through the first half turned a potential 28-7 lead for Texas Tech into a more manageable 21-17 halftime deficit for Kansas. "Close games, you gotta love 'em. But it hurt, at the same time, to see my seniors still not get that win that we've been fighting for."
KU's most recent loss was a wild affair that featured contrasting offenses and defenses that were nearly helpless to stop them.
While Doege (45-of-59 passing for 476 yards and three touchdowns) and the Red Raiders' offense threw the ball at will on the Jayhawks, Texas Tech's defense had no answer for the KU rushing attack, which roared to 390 yards, the most ever by a Kansas team in the Big 12 era.
In addition to rolling to an impressive team total, Sims, KU's emerging junior tailback, recorded a school-record sixth straight game with 100 yards or more. He churned for 127 yards and two TDs on 30 carries behind what KU coach Charlie Weis dubbed "hard yards." But for the first time in quite some time, Sims actually had some help.
Sophomore Tony Pierson used his elite speed to explode for 202 yards on just 16 carries. Even Cummings, who ran KU's option attack to near perfection, added 41 yards on the ground, as 88 percent of KU's total offense (419 yards) came from those three players carrying the football.
"I think it says a lot about a lot of people," Weis said. "Obviously, you can start with James and Tony. But Michael had some yards in there, and you'd have to think that the offensive line did a heck of a job in run blocking. You don't get numbers like that without a lot of people being involved."
While Sims' production has come to be expected and Cummings' effort was merely a bonus, Pierson's big day nearly changed the game. The sophomore from East St. Louis, Ill., who started the season hot but then missed time and struggled to regain his form because of an elbow injury, ripped off runs of 49 and 69 yards while averaging 12.6 yards per carry.
"It felt good because coach Weis had been calling me out all week saying I've been missing the action for a whole month because of my elbow," Pierson said. "So I just came out today with a different mind-set and just worried about playing football."
It worked. Pierson was excellent out of KU's option package, and he also darted to the outside on routine handoffs, making life miserable for a Texas Tech defense that came in ranked 18th in total defense.
"When they call an outside run, my eyes light up because that's my specialty," Pierson said.
Sims was particularly appreciative of Pierson's big day because, after gashing the Red Raiders up the middle on KU's first scoring drive of the day, Tech began to stack the line of scrimmage to prevent Sims from beating them.
"Tony Pierson is a great back, and he's great in the open field," Sims said. "If he makes one person miss, it can be a house call."
While the offense rolled even without the threat of a passing game, KU's defense came up with stops at crucial times to keep the Jayhawks in it. A Ryan Bustin field goal with 28 seconds to play in the third quarter gave Tech a 24-17 lead, and, despite reaching the KU 10-yard line on their next drive, the Red Raiders settled for another field goal early in the fourth to push their lead to 27-17.
Down by two scores for the first time since early in the second quarter, KU responded with a three-play TD drive, sparked by Pierson's 69-yard sprint up the middle that Sims capped with a three-yard TD run after Pierson was caught from behind for the first time in his life.
"That was kind of new to me," he said shaking his head. "I should've never said never."
The dubious first for Pierson did nothing to hurt KU's momentum. Trailing by just three, KU's defense held Stephens to a one-yard gain on a fourth and two from the Kansas 12-yard line, and that allowed Cummings to lead a game-tying drive.
Sims did most of the heavy lifting on KU's final drive of regulation, rushing six times for 30 yards. But Cummings' 44-yard gain off of an option keeper on fourth and four set up Nick Prolago's 32-yard field goal that forced overtime.
"We talked to the offensive line, five guys up front, and just said, 'Hey, just win the line of scrimmage,'" recalled Sims of the conversation in the huddle before the drive. "'If you win the line of scrimmage and get us running backs to the safeties, then we should be fine.'"
That set the stage for the double-overtime heartbreaker, in which KU momentarily led. After Tech gutted out back-to-back touchdown drives to reclaim the lead, KU's final chance went awry when TTU's defense finally got a stop in the run game.
Sims gained two yards on first down, and Cummings added three on second. But on third and five, Pierson lost four yards on an option pitch to the short side, setting up a desperation fourth and nine with the game on the line. Weis said he liked the play call, but noted that the protection broke down, forcing Cummings to throw early. The ball was batted away from freshman Tre' Parmalee in the end zone, and KU (1-9, 0-7) was called for an illegal shift at the same time, putting an end to KU's best effort of the season and adding another defeat onto KU's painful stretch of 19 straight conference losses.
"Look, am I disappointed we lost?" Weis asked. "You betcha. Are they disappointed? You betcha. But at the end of the day, our team played like a legitimate team trying to gut it out through a complete four quarters."