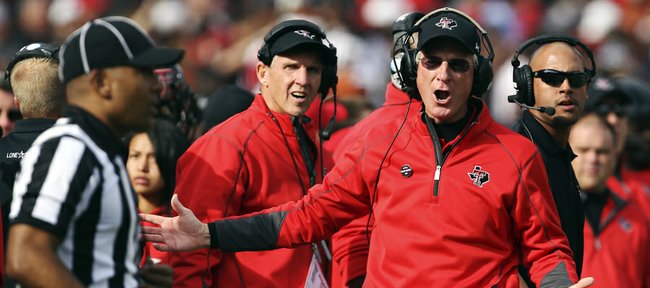 When Texas Tech hired Tommy Tuberville to take over for Mike Leach in January of 2010 — just weeks after Kansas University had removed Mark Mangino and hired Turner Gill to take his place — the people in power at Tech spoke about an opportunity to get Texas Tech football back on track.
In introducing Tuberville as the program's next head coach, then-Texas Tech athletic director Gerald Myers referenced Tuberville's success in the SEC and pointed to his championship-level experience as the piece the Red Raiders needed to elevate the program beyond the heights Leach reached before being fired in the wake of an investigation into mistreatment of players.
After getting off to a hot start by leading the Red Raiders to a bowl victory during his first season, Tuberville went 5-7 in 2011 and was responsible for snapping the school's Big 12-best 18-year bowl streak.
Even with that kind of success fresh in their minds, Red Raider fans became restless, largely because Tech lost five straight to close the 2011 season. The collapse led many to wonder if Tuberville was, in fact, the right guy to follow in Leach's footsteps, but a 6-1 start to this season and a return to the national polls calmed those fears and Tuberville, once again, appears to have things rolling as the 25th-ranked Red Raiders (6-3 overall, 3-3 Big 12) head into today's 11 a.m. home meeting with Kansas (1-8, 0-6).
"I think that this is more the team that we want in terms of being a team that can play on both sides," Tuberville said earlier this season, pointing to Tech's defensive resurgence. "I don't care whether we're a team that just plays over our head on either side of the ball. We've just got to play consistent."
Consistency was one of the things that brought the 58-year-old Tuberville to Lubbock. Before Auburn asked Tuberville to resign in 2008 — a move KU coach Charlie Weis called probably the Tigers' biggest mistake ever — the 17-year head coach ripped off eight consecutive winning seasons (2000-07) and led Auburn to an SEC championship and five SEC West Division titles or co-titles. Tuberville racked up an 85-40 record in 10 seasons at Auburn, including a 13-0 season in 2004, when the Tigers won the SEC for the first time in 15 years, finished No. 2 in the polls, and Tuberville won the AP Coach of the Year award.
While such feats are featured prominently in the story of Tuberville's coaching career, what he's done during his short time at Texas Tech has not been overlooked.
"I think the one thing he did, he had a game plan coming in, and he said, 'This is the way we're going to do it,'" said Weis, who considers Tuberville a close friend. "You know, people sometimes want it to happen faster. You want it to happen faster, too, but I think that he stuck by (his plan). They were always scoring points there, but now the defense is ranked in the top 20 in the country. Now, all of a sudden, he's got a more complete team."
Although there is no bowl game forthcoming for the Jayhawks this season, Weis' first year at Kansas in many ways has resembled Tuberville's initial season in Lubbock. That was the idea when KU athletic director Sheahon Zenger hired him, and Zenger, who has hired two football coaches during his administrative career, said entrusting a rebuilding project to proven winners who were not afraid to work hard was a winning recipe.
"Obviously, each program has different needs," Zenger said. "But it's been my experience in hiring football coaches for rebuilding projects that guys like Charlie Weis and Tommy Tuberville are the kind of guys you look for. Their experience, attention to detail and discipline go a long way toward changing the culture and establishing a foundation for success."
Zenger's first hire, former Purdue defensive coordinator Brock Spack, has guided Illinois State to a winning record in each of his first four seasons in charge. The Redbirds currently sit 8-2, are ranked 15th in the FCS polls and will play for a share of the Missouri Valley Conference championship on Nov. 17.
Texas Tech, meanwhile, is bowl-bound again and has a shot at winning nine games for just the 15th time in 87 seasons.
Weis said the Red Raiders probably would not be in that position if not for Tuberville's way of doing business. Like Weis, who learned the profession from legendary head coaches Bill Parcells and Bill Belichick, Tuberville was tutored by a couple of all-time greats: Jimmy Johnson and R.C. Slocum.
"I think that when you coach under really good coaches, the one theme that everyone takes is, you do not ever deviate from the course," Weis said. "In other words, you have to have a plan, you just have to stick to it. There's going to be a lot of bumps in the road. But I think you come in and say, 'This is the way we are going to do business, this is the way we are going to fix the problems, and we have to just stay focused and stay that way.'"
Such an approach has worked three times for Tuberville, who also had a winning record in four seasons at Ole Miss from 1995-98. And even though he's off to a slow start in the win-loss column, Weis is trying to make it work at Kansas, as well.
More like this story on KUsports.com