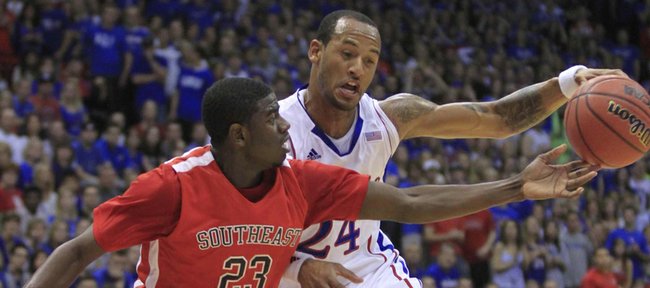 Podcast episode
KU coach Bill Self talks after his team's 74-55 win over Southeast Missouri on Nov. 9, 2012.
Podcast episode
Kansas players Jeff Withey, Perry Ellis and Naadir Tharpe talk after KU's 74-55 victory over Southeast Missouri on Nov. 9, 2012.
Box score
Southeast Missouri State neutralized Kansas University center Jeff Withey in the second half and made a game of it with Jayhawks in a 74-55 loss on opening night Friday at Allen Fieldhouse.
With KU leading 32-17 at the break, in the first eight minutes of the second half — "My first 7-footer," as SEMO power forward Nino Johnson called him — Withey had two turnovers, was on the receiving of another turnover on a forced pass by Naadir Tharpe, missed three shots, including a violent brick dunk from underneath the rim, and yielded two lay-ups without blocking or deterring a single shot. This after blocking three shots and deterring four in the first half. Withey sat out over five minutes midway through the second half.
"What we tried to do in the second half — we tried to adjust a little bit and tried to really three-quarter front versus front (on post defense)," SEMO coach Dickey Nutt said. "And the front, because he pushes it out — their techniques are so good — and the help-side, the off-side action that they have, you don't really have that natural help side. So what we tried to do was adjust: No. 1, go to a match-up zone and really stay matched up with people; but more than that, try to push him off the block and three-quarter him and make him score over us."
With Withey neutralized, the Redhawks guards and forwards got busy in the paint.
"On the ball screens, we tried to have whoever he was guarding, we tried to make them come and make him hedge against our bigs," said SEMO guard Nick Niemczyk, a three-point shooter and underhand finisher on the dribble-drive who led the Redhawks with 14 points.
"(We intended) to keep him out of the paint," added Johnson, who had 12 points and nine rebounds. "He's a 7-footer, so he covers up almost the whole paint. So we had to get him out of there in order for our guards to attack and get to the line like they did in the second half."
SEMO used a 15-7 run to come within 43-37.
SEMO shot 18-of-62 from the field, 6-of-29 in the first half.
"I've never played against any defense like that," Niemczyk said. "This is the best team I've ever played with in my life — just a great experience all-around."
For a team that coach Dickey described as "star struck" in the first half, SEMO made a real game of it after the break.
"We beared down in the second half. We did a better job of slowing them down a little bit. We tried to throw different defenses at them ... and dared them to beat us from the outside, and at the end they did," Dickey said.
"We had our chances with a three there at the end that could have cut it to five at one time."