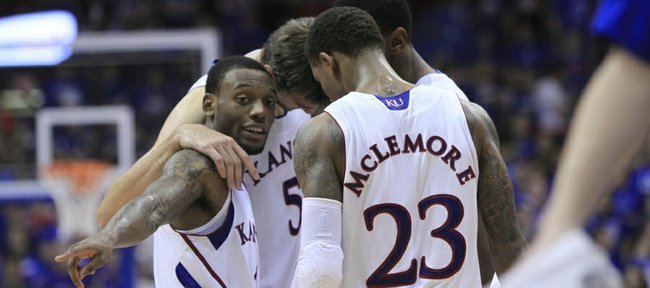 Podcast episode
KU coach Bill Self talks after his team's 74-55 win over Southeast Missouri on Nov. 9, 2012.
Podcast episode
Kansas players Jeff Withey, Perry Ellis and Naadir Tharpe talk after KU's 74-55 victory over Southeast Missouri on Nov. 9, 2012.
Box score
The referee blew his whistle, and Kansas University senior point guard Elijah Johnson headed to the bench with his fourth foul with 12:10 left in a six-point game against Southeast Missouri State.
That's when the training wheels flew off of sophomore Naadir Tharpe's bicycle. Time for him to become a steady presence with the ball in his hands, hit a shot or two and help his team to build the lead to a comfortable margin.
Tharpe passed the test in helping Kansas win its season opener, 74-55, Friday night in Allen Fieldhouse, even if he didn't receive straight A's from his coach after the game.
"Naadir's best play for us right now is he can make a shot," said Bill Self, after Tharpe made one of six three-pointers. "Naadir's a good shooter. Statistically, he hasn't shot it great, but he's a good shooter."
Self seemed on the verge of biting his tongue and leaving it at that. Instead, he continued.
"But he backed out of two competitive plays, and that stuff drives me nuts," Self said. "He did some pretty good stuff, but it's not where it needs to be. He'll get there."
Tharpe scored seven of his career-high 10 points in the second half and turned it over twice in 28 minutes, which counts as progress from a year ago.
Tharpe shared what Johnson told him after he headed to the bench.
"He told me, 'It's finally your time to run the team and control it. Just play your game and be as confident as you can while you're out there,'" Tharpe said. "That's what I tried to do."
The emergence of a ball-handler who can take some of the load away from Johnson and in the process disrupt the opposing point guard ranks as one of this team's greatest needs.
That's why two days before the opener Self called Johnson "probably as important a player as we've had in our program to the success for our team as anybody we've had since I've been here."
At the moment, Tharpe's the best option. In time, if he can tame his wild side with the ball in his hands, Rio Adams could pass him. He's more physical, longer and stronger than Tharpe, a slight 5-foot-11 guard from Worcester, Mass.
"I kind of figured once he had his fourth foul I would have to go back in the game for a while and be in the game," Tharpe said of his most pressure-packed opportunity. "I tried to get my mind right and help the team as best as I can. Ben (McLemore) played outstanding in the second half, as well as Travis (Releford) and Jeff (Withey) and the rest of the team. We all kind of pulled together as one to finish the game."
McLemore (nine points, 12 rebounds, five assists, three blocked shots) took on some of the ball-handling responsibilities, smoothly running the point on a couple of fast-break opportunities. He also showed a great knack for crashing the offensive boards by spotting openings and jetting to the rim. He moves so swiftly and quietly that before you realize he's going someplace, he already has arrived. Seemingly out of the play, blink, in the play, dunk.
Tharpe's best moment came when he drove all the way to the hoop, dropped it in, was fouled and made a free throw that pumped KU's lead 16 points, not quite six minutes after Johnson headed to the bench.
Perry Ellis, who more often than not rewards guards with an assist for feeding him the ball, was instrumental in the steady widening of the lead without Johnson on the floor.
As much as what he did, it's what Tharpe didn't do that helped. He didn't get sloppy with the ball.
Michigan State, consistently among the most physical of the nation's perennial powerhouses, is next up for Kansas on Tuesday in Atlanta.
Doing it against Southeast Missouri State isn't the same as doing it against the Spartans, but knowing that the team extended the lead when he was on the floor has to help Tharpe's confidence, which went AWOL during his freshman season.