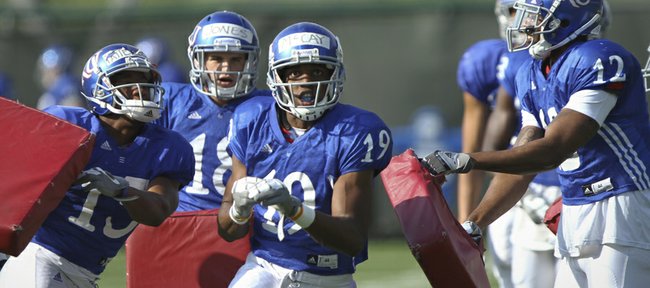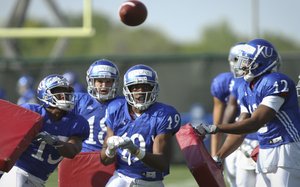 Every once in a while when interviewing an athlete, the mind moves to a state approaching déjà vu, but you know it's not that, you know it's not the mind playing tricks.
That feeling was triggered while interviewing Kansas University red-shirt receiver Justin McCay, who started his college career at Oklahoma. It felt so much like interviewing Keyshawn Johnson in 1995 when he was playing wide receiver for USC. Same friendly tone and eagerness to talk. Similar smile.
Johnson, chosen No. 1 overall in the 1996 NFL Draft by the New York Jets, went on to play in three Pro Bowls.
Now, let's get one thing straight right off the bat here. We're not comparing McCay the receiver to Johnson the receiver. If we've learned one thing this autumn, it's that seeing is believing when it comes to forecasting greatness for celebrated high school players who fall short of expectations at one college and transfer to another.
Kansas coach Charlie Weis expected big things from what he called, "the cavalry." Quarterback Dayne Crist, linebacker Anthony McDonald and tight end Mike Ragone transferred from Notre Dame. Defensive end Josh Willams arrived from Nebraska. Williams is the only one who remains listed No. 1 on the depth chart at his position. He has received high grades in other areas, but he has not yet sacked a quarterback.
McCay, a graduate of Bishop Miege High, is the back half of the battery Weis is counting on to ensure the second cavalry makes a far greater impact than the first.
Asked what words he would use if making a promo tape to get people excited about QB Jake Heaps, McCay was as up to the challenge as Johnson, now working for ESPN, would have been.
"Headline: The Mormon Cannon," McCay said.
Circle the bases, Justin.
Like Heaps, a transfer from Brigham Young University, McCay has two remaining years of eligibility. Unlike Heaps, who set a slew of freshman passing records at a school with a strong quarterback tradition, McCay brings no statistical data with him from Oklahoma.
Well into his third football season of participating in daily Big 12 practices, here are McCay's statistics: one catchy nickname created (The Mormon Cannon), no catches.
Recruited to Oklahoma to play either linebacker or wide receiver, McCay red-shirted his freshman season and was a reserve wide receiver in 2011. He appeared in three games, but did not get a reception.
Barry Every, a football recruiting analyst for Rivals.com, worked for Bobby Bowden at Florida State, Mack Brown at North Carolina and Mark Richt at Georgia.
Here is what Every wrote about McCay heading into his senior year of high school: "He is more of a straight-line receiver and lacks the lateral movement and body control you are looking for in a big-time receiver. McCay also needs to improve his route running, which should help create more separation."
And: "In his heart, he would prefer to be a receiver, but his skill set screams linebacker all the way. He will most likely red-shirt, while he finds out where he best fits on his future football team."
McCay still prefers to play wide receiver.
"I played both in high school," he said. "I'd rather score a touchdown. It's more exciting than just knocking people out."
He said he still enjoys hitting people and has shown an aptitude for that as a gunner on the punt team.
But it's at receiver that Kansas needs help as much as anywhere. No wide receiver on the team has caught a touchdown pass, nine games into the season.
What to make of McCay as a receiving prospect? Tough call.
The optimist reminds that Oklahoma recruited him, and the Sooners can afford to be picky. The pessimist points out that Bob Stoops didn't play him, except in three games during mop-up time.
Not only that, Stoops had no problem signing his release and didn't block his path to another Big 12 school that faces the Sooners on a yearly basis.
The pessimist also points out that whispers riding the wind from the practice fields during the spring described an unimpressive receiver who didn't gain separation and too often dropped passes.
The optimist points out that Weis volunteered recently that McCay had a poor spring and looked "a little like just another guy," but since then has made "a drastic improvement."
After transferring from Oklahoma in time to attend second-semester classes last spring, McCay applied to the NCAA to be granted eligibility for the 2012 season, citing family concerns. The request and ensuing appeal were denied.
"Big difference," McCay said of his practice performance in the fall, compared to last spring. "Big difference. More mature. I came in not knowing whether I was going to play, and that was weighing on me. Now I can just be me, do what I do and have fun. If it's not fun, don't do it."
Asked to describe his greatest tool as a receiver, McCay said, "I'm pretty physical. I'm not the fastest guy, but I can run a little bit. I can open up on you."
Asked to rate his hands, he said, "90, 95. They're up there."
That description again called to mind Keyshawn Johnson, a big, physical receiver who was not a burner. Johnson played at 6-foot-4, 212 pounds and McCay is listed at 6-2, 215.
McCay's favorite NFL receiver?
"I like Keyshawn Johnson," he said.
He likes him, but can he play like him? We'll have to wait until September to start learning the answer to that.