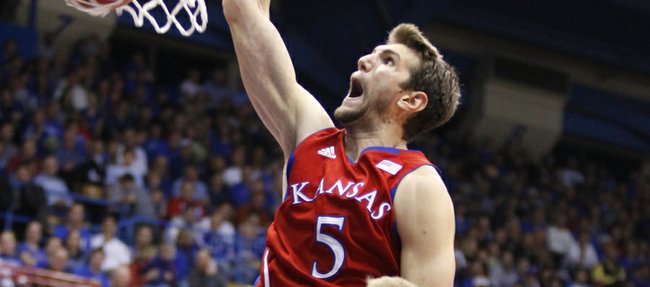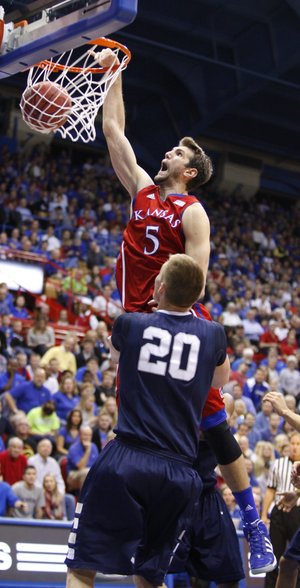 Seven-footer Jeff Withey's head has been up in the clouds, so to speak, this exhibition season.
"I was kind of in a funk the last month and a half. Probably just in practice I haven't been doing that well," said Withey, Kansas University's senior basketball center, who believes his 9-point, 7-rebound, 6-block second half against Washburn on Monday has snapped him back to reality heading into tonight's regular-season opener against SE Missouri State (7 p.m., Allen Fieldhouse).
"That second half I kind of got it going. That's how I need to play every half. I felt I was kind of back to myself. It definitely gave me some confidence. Hopefully I can build off that and bring it (tonight)."
Withey, who was named first-team preseason All-Big 12 and honorable mention All-America, said he doesn't know why he's been spaced out.
"Starting practice up again, early jitters maybe," he said.
He hopes he and his teammates heed the words of coach Bill Self, who held a long film session Wednesday after Monday's uninspired 12-point victory over the Ichabods.
"I talked to them, and the talk lasted longer than what I had hoped," Self said. "It's the same thing that we've been talking about. It's leadership, enjoy winning whatever way you need to win that night. We used to make a big deal out of it like when we play teams that guard a certain way or slow it down: 'Hey, enjoy this. Enjoy playing this way. That it's OK to win ugly. But you've got to enjoy it or you can't do it consistently over time.'"
Fifth-year senior Travis Releford said the film session, "was teaching. Coach wasn't too mad. It was an exhibition game. We're just forced to learn. He pointed out little things we can correct. It was learning for the whole team."
One "little thing" is penetrating more on offense.
"That would be affirmative," Self said, asked specifically about point guard Elijah Johnson taking it to the hoop more. "We've got a team full of guys that should be decent at it. The only one maybe would be Jeff that obviously wouldn't be great at it, but the other guys are all quick, explosive and can handle pretty well. So that's something we all need to do. But nobody's more important in doing that than Elijah."
The players say the message has sunk in.
"That's a big focus coming into this game," Releford said. "We've been practicing on that a lot this week. You should see a lot of that, a lot of penetrating."
Of course, Self wants the team to remain ultra-alert on defense.
"I can never be too aggressive. It's something I can definitely work on," Withey said. "The start of the season is officially tomorrow (today). I can't wait. It's been a long time coming. I think everybody is really excited."
Tonight's foe, SE Missouri State, returns three starters off last year's 15-16 team which finished fifth in the Ohio Valley Conference (9-7). Junior forward Tyler Stone, a preseason All-OVC pick, averaged 14.7 points and 7.3 rebounds a year ago. Senior guards Marland Smith and Nick Niemczyk averaged 12.3 and 9.2 ppg. Junior guard Lucas Nutt averaged 5.1 points while starting 16 games. Junior transfer forward A.J. Jones led the Redhawks with 18 points in an exhibition-opening win against Ouachita Baptist.
SE Missouri State was tapped to finish second in the West Division in the Ohio Valley Conference coaches and sports information directors 2012-13 preseason poll behind Murray State. Former KU guard Jeremy Case, who worked at SEMO the past three years, is now an assistant coach at Houston Baptist. Self and coach Dickie Nutt were on the same staff at Oklahoma State.
"Really athletic," Self said of the Redhawks. "Our big guys will have to guard movement. They run our stuff, for the most part, so we should be familiar with what they run. They run it better than us sometimes. Dickie's got a good team. They'll be one of the favorites in their league."