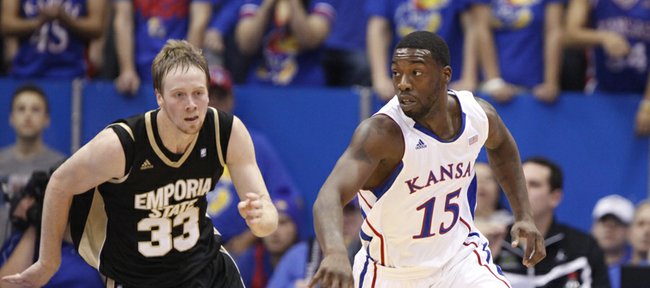 Kansas seniors Elijah Johnson and Jeff Withey were named to the John R. Wooden Award Preseason Top 50 for the 2012-13 season, the Los Angeles Athletics Club announced Thursday.
The list is made up of 50 student-athletes who, based on last year's individual performance and team records, are the early front-runners for the Wooden Award and Wooden Award All-America team, which consists of 10 players.
Kansas is one of eight schools that have two or more players on the list.
Johnson, a 6-foot-4 guard from Las Vegas, is Kansas' leading returning scorer from last season with a 10.2-point-per-game average. He led Kansas with 69 three-pointers made and 55 steals.
Withey, a 7-foot center from San Diego, was recently selected as honorable mention Associated Press Preseason All-America. He was the 2012 Big 12 Defensive Player of the Year last season while averaging 9.0 points and 6.3 rebounds.
Transfers, freshmen and medical redshirts are not eligible for the Preseason Top 50.
The 37th annual Wooden Award ceremony will honor the men's and women's Wooden Award winners during the weekend of April 12-13, 2013.