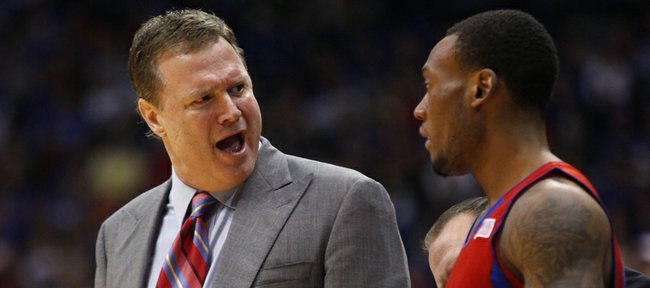 Slicing Kansas University's men's basketball rotation to a workable number might be easier than most expected this season.
"Two weeks ago, I'd have said I had no idea. The last couple weeks, there's been a little bit of separation. I wish there wasn't yet. It's starting to break that way," 10th-year KU coach Bill Self said.
Eight of his 13 scholarship players (Elijah Johnson, Jeff Withey, Travis Releford, Ben McLemore, Perry Ellis, Naadir Tharpe, Jamari Traylor and Justin Wesley) played 10 or more minutes, while freshmen Rio Adams, Andrew White III and Landen Lucas played just four, three and three minutes respectively in Monday's 62-50 victory over Washburn.
"At first I thought we'd easily get to nine. Now, it's, 'Gosh, can we get to eight?'" Self said of the rotation. "It's one of those things ... I hate to say this, but in big games, if a guy turns it over one time in one minute, that could be the difference in winning and losing. You don't put guys out there in games that matter just to try to get them some experience. You do that if you know the game is going your way. I'd have a hard time leaving a guy in five minutes against Michigan State (Tuesday) who has turned it over three times.
"That stuff happens with young kids. They've got to know there are certain ways they can help the team the most, and that's to make sure our best players look good. Sometimes young kids want to go out and prove to everybody they can really play. When they are not quite ready, sometimes that leads to poor play."
Senior Kevin Young figures to join the rotation soon — possibly as early as Tuesday against the Spartans in Atlanta. Young, who broke a bone in his right hand on Oct. 25, will not play in Friday's season-opener against SE Missouri State (7 p.m., Allen Fieldhouse). Self said Monday that Young, who has been shooting on his own, should return to practice Saturday and, if all goes well, possibly will play against the No. 14-ranked Spartans.
On Wednesday at the Topeka Jayhawk Club luncheon, Self said there's a possibility freshmen big men Lucas and Zach Peters could be red-shirted. Peters, 6-foot-9 from Plano, Texas, has yet to practice this season because of a torn rotator cuff in his left (shooting) shoulder. He's not expected back anytime soon. Lucas, 6-10 from Portland, could practice all season, but not play in games, if playing time appears scarce. Lucas can't play in Friday's opener or any other games if the decision is made to red-shirt or if the decision is still pending.
"He (Lucas) will be a good player down the road," Self said. "He will be a guy that certainly can give us a low-post presence. Landen is a great kid. He will have a great career here."
Of Peters, Self said: "Not being negative at all, but he's so far behind, I don't know even when he is able to come back. I can't bank on him being ready in two weeks. We are going to go with the guys we've got. I think we are plenty good enough. We just have to play smarter and can execute better."
Embiid cuts list: Joel Embiid, a 7-foot, 220-pound senior center from The Rock School in Gainesville, Fla., on Wednesday narrowed his list of prospective schools from five to three.
"Down to Florida, Kansas and Texas," Embiid wrote in a text message to the Journal-World.
"Next week," he responded, asked when he'd reveal his college choice.
Coaches from KU, Florida and Texas visited his high school on Wednesday, jayhawkslant.com reported.
No. 31-ranked Tyler Roberson, a 6-8 small forward from Roselle (N.J.) Catholic School, has not yet set a date to announce his decision. He's down to KU, Villanova and Syracuse.
KU vs. S.D. State: KU and San Diego State are working on a home-and-home series starting in Allen Fieldhouse next season, Aztec coach Steve Fisher told the San Diego Union-Tribune. KU would return the trip to Viejas Arena, the on-campus arena of the Aztecs, in 2015-16.
Fisher had some negative things to say about KU when Jayhawk senior Kevin Young decommitted from S.D. State two summers ago. "That's history," Fisher told the paper. "I've always had a friendship and a relationship with Bill Self. He's a good person and an exceptional coach in a marquee, blue-blood program. That to me is no longer a topic of discussion."
More like this story on KUsports.com