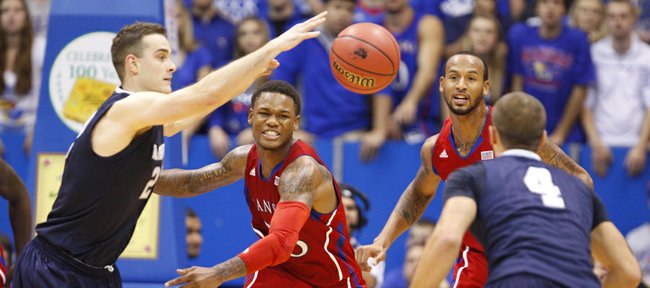 Photo Gallery
KU v. Washburn basketball (exhibition)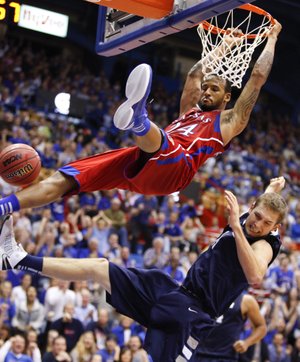 Images from Monday night's game against Washburn.
Podcast episode
Kansas coach Bill Self talks to reporters following the Jayhawks' 62-50 victory over Washburn.
Podcast episode
Elijah Johnson, Ben McLemore and Perry Ellis talk to reporters following the Jayhawks' 62-50 victory over Washburn on Nov. 5, 2012.
Document
There were turnovers. There were lots of missed shots. And his team lost the game. But Washburn coach Bob Chipman tossed all of those critical facts to the back burner during his postgame talk with the media following the Ichabods' 62-50 exhibition loss to Kansas University on Monday at Allen Fieldhouse.
"We'll take it," said a smiling Chipman moments after publicly thanking two of his top players for playing so hard.
Despite shooting just 26 percent for the game, the Ichabods, ranked second in the preseason Div. II college basketball polls, forced 24 Kansas turnovers — 18 off of WU steals — battled to within one rebound of tying the Jayhawks on the glass and used a scrappy defense and unrelenting offensive attack to force a long night for the home team and a happy bus ride home for the visitors.
"It's kind of what you want 'em to do as a coach," Chipman said of the way Monday's game unfolded. " ... They missed some free throws. That kind of helped us. Still, our guys just fought 'em. They just weren't gonna give up any easy ones."
Midway through the first half, Washburn enjoyed its last lead when Alex North knocked down a three-pointer to put the Ichabods up, 13-12. Kansas responded to the early deficit with a 22-6 run and took a 36-24 lead into halftime, but the two teams played pretty much even from that point on. KU enjoyed its largest lead of 17 points with 11:40 to play in the second half but was outscored 20-15 the rest of the way. Although Washburn's late success did little to put the outcome in doubt, it did plenty for the confidence of a team that entered feeling pretty good about itself in the first place.
"Our guys know they're good," Chipman said. "We've got a good group; we've got an experienced group. I think (Monday's performance) just cemented the fact, for them, that, hey, we really do have a good team, and if we play really hard, we're capable of some great things."
Not lost on Chipman was the fact that Monday's meeting with the Jayhawks likely would be the last in which the Ichabods were underdogs this season. But he said he thought his guys could learn something from watching the way the Jayhawks responded to the role of the hunted.
"Our guys were taking so much pride in trying to play these guys and, now, the roles reverse," Chipman said. "Now everyone we face, they're gonna take pride in whipping us. We've gotta play this way every night out."
Although the Ichabods won their share of statistical showdowns Monday night, Kansas' size and depth proved to be the difference.
"It's a lot more physical than MIAA," said senior guard Will McNeill, who led the Ichabods with 13 points. "I was determined tonight to go in there and get a foul but never did. But that's the physicality of the Big 12, and it just tells me I need to hit the weight room a little bit harder and jump a little bit higher."
Although he spent most of the first half in sleep-walk mode, KU senior Jeff Withey played a big role down the stretch, picking up most of his nine points, eight rebounds and seven blocks when it mattered most. Chipman simply shrugged when talking about the impact Withey had on this one.
"I started to tell our guys, 'Hey, take some pull-up jumpers,'" Chipman said. "And then Jeff started to block some pull-up jumpers."
While Chipman assumed that the Jayhawks would be less than thrilled by their effort Monday, he said he saw enough from this team to know what lies ahead.
"They're gonna be great," Chipman said. "Yeah, it was 62-50 tonight, but those kids, Elijah (Johnson) and Travis (Releford) and Jeff (Withey), are gonna have a chance to win more games than anybody else in the history of college basketball this year, and I wouldn't count them out for anything. I mean, those kids are incredible."