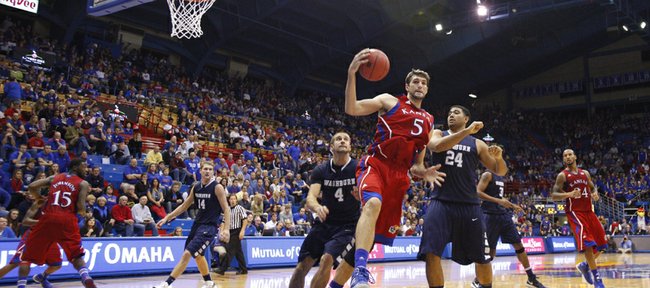 Photo Gallery
KU v. Washburn basketball (exhibition)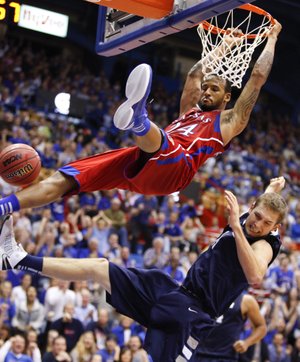 Images from Monday night's game against Washburn.
Podcast episode
Kansas coach Bill Self talks to reporters following the Jayhawks' 62-50 victory over Washburn.
Podcast episode
Elijah Johnson, Ben McLemore and Perry Ellis talk to reporters following the Jayhawks' 62-50 victory over Washburn on Nov. 5, 2012.
Document
Kansas University's basketball team stretched its home exhibition win streak to 38 games on Monday night in Allen Fieldhouse.
So much for pretty much the only good news that came out of a 62-50 victory over Washburn before an eerily quiet crowd of 16,300.
"Our offense stunk. It was just beyond bad. Our offense was just miserable," KU coach Bill Self said after an historically bad offensive effort.
How "miserable" was it?
The 62 points were by far the fewest points scored by the Jayhawks in a home exhibition contest in school history.
Previous low was 73 points in a 73-47 victory over Pittsburg State on Nov. 14, 2005. It also was KU's closest home exhibition victory since a 79-70 victory over an equally pesky Washburn squad on Nov. 14, 2004.
"We are going to be a team that plays in spurts, and we're going to be a team that labors to score. We just are," Self said. "We didn't execute, and our senior leadership was non-existent."
He had plenty more to say following a game in which KU committed 24 turnovers to Washburn's 18.
"Most of it is just pure softness," Self said, pointing out only one positive — a defense that held Washburn to 25.8 percent shooting. "Not meeting the pass, just so soft with the ball. You can go down the list of things we didn't do. Not very often do you have a collective game where everybody plays poor individually. ... We moped around a little bit. We have to have better senior leadership without question."
Senior Jeff Withey, who had zero points and one rebound in 11 minutes the first half, did finish with nine points, eight boards and seven blocks.
"I'll be honest with you. There was no low post presence either," Self said. "We always have played inside/out. Jeff needs to be a factor in there.
"The first half he had no points, one rebound, no assists, one block and two turnovers in 11 minutes. That's a guy who is going to challenge for all-league honors I hope. Our whole deal is designed to get Jeff the ball. Now we don't have the best passers in the world, but he caught the ball several times from two feet and was not ready to score. That's on Jeff. Jeff was much more aggressive the second half. You shouldn't have to take a guy out and sit him to get him mad for him to get aggressive. That's where you should be all the time. He was a factor late which hopefully will be a good boost for him moving forward."
Senior Elijah Johnson, meanwhile, had 13 points off 4-of-8 shooting with five turnovers and four assists in 38 minutes.
"He's got a lot to learn," Self said. "Even there at the end, he deferred and let Ben (McLemore, 17 points, 10 rebounds, four turnovers, no assists) bring the ball up the court instead of him. Ben struggled the whole night. Here's a guy with many turnovers and no assists and Elijah is having him initiate offense. That's not what guards do. He has to do a better job running our team.
"Elijah can't play that many minutes. That's a great teaching point now. He knows he's not in shape. He thinks he is. He didn't create any pace defensively or offensively, so obviously he's not in shape."
Self added that the seniors (Travis Releford had seven points, four boards) didn't do anything "to help the young guys change it. It's the veterans' responsibility to drag the young guys along. There was none of that tonight."
Frosh McLemore scored 13 of KU's 15 points in a 15-6 run to give KU a 34-19 first-half lead.
Yet ...
"Their guy pressured him and got underneath him, and he struggled to do anything when the guy got underneath him," Self said. "Everybody will play underneath him now because everybody's going to get this tape."
The players realize there's a lot of work to do before Friday's regular-season opener against Southeast Missouri State (7 p.m., Allen).
"I think everybody is thinking too much right now," Johnson said. "With us thinking so hard and making it complex, I think we're confusing each other, rather than just rolling with a rhythm hopping on the same train, building off one play. I feel everyone is feeling they have to hit a home run. With that being said, I think there's no chemistry out there."