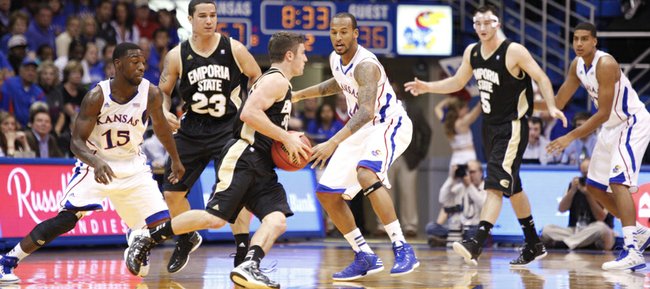 Basketball fans will find out tonight what happens when one of the top teams in NCAA Div. I takes on one of the elite teams in Div. II.
Tipoff for an intriguing exhibition contest between No. 7-ranked Kansas University and No. 2 Washburn is 7 p.m., in Allen Fieldhouse with a live telecast on the Jayhawk Network (local cable channels 3, 13, 203, 213).
"I see this as a big game for the both of us ... them coming in with such a high standard for their year and us, as well," said KU senior point guard Elijah Johnson. "I feel it's a good test for both schools. I feel we'll both go out and play hard," Johnson added.
There are bragging rights at stake for Johnson and several of his KU teammates, who worked veteran coach Bob Chipman's camps this past summer.
"He's a cool dude, funny, a cool person to be around," Johnson said of Chipman, whose 34th Ichabod team may be his finest considering it returns 90 percent of the scoring and 94 percent of the rebounding from last year's 25-8 squad.
Washburn has already played a pair of unranked Big 12 squads in the past week.
The Ichabods, who trailed by six points with 16 minutes to play, fell at Oklahoma, 83-66, on Saturday after losing at Kansas State, 81-61, on Oct. 30.
Will McNeill, a 6-1 senior guard from Alexandria, La., who averaged 20.2 points and 5.5 rebounds a game last season, has averaged 15 points and 4.5 rebounds in the two practice games.
"They can win the national championship in Div. II," KU coach Bill Self said. "They played K-State even after K-State jumped all over them early. It was a 6-point game the second half against OU and OU made 11 threes."
Self's Jayhawks are coming off last Tuesday's 88-54 exhibition opening victory over Emporia State.
"I'd like to see if we can defend motion. I'd like to see us gradually improve just a little bit off last week," Self said.
Senior center Jeff Withey scored seven points with six rebounds in 18 minutes versus the undersized Hornets.
"I think that would be an understatement," Self said, asked if Withey was "flat" in the opener. "Jeff doesn't play as well against small guys. He never has historically. He always plays better against big guys. Washburn does have some bigs they can throw at us (at) 6-8, 6-9. I think he'll play better tomorrow. I thought he looked a little slow in the first game."
Joseph Smith, the tallest Ichabod at 6-foot-9, scored 12 points versus the Sooners. Bobby Chipman, son of the coach, is 6-8. He hit for eight boards and three points against OU.
"Definitely I was a little rusty (but) that game is behind me," Withey said. "This week of practice has been tough. Coach has been on us. We definitely are going to come out with more energy and be ready to play moreso than last week."
In the opener, Self started red-shirt forward Jamari Traylor over freshman Perry Ellis. Both played well. Traylor scored six points and grabbed four rebounds in 16 minutes; Ellis scored 15 points with seven boards in 16 minutes.
Naadir Tharpe started over Johnson at the point in response to Johnson being late for a class.
Tharpe scored eight points with four assists against one turnover in 17 minutes; Johnson had 12 points off 4-of-11 shooting with five assists and one turnover in 23 minutes. Other starters were Withey, Ben McLemore and Travis Releford.
"I'm not sure. It may be the same, it may not be," Self said of the opening lineup. "I'll have to see. For probable starters you could go with last week's and it may or may not hold true. I don't know."
Injury updates: Senior forward Kevin Young, who broke a bone in his right hand on Oct. 25, will likely begin shooting today, Self said.
"We were hoping he could shoot this weekend," Self said Sunday. "He wasn't able to. Hopefully he can shoot tomorrow. We're still believing he can be practicing by Saturday."
Freshman walk-on guard Evan Manning, who has been wearing a boot on his right foot all preseason, practiced for the first time on Sunday. "I don't know if he can play in the game, but he did practice," Self said.
Freshman forward Zach Peters remains sidelined with a rotator cuff injury in his left shoulder.
Rush's injury: Self as of Sunday had not yet spoken to former KU guard/forward Brandon Rush of the Golden State Warriors, who suffered a torn ACL in his left knee over the weekend.
"I text him and called him and talked to his agent and family friends and everything," Self said. "I hate to say this, from what we hear it's a very severe injury. He's playing so well. He turned the corner to be a 10- or 15-year NBA veteran. He's only got one year left on his contract right now. I will say this about Brandon ... he's been there, done it. He will be discouraged I'm sure for a bit. Somehow or another he'll rally around it like the last time it happened."
Rush, 27, battled back from a torn ACL in his right knee at the conclusion of the 2006-07 season. He helped KU claim a national title in '07-08.
More like this story on KUsports.com