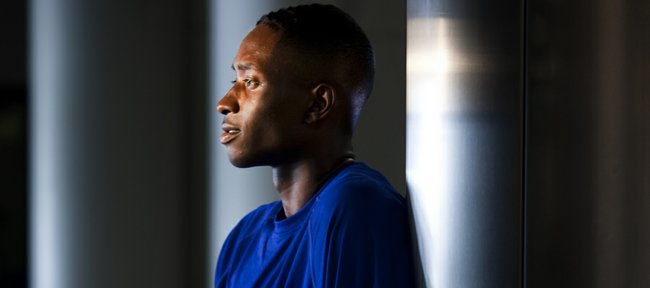 He scored 54 points in a game as a sophomore in high school and idolizes Jamal Crawford, an NBA player who starts shooting before he steps off the bus.
That combination suggests that making the transition from superstar to complementary player won't come without its challenges, but give Kansas University freshman guard Rio Adams credit for trying.
A 6-foot-3, 190-pound combination guard from Seattle, Adams fights the urge to show the world immediately how good he is on every play. Succumbing to that urge would mean sitting on the bench. The path to playing time lies in showing his coach he can use his length, strength and quickness to play good defense, and keep the ball moving without turning it over at the other end.
As a high school standout in Seattle, Adams spent two years playing for Franklin High, for which he had that 54-point game, and two years at Rainier Beach.
"I feel like I could do some stuff like that here," Adams said of the 54-point game after Sunday's practice. "It was just my time at the time when that happened. Right now, I'm in the learning process like I was at Franklin my freshman year."
Adams will seek to defend tonight in an exhibition against Washburn the way he did last week against Emporia State, which didn't bring as much talent and efficiency onto the Allen Fieldhouse floor as the Ichabods will.
Adams already had the look of a big-time defender.
"It was taking me a while to get the offense down, so I used the defense to get me warm and going," Adams said of his adjustment to college basketball. "I'm picking things up a little quicker than I was before. The defense was just keeping me on the floor, keeping me warm."
As for what sort of an offensive player Adams can become, Kansas coach Bill Self doesn't care to explore that just yet.
"Right now, I'm not even talking to him about that," Self said. "I'm just talking to him about, 'Are you taking care of the ball and are you playing great defense?' He's a good offensive player, but he's thinking too much right now.
"I think as he just makes plays defensively and makes the game easier for other guys, I think he knows I'll get confidence in him and he'll start playing better offensively. But right now, I've got him pretty sped up. He doesn't know if he's coming or going, and I'm not sure that's all bad right now."
Listening to Adams talk about his game, it quickly becomes evident he constantly needs to fight the urge to get ahead of himself, a typical trait of a freshman college basketball player.
"I'm in the process of learning right now, so it's slowing me up from what I really want to show I can do," Adams said.
And what can he do?
"I can do everything," he said.
Really?
"Yeah, I really can," Adams said.
Again, give him credit for not trying to show everything he so eagerly wants to show and instead doing only what his coach wants him to do.
In 10 minutes against a much slower Emporia State squad, Adams didn't turn it over, picked up two assists and a steal and relentlessly applied defensive pressure without committing a foul. He played defense with his feet so well he didn't get out of position and make wild reaches for the ball.
Adams has the potential to develop into a defensive stopper.
When Self looks down his bench and needs to give one of his perimeter players a rest, he has two distinctly different players from which to choose in Adams and sophomore Naadir Tharpe. Adams is taller, longer, thicker, already a better defender. Tharpe has more polish and experience. Both players have three-point range.
Adams looked like a player with a higher ceiling than most who were ranked where he was ranked (98th in the Class of 2012 by Rivals). He had an explanation for that.
"I most definitely was going to be a person who was highly ranked but due to some stuff in my ongoing path, I had to take myself out of the AAU circuit and my ranking went down," he said.
Where would he have been ranked had he played a busy AAU schedule?
"Top 25," he said.
Maybe so, but his best path to playing time for now lies in playing more like a hungry guy ranked 98th. Tough though it is for him to exercise patience, he seems to get that.