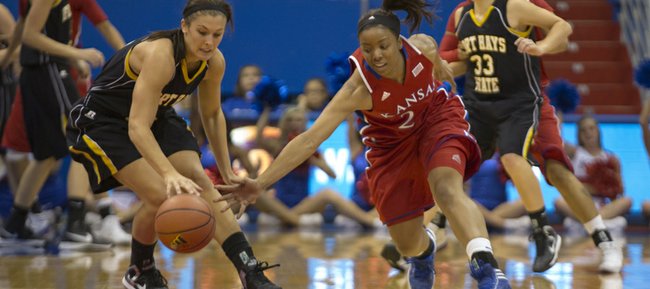 Back in the summer, when members of Kansas University's women's basketball team spent their spare time playing pick-up games, senior point guard Angel Goodrich began to see flashes of what the Jayhawks could become. She noticed the varied styles and strengths her teammates brought to the floor and thought KU just might have the right combination of depth and variety to put together another successful season.
It was just an exhibition against NCAA Division II Fort Hays State, but Goodrich felt that way again following KU's 88-43 dismantling of the Tigers Sunday afternoon at Allen Fieldhouse.
"I felt like everyone played so well chemistry wise," said Goodrich, who led Kansas with 19 points and six assists.
That trend began from the jump, with all five of the Jayhawks' starters scoring within the first five minutes. Goodrich (9-for-12 shooting) knocked down a three and scored two layups, sophomore guard Natalie Knight drained another three-pointer, sophomore forward Bunny Williams made a short jumper, senior forward Carolyn Davis scored in the paint and senior guard Monica Engelman got to the rim for a layup.
By the 15:15 mark, the Tigers — hampered by the absence of senior point guard Kaiameka Brown — trailed 16-6 and the Jayhawks led by double digits the rest of the game.
When coach Bonnie Henrickson went to her bench, it was more of the same. Sophomore forward Chelsea Gardner drew a foul and hit two free throws, junior guard CeCe Harper scored in transition, junior forward Tania Jackson got an easy hoop off a touch pass from Goodrich and sophomore guard Asia Boyd scored a layup immediately after subbing in, giving KU a 28-8 lead with 11:20 left in the first half.
Engelman (six points, seven rebounds, four assists) said the Jayhawks wanted to play with more balance and rhythm than they did in their first exhibition victory a week earlier, a 22-point win against Washburn.
"We needed to have energy in practice," Engelman said, "so we hit that pretty hard in practice and when it came time for the game we'd been working on it and made the adjustment."
Ten of KU's 11 players scored in the rout, including freshman point guard Lamaria Cole, who didn't enter until the second half. She missed a jumper on her first possession but later showed off her open-court speed by racing from the back court to the paint and getting to the foul line for two of her nine points.
Henrickson liked Cole's sound defense and ability to drive and get to the basket.
"There's a lot of managing the game and executing half-court offense that will be good for her to see on film," Henrickson said.
Nine Jayhawks had at least one assist against FHSU and Henrickson said the team's 20-assist, 13-turnover outing showed its unselfishness, noting the Jayhawks swung the ball in the half court.
"That's important when you're on the floor to recognize you might have a scoring opportunity because of someone else's unselfishness on the other side of the floor," the coach said.
Kansas racked up 42 bench points, led by 12 from Boyd. The powerful sophomore wing made eight of her 10 free throws and pulled down a game-high nine boards. Harper contributed 10 points off the bench on 4-for-6 shooting from the floor.
Goodrich expects her team will continue to have productive bench play as Kansas tries to reach its full potential.
"An exhibition allows you to experience what you can do, and what you can't do as a team," Goodrich said.
Davis, whose minutes are being limited as she eases back into game condition coming off a torn left ACL last season, scored 11 points and grabbed six rebounds in 17 minutes.
Kansas opens its regular season next Sunday at 2 p.m., when it plays host to Idaho State.